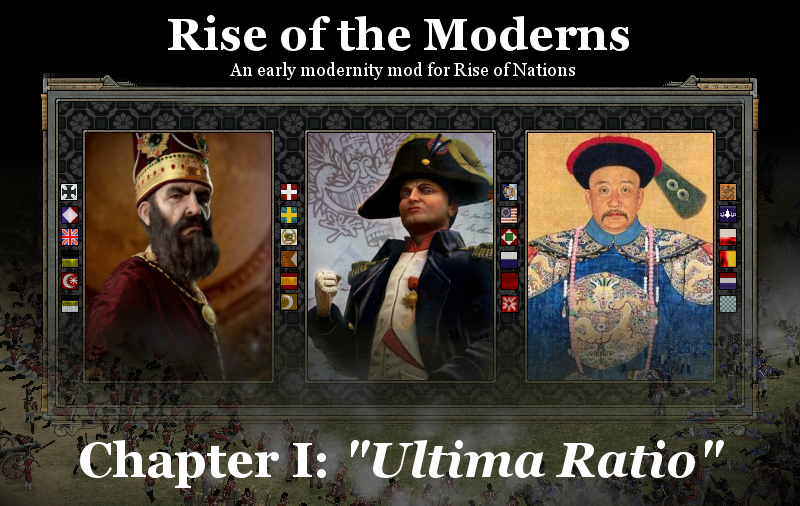 And so, we begin with a new mod, but not just any mod.
Rather, this is actually a new project involving several mods.
What is Rise of the Moderns?
Rise of the Moderns is an up-and-coming cycle of mods, using the same technology system to depict the world in the Early Modern Period. This is intended to be a span of time from 1600CE to 1917CE, as well as possibly into two Alternate History timelines: the backstory of A Wrong Turn, and the world a century after the scenario covered by The Peshawar Lancers, a novel by S M Stirling.
Historically speaking, Rise of the Moderns fills in the historical gap between two other mods for Rise of Nations: Rise of Kings: Chronicles, and Age of Darkness.
Four "chapters" have been envisioned, each one with its own set of units, structures, wonders and factions, but they all nonetheless share the same research tree. The first chapter, Ultima Ratio, is nearing completion and will soon be ready for beta download.
Frequently Asked Questions
(1) Is Ultima Ratio a rehash of Rise of Napoleon?
Very much so, but it has its own quirks and is fairly different. In fact it can be argued that it's not just an improvement — it is a wholly different mod altogether.
(2) If it is a rehash, what's the point of downloading it?
This mod is very different in several aspects. For one, many bugs related to buildings and unit names were removed, while new buildings were added, to facilitate the addition of new units as mentioned below.
Factions and units
Two nations were eliminated and replaced with Iran and Bavaria, 4 were reworked to have different national bonuses, and a slew of new units were also added to replace some ahistorical inaccuracies and more units were added to flesh out the armies of non-Western factions (which was a glaring weakness in the original mod).
Upgrades tree
It also utilises the Rise of the Moderns tech tree system which increases the importance of a University to your faction, with it being able to research four tracks of upgrades as opposed to just one.
The reason for this is that although the idea of technologies being critical to increase the limits of one's resources has been a novelty for Rise of Nations, the upgrades are usually little more than an afterthought. So as in Rise of Kings, an all-new custom technology tree that reflects the era of Ultima Ratio - the Napoleonic era - has been implemented and is also of vital significance as some units can be unlocked only after certain upgrades are researched. For instance there are mercenary units that can't be unlocked unless you have researched Attrition upgrades.
(3) So, will this mod be coming out for Steam?
This mod is being envisioned for RoN: EE, but only the Gold version is being developed at present. Ultimately however we believe that the last few chapters will be produced solely for Steam.