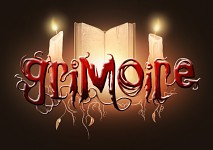 We have been tirelessly working on preproduction for Grimoire for the past month, and we finally felt like we had enough to show off. In this initial announcement you will find two concepts of our characters, our protagonist Amelia and her paranoid companion as well as our initial logo design.
In Grimoire you will take on the role of Amelia as you train in the dark arts while exploring the gothic world of Augury. Travelling from area to area you will discover useful items to aid you on your adventure and you will unlock additional runes that you can cast in your spellbook of magic. More details about the story and our cast of characters will definitely be forthcoming in the next few weeks!
We are currently using the Unity engine and it has been working wonders for us! We plan to have a release ready for PC and Mac initially with versions on mobile devices soon after.
Please follow us for more details that will be coming soon!