We are delighted to announce the opening of our new ModDB page for Advanced Operation Genesis! We are happy to at last setup and begin showing off our work here. Now without further ado let's dive through all of the updates that the mod has received prior to being present here!
Our first completed animal, we present to you all Smok wawelski, a gargantuan Archosaur from the Late Triassic of Poland and having the distinction of being among the largest, if not the largest, carnivore present on Earth at the time.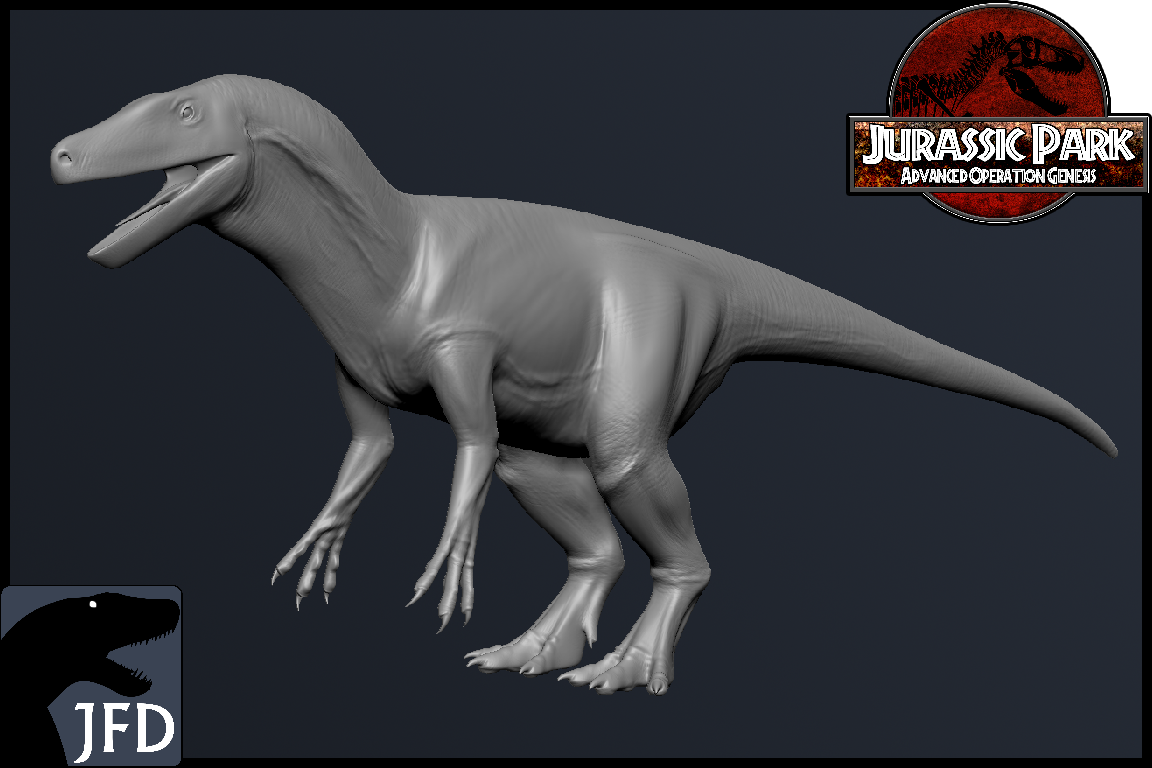 Smok wawelski for all its ferocity is a 2 star rating animal. While Smok is an impressive predator and a beautiful animal its fearsome attitude more often than not deters people from observing it through sheer terror, Smok will however wow those of your guests who would call themselves 'Thrill Seekers' and most certainly strike a cord with those who are after a very 'Big Scaly Monster' experience from your park.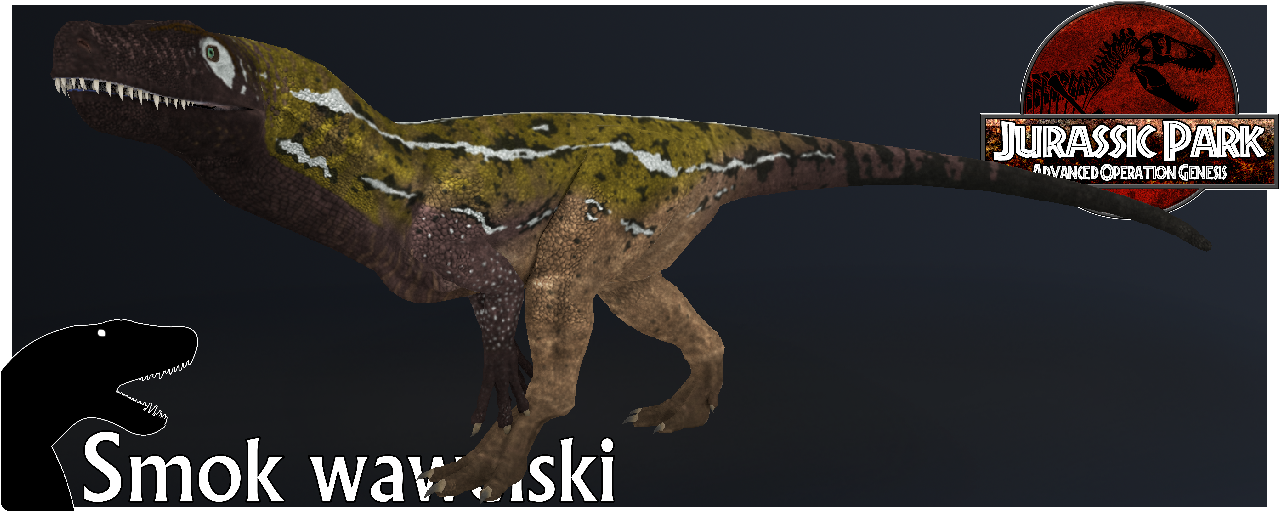 Smok is a highly agressive animal that naturally knows no fear, willing to challenge even Dinosaurs several times its size, thus it is heavily advised that you give your Smok a large exhibit far away from your other carnivores including any other Smoks you may be keeping.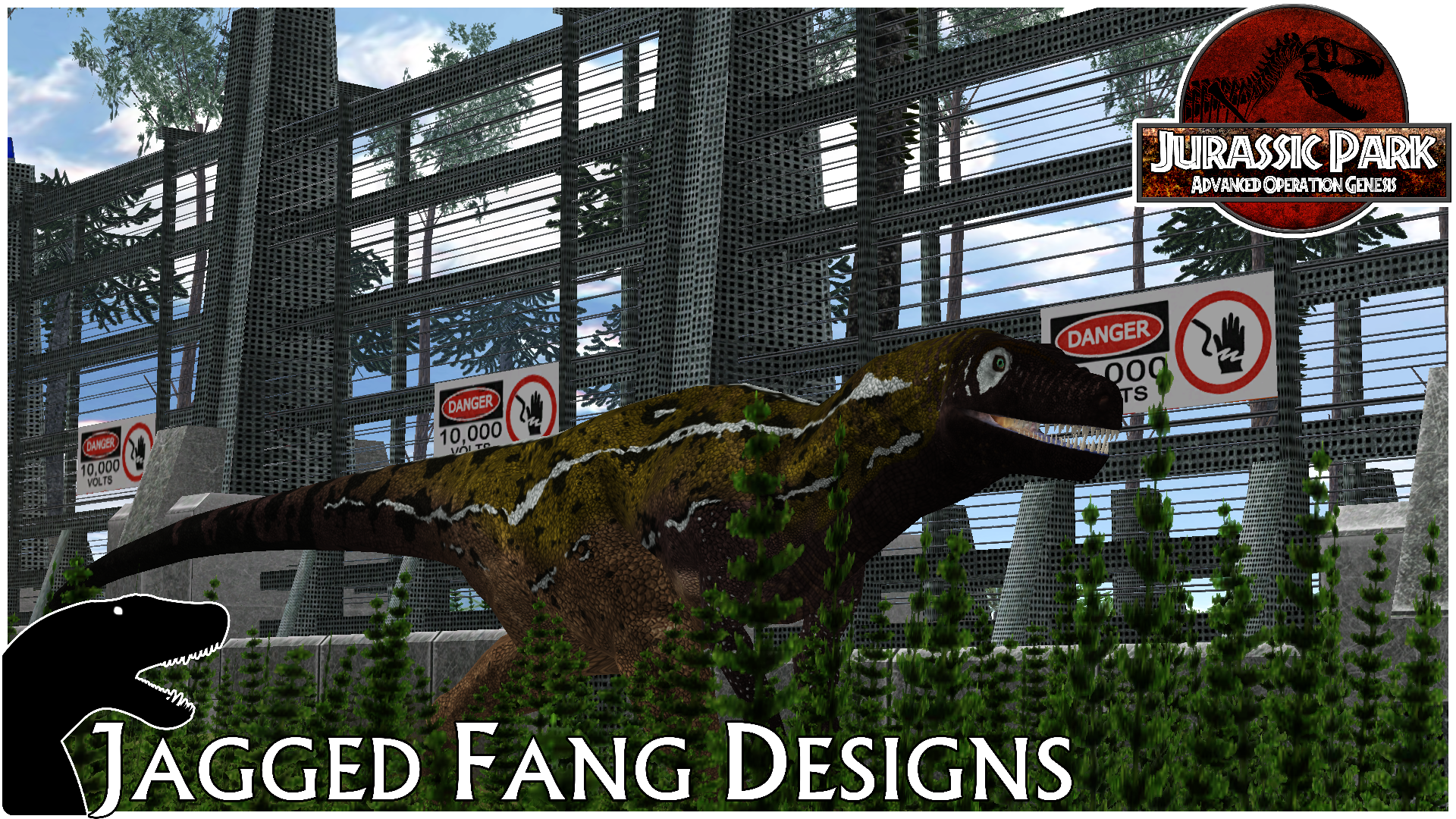 As implied above Smok is not a friendly animal towards its own kind, cannibalism was a common occurrence during the early days of Smoks reintroduction into the world, now twelve years after the first Smok was bred it is known that Smok is not only solitary and agressive but pecularly has a tendency to stay near water, this is theorized to be due to the fact that the site Smok was found at was a massive floodplain and it is further theorised that as a result of this Smok most likely used the greener skin on its back to help it blend into the blooming of foliage come the wet season.

This concludes the introduction to Smok wawelski, the King of the Triassic, we hope that when the time comes you will choose this amazing carnivore to exhibit in your park and keep these guidelines in mind.
The second completed animal of Advanced Operation Genesis, a gargantuan Russian Dicynodont known as Elephantosaurus jachimovitschi.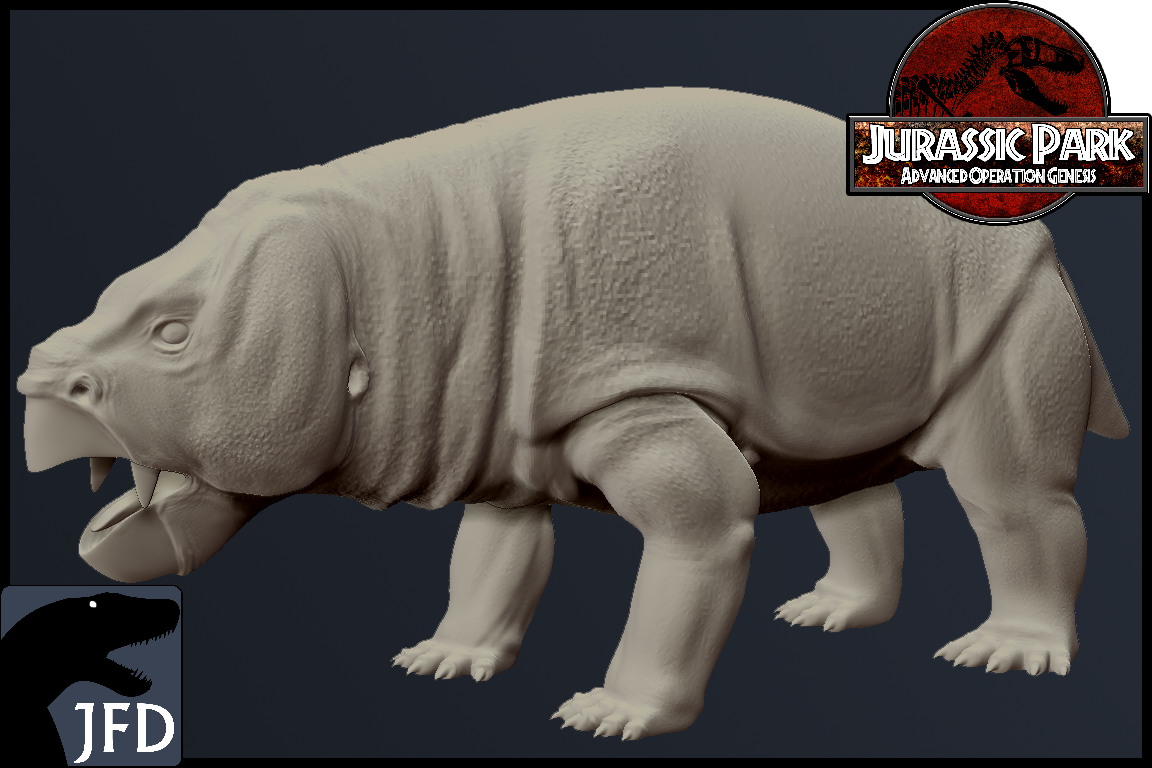 Elephantosaurus is the single oldest animal to be brought into the present day hailing from the Mid-Triassic of what is now Russia. A somewhat dull animal Elephantosaurus retains an unimpressive 1 star rating among guests, however this is not to say that it is without an interesting side. Like other Dicynodonts with its facial structure Elephantosaurus is an active root eater often rubbing the ground with its face in order to try and find some food beneath. This has in the past lead to some amusing escape attempts where Elephantosaurus have constantly dug until portions of fencing have simply collapsed from poor ground support, thankfully in the modern day this is no longer an issue parks exhibiting this animal have to face.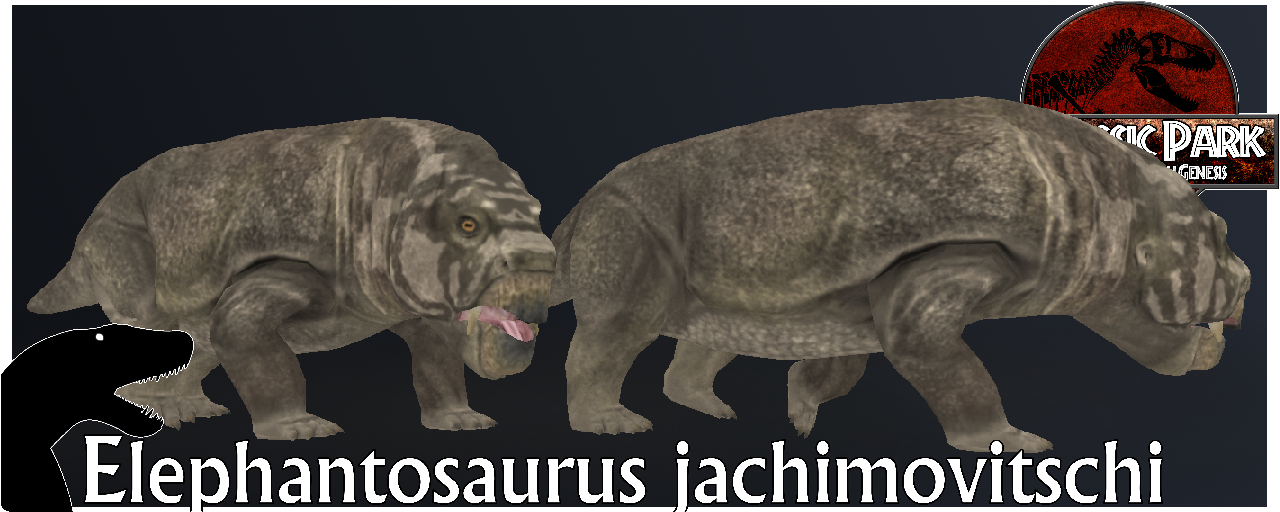 Going by its behavioural set Elephantosaurus in life most likely knew no predators and as a sign of this they show a distinct lack of fear, or for that matter actually caring about anything really, Elephantosaurus is and always has been an incredibly lazy animal, when not eating or drinking most of the time it will be seen sleeping with other members of its herd. Unlike the previous animal we overviewed, Smok, Elephantosaurus is a relatively social creature spending any waking time that isn't spent with food in its mouth socialising with other members of its species and even going so far as to attempt to call to other Dicynodonts elsewhere in many parks and in some cases has been met with open hostility from those they try to reach.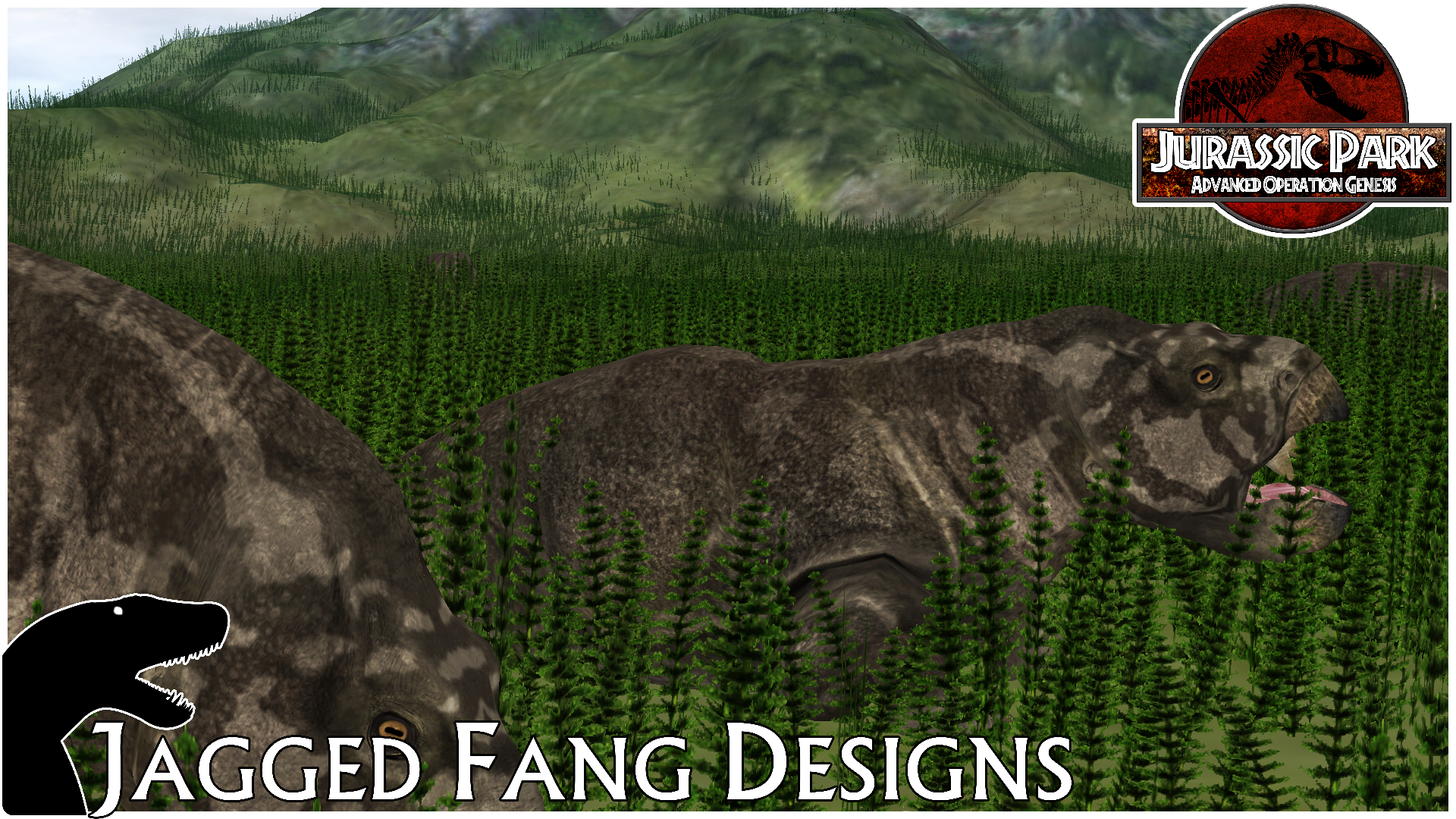 Despite their great size Elephantosaurus prefer to stay in larger groups of fifteen or more individuals, this can make keeping them in a park setting quite a challenge through the simple monthly cost of feeding such colossal herbivores, it is not an uncommon occurrence for a park to give their Elephantosaurus herd away to another due to the sheer monetary cost of feeding these lumbering ancient animals. This thankfully rarely causes problems, Elephantosaurus are dull creatures and would accept a Tyrannosaurus rex into their group if it didn't try to eat them, so splitting a herd up, even throughout multiple parks, causes no issues for the animals involved so long as they have other animals to communicate with.

This concludes the introduction of Elephantosaurus jachimovitschi, the oldest animal to be brought to the modern day and by far one of the most baffling. We hope that with this guide on their behaviours and preferences that you will choose Elephantosaurus to be a member of your future park.
The third complete animal, a small Triassic Prosauropod, Plateosaurus gracilis! A part of the small beginnings of the group that was destined to become the largest animals to ever walk the land and, in a change of pace, is the most normal animal we have looked at so far thus earning it an unfortunate one star rating.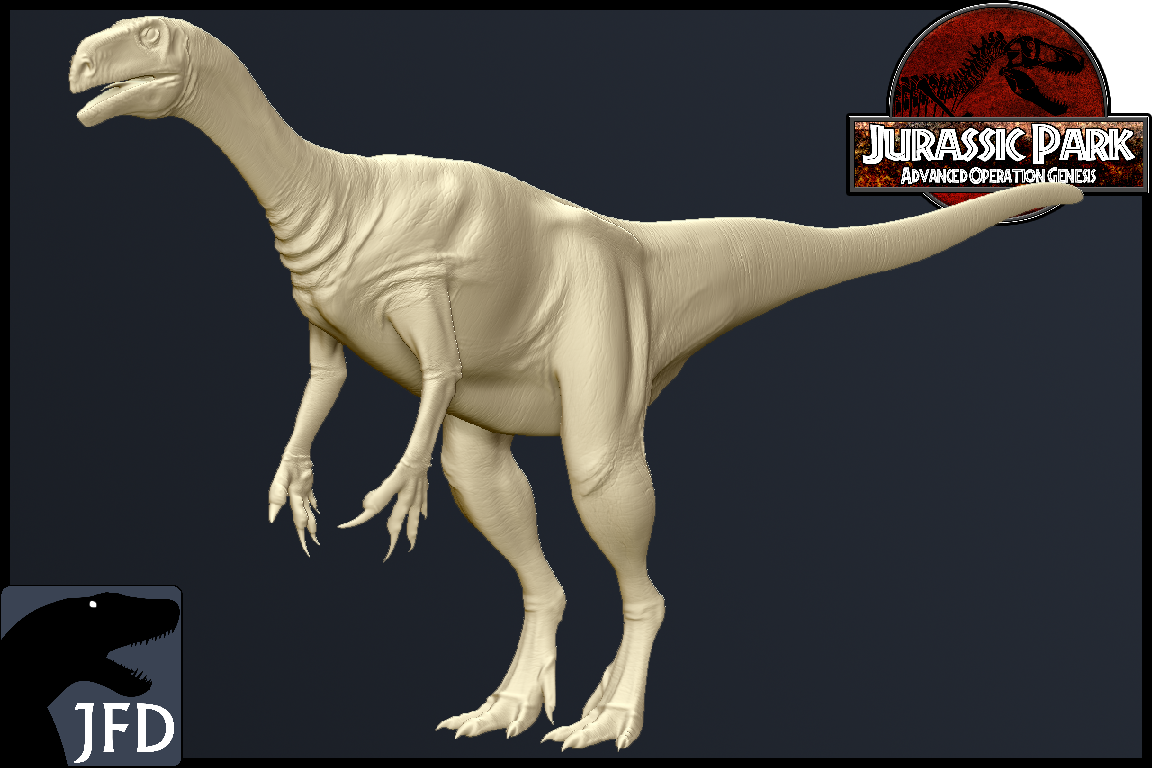 Plateosaurus is the single smallest animal we have brought to the present from the Triassic period, measuring in at a meagre 4 meters in length this animal was most likely a highly favoured prey item of Smok, this is however not to say it is without its merits, its small size and gracile body have granted this animal a higher running speed than most allowing it to escape predators like Smok with relative ease.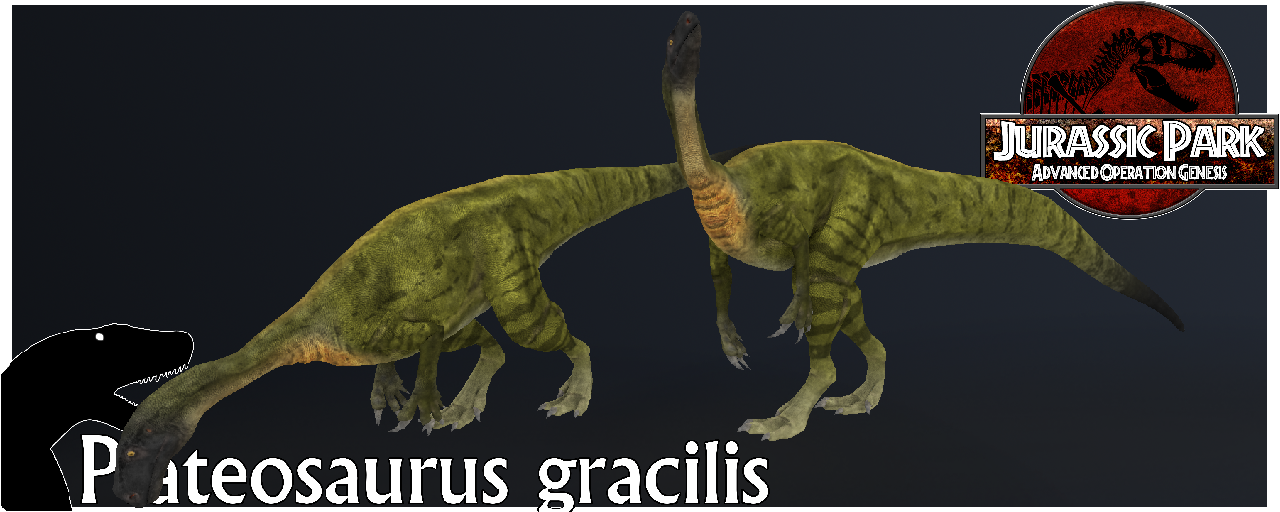 Plateosaurus has another distinct feature, a gargantuan 'thumb' claw, this is the beginnings of the singular claw we see on the feet of later Sauropods, so far we've not seen this animal implement this claw for things outside of feeding and occasionally support when wrestling for a mate but we currently assume that if cornered by a predator Plateosaurus would not hesitate to use its abnormally large claw as a last ditch weapon to attempt to blind its attacker with a stab to the eye.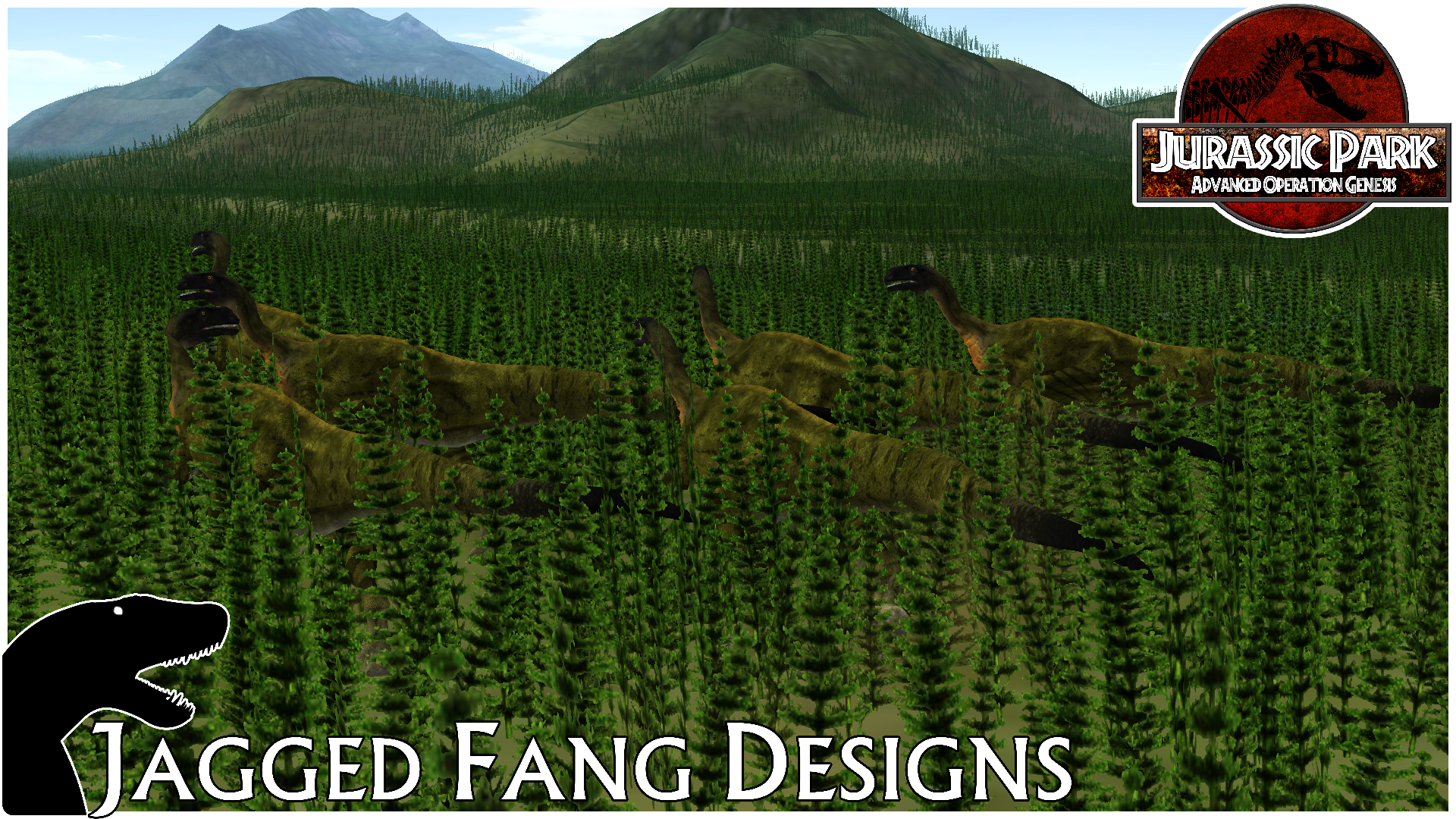 Socially Plateosaurus is a communal lookout animal, commonly displayed alongside our previously shown animal, Elephantosaurus due to it having a similar social nature and due to the balance the two provide, Plateosaurus with its long neck and bipedal stance has a much greater field of view than Elephantosaurus and actively work as lookouts in the mixed groups. This is however not to say this hasn't been without risk, there have been cases where Elephantosaurus affection has caused the untimely deaths of individuals, thankfully these cases are rare occurrences as Plateosaurus appears to be naturally aware of the strength behind the dull looking Dicynodonts, suggesting that it lived either near or alongside a similarly large animal.
This concludes the introduction of Plateosaurus gracilis, the smallest animal we have managed to bring to this world from the Triassic period and one of the staples of any park.
The fourth animal, a large Triassic Melanorosaurid, Camelotia borealis! The very direct opposite to the previous animal we revealed, Camelotia was the shape of things to come in its group, at up to 11 meters long and weighing in at 10 tons this animal is by far the largest that has been brought back to life from the Triassic in parks across the world.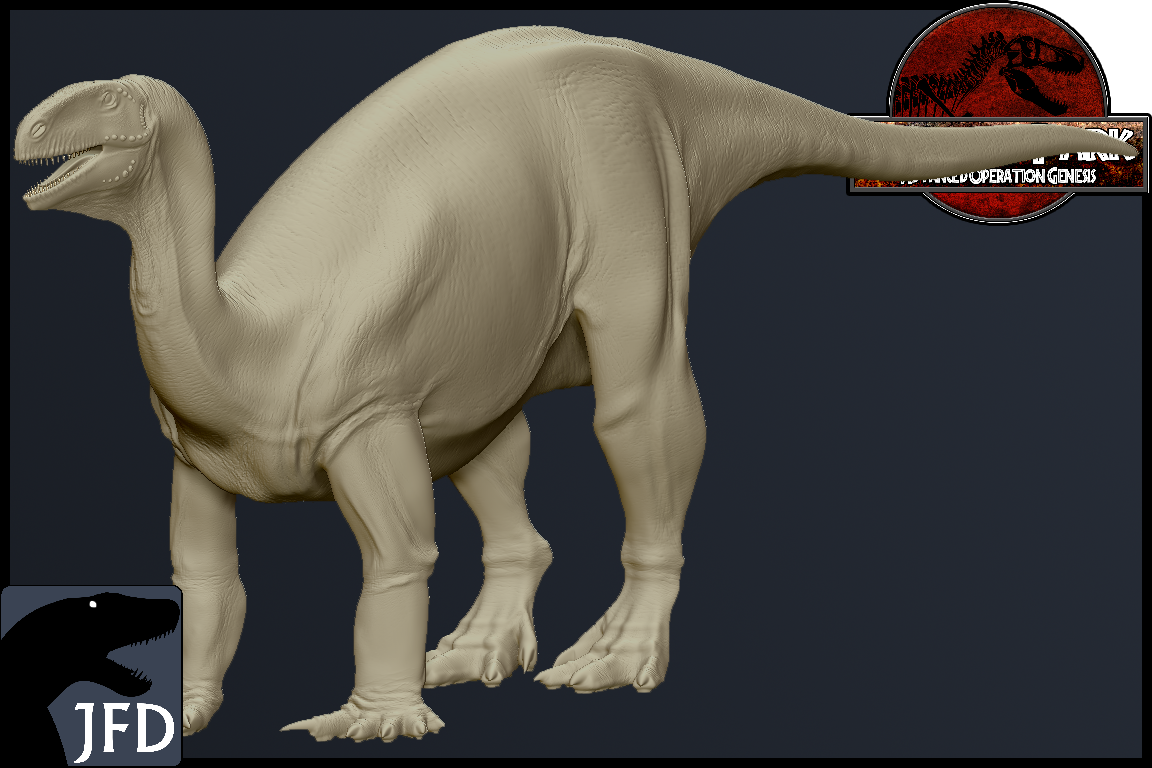 Camelotia is an unfortunate 1 star animal, while it has the makings of an animal within the 2 or 3 star rating pool at this point the fame of 'Biggest Triassic Animal in the Modern World!' has worn off on guests making Camelotia altogether an unpopular Dinosaur, often considered as a 'Long necked hadrosaur with all the interesting bits removed.' However there is still some love among guests for this animal, while the assessment that it does indeed bear resemblance to a featureless long-necked Hadrosaur it does have its own charm in its facial expression which is often quite quizzical and thus oddly charming to look at.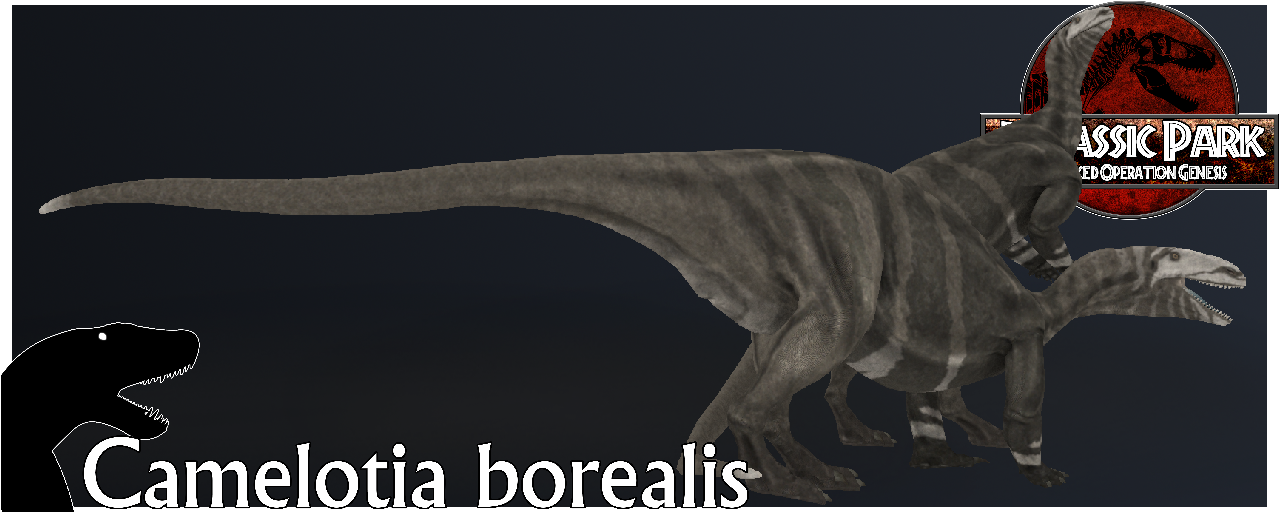 One of the other features that gives Camelotia the little attention it gets from guests lies inside the animals mouth, its teeth. Camelotia has what is probably one of the most horrifying sets of teeth out of all of the herbivorous Dinosaurs brought into the modern world, this however leads into the other reason Camelotia has its own little popularity niche, its claws. Much like the smaller Plateosaurus it sports a gargantuan 'thumb' claw, this singular feature makes watching Camelotia displaying or even fighting with each other a delight even to people outside of its niche popularity group.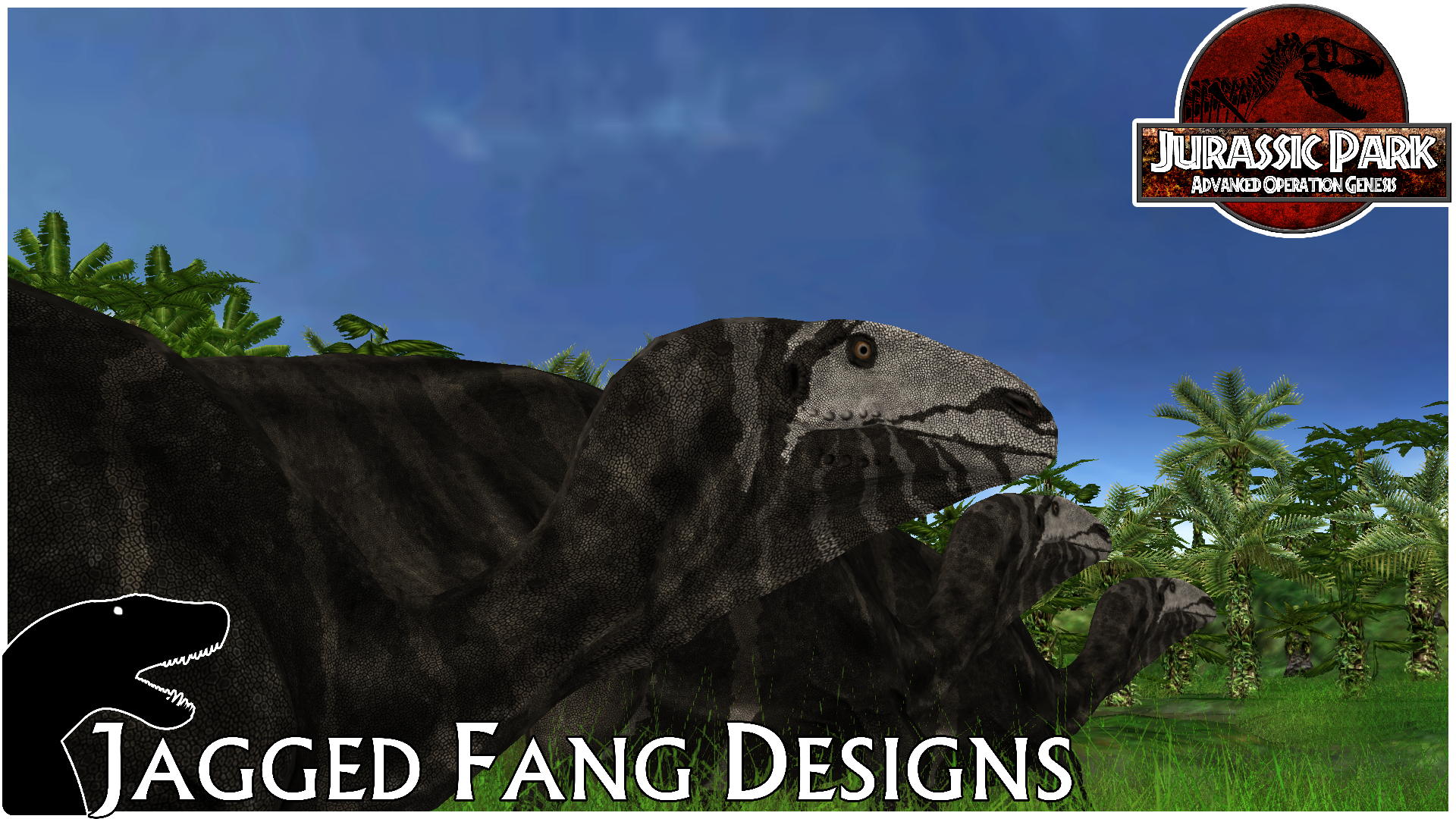 Behaviourally this gargantuan animal is much like the rest of its line both before and after it does almost nothing but eat, and when it's not eating it sleeps. However this is not to say these animals have no social life, quite the opposite, Camelotia are oddly skittish animals for their size and weight class and become quite nervous if exhibited alone, this is most likely a natural reaction to having no others looking out for predators while an individual continues its life long quest to consume. This is something that can be partially alleviated through exhibiting it alongside other Triassic animals. Most commonly this animal is exhibited alongside Elephantosaurus as a substitute for Plateosaurus as, unlike Plateosaurus, Camelotia is large enough to simply shrug off the affections of the slow witted Dicynodonts.

This concludes the introduction of Camelotia borealis, the largest animal we have managed to bring to this world from the Triassic period and a brilliant introductory animal to the world of Sauropods.
We would like to welcome you all to the end of the Triassic Period and thus the fifth and final animal to be featured from this bizarre era in parks across the globe. We would like to introduce you all to the second Giant Dicynodont, Niedźwiedzik suleji! A gargantuan animal rivalling and outclassing even Elephantosaurus in size.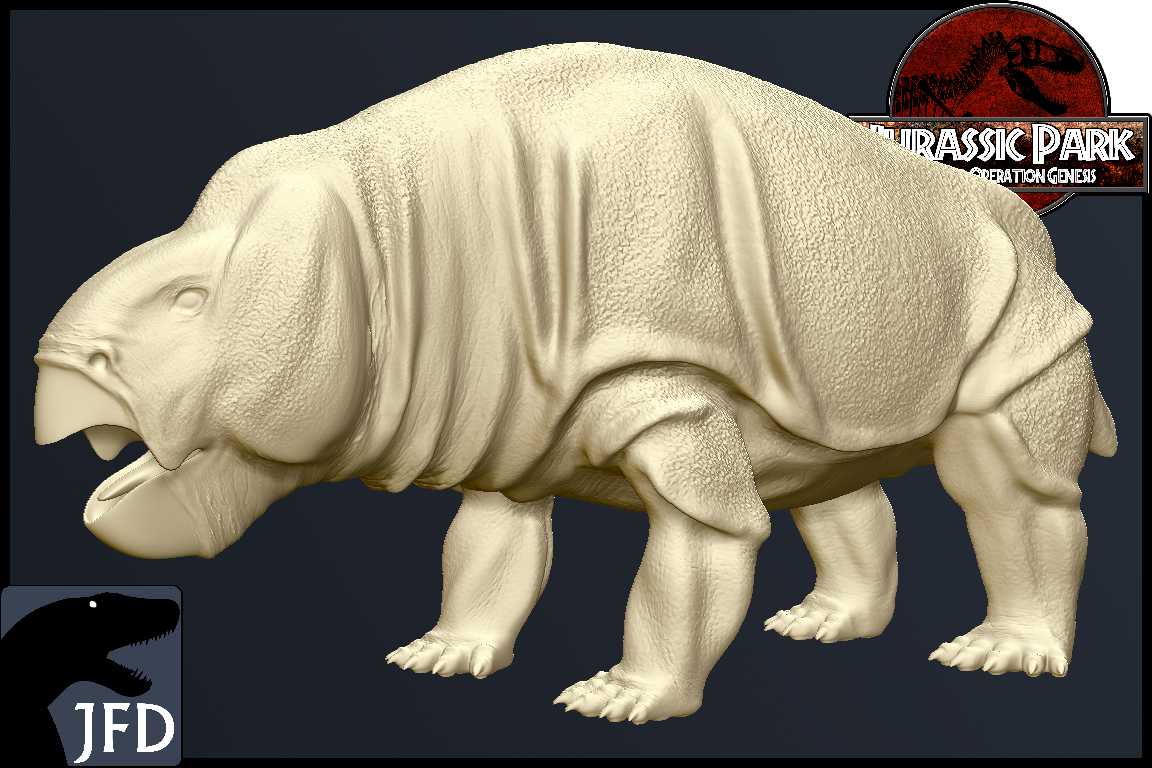 Like many Triassic animals Niedźwiedzik suffers from an average 1 star rating amongst guests. However, Niedźwiedzik is easily among the most entertaining and fascinating animals to see among the 1 star animals available in parks globally. Niedźwiedzik is legendary among parks for what is quite possibly the worst temperament of any animal, actively competing amongst eachother on a daily basis and chasing off any competition from other species. However when looking into Niedźwiedzik's history it is unsurprising as to why it has this temperament by nature as it came from the same time and place as the giant archosaur Smok, another highly aggressive animal. It would seem the phrase 'fight fire with fire' must have applied to the interactions and evolutionary arms race that produced both of these amazing Triassic Giants.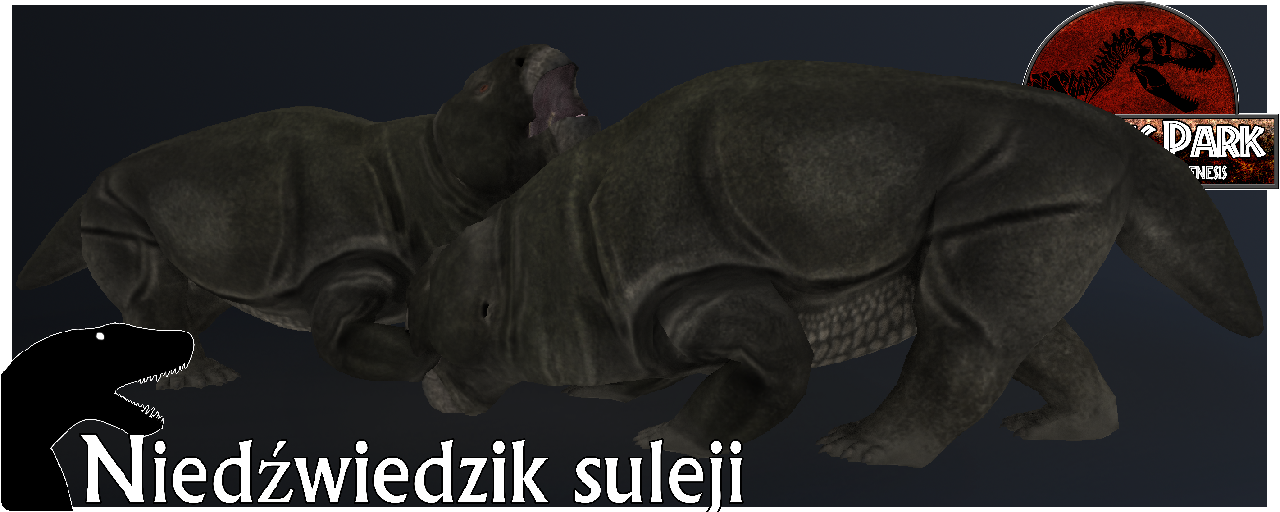 Unlike its Russian counterpart, Niedźwiedzik lacks downward facing tusks and instead possesses a much larger lower jaw and two bony protrusions coming down from its skull in the same area that an Elephantosaurus would feature tusks. This is not the only visual difference between the two, a striking difference between the two is colour, while Elephantosaurus possesses a unique brown and grey blended pattern Niedźwiedzik is almost solidly black, at current we're uncertain as to why this is but it has been noted that, much like Smok, Niedźwiedzik enjoys spending time around and in water which could suggest the black colouration of the animal aided in absorbing heat from the sun while spending its time wallowing in cold water. The next striking visual difference is skull shape, while Elephantosaurus is in possession of a simple gently sloping skull, Niedźwiedzik has a sharp decline down from its neck and the back of its skull into the rest of its face. The fourth and final identifying factor between these two giants is how muscular they are, while Elephantosaurus is a relatively chubby animal Niedźwiedzik is a body builder by comparison, something that is most likely built up and maintained by these animals constant infighting.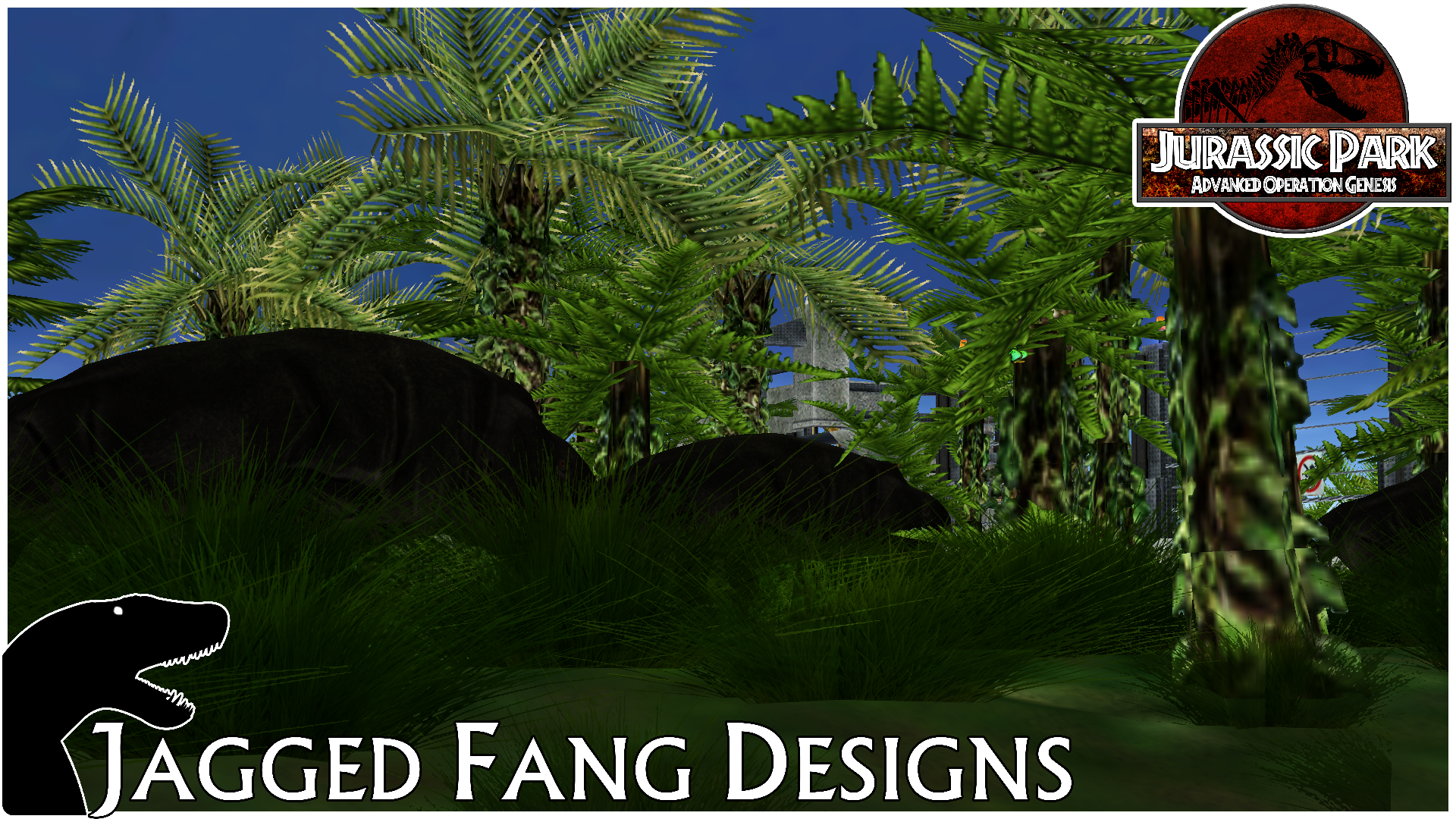 As a direct result of Niedźwiedzik's aggression towards both itself and any other species that dares cross its path most parks only keep a handful of them, where a park may have a whole herd of twenty of more Elephantosaurus it may only poses a mere three or four Niedźwiedzik due to their temperament and the demand of needing to be constantly monitored as it is far from unheard of for Niedźwiedzik's to inflict quite horrific injuries to each other during their bouts and often times when a clash begins the viewing areas of the exhibit are closed to the public to prevent public outcry at what could be viewed as animal cruelty when in reality it is their solid and unchangeable nature.
This concludes the introduction of Niedźwiedzik suleji, the largest Dicynodont to ever roam this planet and easily one of the most aggressive animals from any time period on Earth and our final Triassic animal.

Of course however the parks setup globally aren't just for show, they also have educational value, in recent years many signs have been created filled to the brim with information on various subjects, the one that will be showcased today follows with the theme of the past five animal introductions.
These signs can often be found spread about a parks Triassic area to help educate people on this relatively unpopular but fascinating period in Earth's history. Recent developments in modern ergonomics have also granted many of the parks across the globe new benches and bins that are comfortable to both look at and use, necessary park accessories that any guest will appreciate heavily.
Thank you all for reading, expect more from us soon.

~Jagged Fang Designs~