Hi everyone, I would like to introduce my first game to the Indie DB community. Traffic Racer is a fast paced arcade-yet-realistic racing game in which you try to dodge traffic while driving at high speeds. You get bonus scores when overtaking cars closely. You can earn cash after each game and spend them to upgrade your car or bey new ones. There currently 5 cars to choose from and I will be adding more with updates.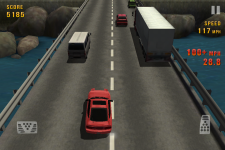 Features:
- Brilliant 3D graphics
- Smooth and realistic car handling
- 5 different cars to choose from
- 3 game modes: Endless, Time Trial and Free Ride
- Basic customization through paint and wheels
- 2 detailed environments: suburb and desert
- Over 15 different models for traffic
- Game Center Leaderboards
Launch Trailer:

I will keep the game updated all the time. In fact, the first update is already submitted and waiting for approval. It adds a new car, GC achievements, iPhone 5 support and many more.
Thanks for your support..