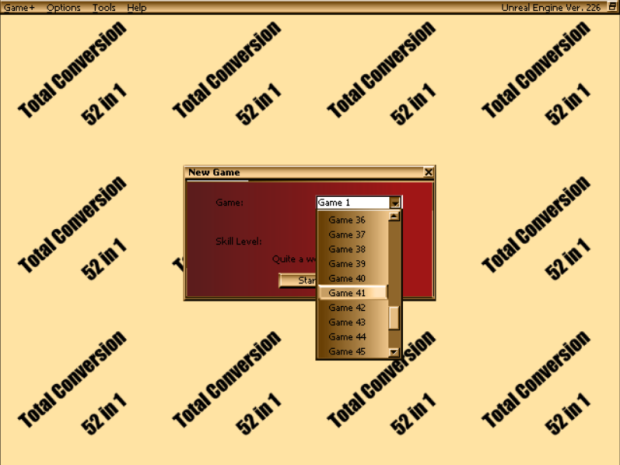 Here's the thing, I'm not just going to make it. You are, well if anyone is willing too volunteer and still interested in making content for Unreal Gold. I've created this page and coded together the client, which can be downloaded, right now.

I've been on the modding scene (barely) for years, if not 2 decades and I would like to continue making my other projects. I have had people willing to help but nothing gets done because of creative differences and finding out what they really want, so I think the best solution is to offer a separate space for everyone, under one mod and this should be the idea, to do so.
Not that I expect anything here. I will make some levels and demostarte what 1 or 2 levels, will look like. Personally, I find better results introducing new premises which look great in the Unreal Engine 1, maybe thanks to how this website (yes, moddb,com) hosts profiles and gives front page easily, for just three screenshots of a level, be a attention seeking punk about it and have nothing done. So the solution would be to work on each premise, with different gameplay and whatever and lock it into one mod. Well, I think it's a good idea and I'm not sure how many people here feel the same way.
With the growing awareness of Action 52 out there, I thought it would be great having a Total Conversion version of the 52 series. So why not?! Hopefully the modding scene can do a way better job then whoever made Action 52.
So anyone who wants to make something new in the Unreal Engine with Unreal Gold and wants some space, here it is. There's 52 spots to fill. The levels can be as short or long as you like and you can hand them to me, for me to code into the client. Yes, from that screenshot, you can select New Game and scroll down 52 different entries (which can be renamed) to select a game. Hopefully we can share ideas and whoever, like yourself can get experience making video game content, from all of this. I am here and hopefully will be here to get something out.
Hopefully if that all goes well, maybe I could try having a 9999 in 1 games in the future?! I'm trying hard not to get carried away with the marketing aspect. I should try but for now, 52 Total Conversion mods in 1.