SWAT: Elite Force is the most immersive police simulator experience for SWAT 4.
The mod, in essence, aims to become almost like a community expansion pack for the game, and eventually there will be new graphical improvements, missions, and equipment in the spirit of the original game. This is not a fresh coat of paint, rather, it is a full realization of what the game can be. With the help of the followers this mod has gained, I aim to market this as a fully-fledged police training tool.
THREE CAMPAIGNS IN ONE
The Stetchkov Syndicate and original game missions are merged into one campaign, with missions reorganized based on difficulty. A creepy house with a dark secret awaits your start, and a pro-life assault on a university lies at the end. In addition, a new series of missions, Extra Missions, will soon be added to the game as a separate campaign from the main game.
YOUR ACTIONS MATTER - YOU MUST PRESERVE LIFE
Every decision you make, whether in the loadout panel or in live gameplay, all matter. You may encounter traps upon doors - a feature which was cut from the original game. Penalties are much stronger, and easier to incur. You may now be penalized for not reporting suspects you incapacitate, as the trailer crew needs to be aware of them. Snipers and C2/Tasers from your crew can now trigger penalties.
THE GAME IS SMARTER THAN EVER
Suspects (and civilians) may possess unique personality traits such as Insane or Polite which modify their behavior. Insane suspects will fire without hesitation at hostages. Your AI counterparts will automatically report restrained civilians to TOC, and respond to new orders such as SEARCH FOR TRAPS. And lastly, the game will inform you of your mistakes and your progress - incurring penalties will trigger warnings, and completing objectives will provide a satisfactory "Objective Complete!"
PAY ATTENTION TO YOUR GEAR
Your less lethal equipment is no longer a shield for poor gunplay - TASERs can cause cardiac arrest in the elderly and drug users, flashbangs can seriously injure people, and the stinger is as dangerous as ever. In V4, the Less Lethal shotgun can expel beanbags realistically at forces strong enough to break ribs and incapacitate people at point-blank range.
All of the equipment in the game has been modified to use real-world values for rate of fire and muzzle velocity.
And now, the next version is on its way...
THE FIRST EXTRA MISSION: MEAT BARN RESTAURANT
This mission, originally a multiplayer-exclusive map, features a large restaurant area, kitchens, deli, meat packing and huge outdoor areas to explore. The Brooklyn Italian Mafia have ransacked the building in an effort to provoke other establishments in paying protection money. What they didn't count on was an alarm tipping off the police.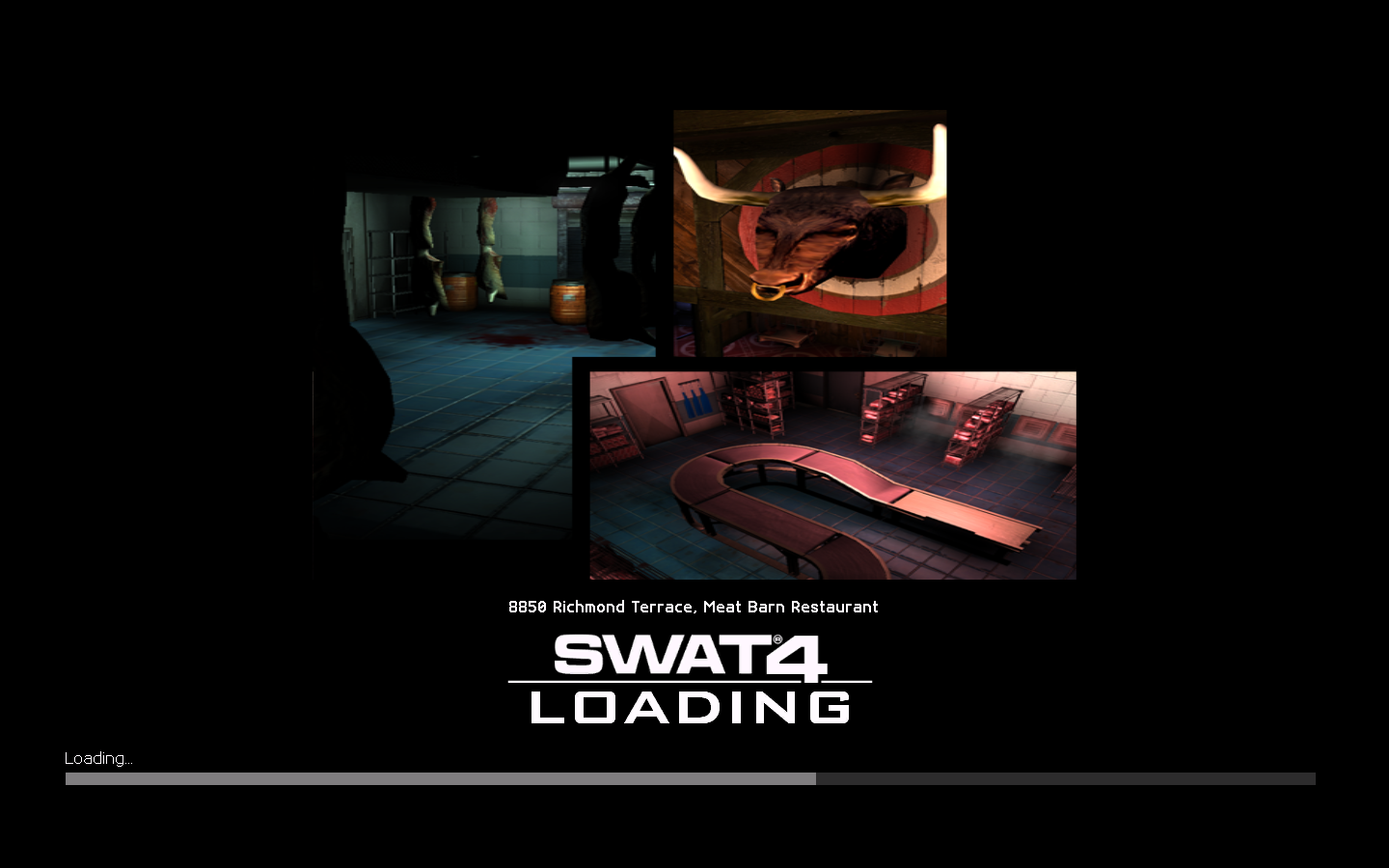 All of the Extra Missions will feature briefings, dispatch audio, custom maps, custom loading screens, and all the fixings of the original Irrational games. This one in particular was based on a heavily modified Multiplayer map with a new layout.
WEIGHT AND BULK
One of the new systems to keep your decisions tactical is the inclusion of Weight and Bulk. Weight is a measure of how heavy your equipment is, and Bulk is a measure of how big your equipment is. Weight affects your movement speed, is measured in Kilograms, and is shown on the HUD, as it frequently changes. Bulk affects your interaction (lockpick/C2/wedge) speed, and is a simple 0 to 100% percentage. Weight and Bulk are both shown as bars on the Loadout screen, and they affect both the player and AI controlled officers.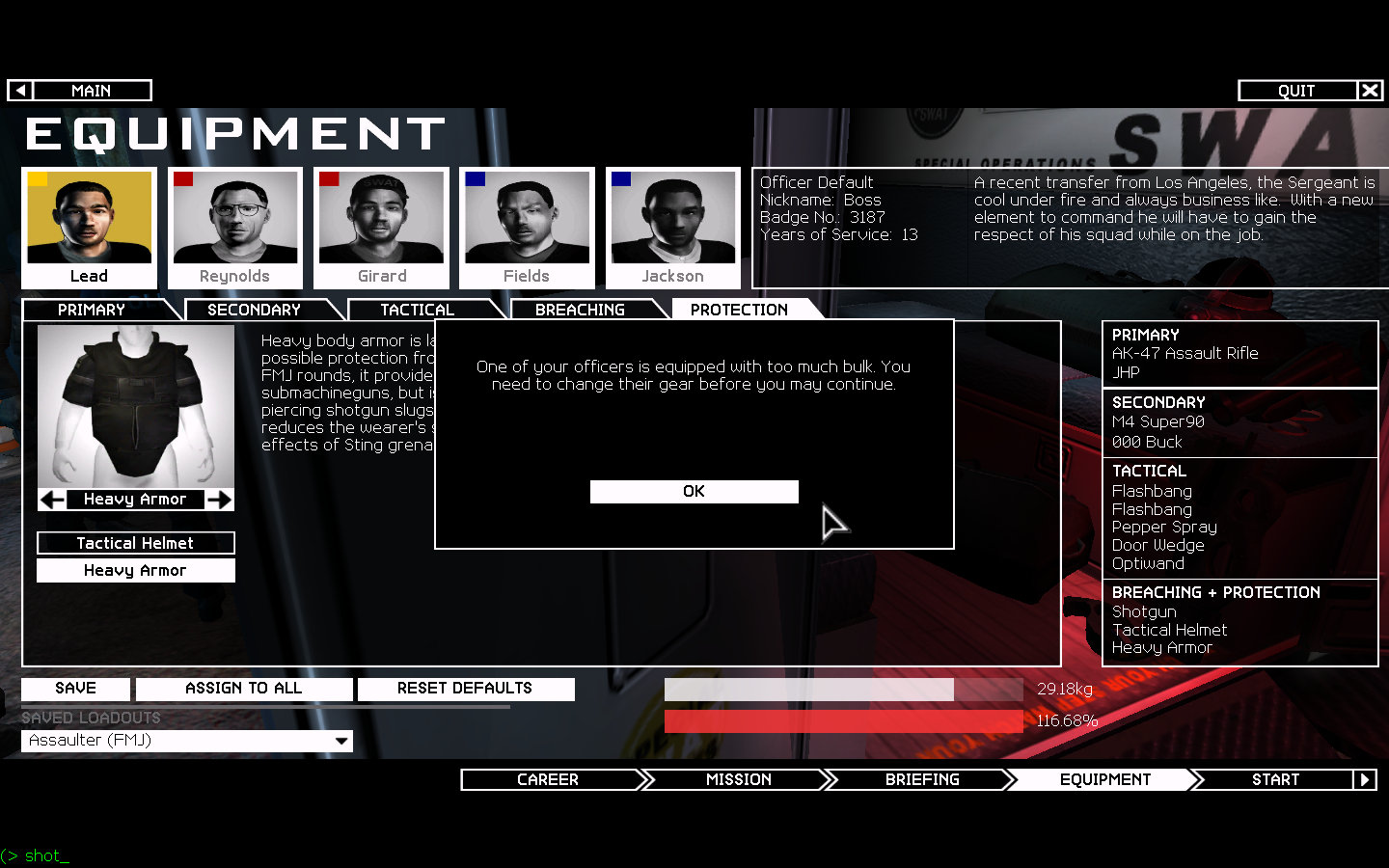 At 5kg (the minimum weight), you move at 260 units per second - about twice the speed increase of No Armor from Light Armor. At 35kg (the maximum weight), you move at 160 units per second - just a little over 1.5x the speed decrease from Light Armor to Heavy Armor. At 0% bulk, your interaction speed is doubled, the same as No Armor in the original game. At 100% bulk, your interaction speed is halved. As you use your equipment, your weight and (for all non-magazine based weapons) bulk will decrease.
As a result of this change, pistols are now equipable as primary weapons.
CUSTOMIZE YOUR AMMO TAKEN
Of course, with weight and bulk having a significant impact on your loadout, you'll want to eliminate any excess equipment you might not need. Ergo, you now have the ability to customize the amount of ammo you would like to bring for your weapons.
The ammo bag item has been removed, and in its place, you may now change the amount of ammo you would like to bring. For all magazine-based weapons, you can now carry up to 10 magazines; for the grenade launcher and taser you can carry up to 25 rounds; for the shotguns you can carry up to 50 rounds, and the pepper-ball gun is locked at 200 rounds.
BULLET RICOCHETS
One of the factors not frequently accounted for in a tactical shooter is the tendency for bullets to ricochet against hard surfaces. In SWAT: Elite Force v4, you will need to be extra considerate of the types of bullets you want to bring, and where you are shooting. FMJ rounds and buckshot now have the ability to ricochet off of certain surfaces, potentially injuring unintended victims. The ricochet projectile loses some of its momentum, and it's subject to randomness, but it could still be fatal nontheless. Exercise caution when firing in areas with lots of hard surfaces, such as alleyways, parking garages, and other outdoor areas.
This system is not perfect, as ricochet has little research done. Bullet fracturing is something I want to look into, where bullets split into multiple parts when hitting hard surfaces, and in the future there will be more choices than FMJ and JHP. Keep your eyes peeled for more info on this.
REALISTIC ARMOR MECHANICS
Armor in SWAT4 has always been a poor representation of how body armor actually functions. Type III armor ("Heavy Armor") is capable of stopping rifle rounds dead in their tracks, but the ceramic plates in such heavy armor tend to degrade. Likewise, kevlar vests ("Light Armor") are capable of catching 9mm projectiles at reasonable range. But in SWAT4, armor is more of tissue paper than anything real. It might offer some small protection, but it is otherwise a burden.
With the advent of weight and bulk being the dictator of movement speed, the focus now shifts on real, tangible benefits that armor can provide. In SWAT: Elite Force v4, body armor will be much more effective at stopping bullets in general. Light Armor will have improved effectiveness against small rounds at range. Heavy Armor will receive a large overhaul - the ceramic plates will be able to catch large rifle rounds, but they will quickly deteriorate the armor gradually over time. The armor breaks with diminishing returns - the first bullet removes a lot of protection from the armor, and subsequent bullets affect it less. You will be able to view the status of your armor on the HUD, but the exact method has yet to be determined.
OTHER CHANGES
There are a new set of commands: Leader Throw. These will show up on the menu as "OPEN, LEADER, and CLEAR" for example. These will allow you to throw the grenade you want, instead of your AI controlled officers doing it.
You can now lock doors using your toolkit, similar to how picking locks works, but it locks the door instead of picking the lock.
The "Join Game" button is back on the menu. The game (should) now allow for people with different texture packs to join the game. Various DRM methods have also been removed from the game.
Civilian morale has been largely reduced across the board - you'll still encounter noncompliant civilians frequently, but they won't require both a pepper spray AND punch to be compliant. At least, most of the time.
Less lethal equipment has been tweaked. Stingers and less lethal shotgun modify morale stronger, but less lethal shotgun can injure and/or incapacitate now. CS Gas affects a much larger area and for a longer duration, but modifies morale much less.
Suspects are a little less accurate, and they have a slight delay before firing upon you. Unskilled suspects are no longer master shooters that can target your head in less than a millisecond.
Fixed various bugs, including the sniper rifle not being accurate.
WHEN WILL VERSION 4 BE RELEASED?
Currently, the only main feature left to be complete are the armor changes. On top of that, bug fixes and a little extra work, the next version should be ready to go very soon. If you're interested in beta testing the mod, feel free to drop by in the Discord server. (https://discord.gg/RfujTnF)
HOW CAN I SUPPORT THE MOD?
I would love for the mod to better advertised. If you can think of a way for me to advertise better, let me know. Also, I appreciate the videos people have done showcasing the mod, and I have taken time to gather people's feedback and watch their videos. I'd like to give a shoutout to SiC, who has gotten a significant portion of the campaign done via Letsplays, here's a link to the first in the series: Youtube.com
I intend to set up a Patreon page soon for anyone who would like to donate, as I have received a request for this. By all means though, spread the word about this mod and SWAT4.
Keep the page covered. There will be more intel soon.