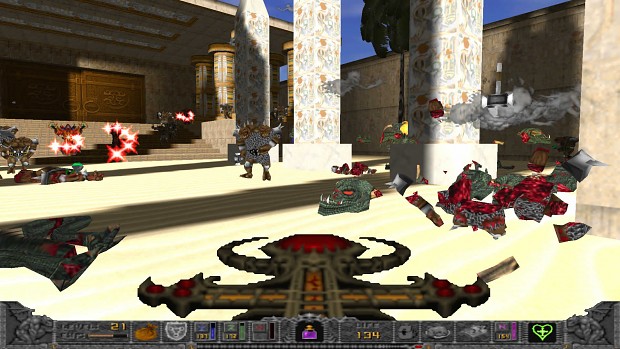 Throughout the development of Scattered Evil, there has been steady progress replacing 2D sprites with 3D models. While the first public beta in 2012 used very few models, by the last release in 2019 the environment was nearly exclusively 3D.
Scattered Evil 2.0 takes the logical next step towards a full 3D game: NPCs and monsters. NPCs have been converted from freely available Wavefront and Blender assets, reskinned and animated by us. Some of them have also been extensively modified with equipment like weapons, cloaks and helments.
Unlike DOOM and Heretic, the Hexen community only created MD2 models for some of the monsters, so we had to start small. Building on the Ettin model by Cain that had animations for walking, attacking, standard death and xdeath (overkill), I added a damaged version missing limbs, as well as custom weapons replacing the standard mace and custom skins to make visual identification easier.
Building upon the Chaos Serpent by Slyrr that included walking, attack and standard death animations, I've added a damaged variant missing bits and pieces from horn to tail. Since there was no xdeath animation included, I let my inner child go wild, cutting up the monster in pieces and make the chunks fly everywhere (watch the severed head bounce off the floor twice before finally coming to a rest).
Instead of listening me drone on, watch the video below for a demonstration of the new models: