Greetings!
If you're already familiar with Halfquake, you may very well skip to the ending of this message for the new HQS trailer.
You're still here? I suppose that means you either don't know Halfquake, or you like to read - or even both! In any case - let me pose a question to myself in your stead so I can pretend it was you who asked and then act all surprised and take you on a trip down memory lane.
What is Halfquake?
Why, thank you for asking! First and foremost, Halfquake is a modification for the original Half-Life. To most people, it might sound like a remake of Quake. And frankly, that's not that far off. The first Halfquake, which was released back in 2000, was heavily influenced by Quake and the movie Cube. Every room was originally thought to be a different trap, mixed with some of the more sadistic elements of Quake. And, naturally, Half-Life was responsible for the inspiration to create a mod in the first place. When my friend blackjack and I sat down to think about names, we came up with stuff like "Cubequake". Ultimately though, the decision fell on "Halfquake". In April 2001, six months after its conception, the mod was released and the first few players fought their way through it.
The response wasn't particularly pretty. Reviews were bad (but mostly a lot of fun to read) and people disliked it, yet there was something that kept them playing - even though the mod was quite relentless towards the players (or victims, if you prefer).
Just two months after the release of the first Halfquake, I had a dream about three white spots surrounded by darkness. Floating towards them, I slowly realized that the three spots turned out to be three men, for some reason. I woke up and drew the scenery on a small piece of paper. Which looked like this: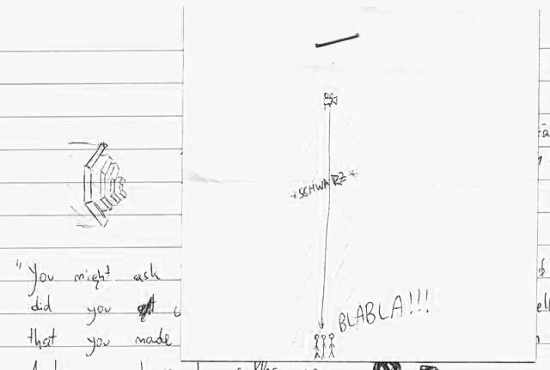 So, September 2001 marked the beginning of the second part, called Halfquake Amen. The intro was done quickly, with the camera flying down three dots at the center. And everything else just kind of developed from there. One year later, Halfquake Amen was completed on September 1st 2002.
This time around, the design was quite different from its predecessor, but it still retained the overall concept (resulting in another hilarious review).
In 2004, after the construction of the community website and browser game Personal Halfquake and the creation of a bunch of Halfquake Amen related comics, I thought it was time to revive it once again. One brainstorming session later, the third part was named Halfquake Sunrise.
Looking back now, there were no major problems during the development of the first two parts. Well, there actually was a time when I almost deleted all Halfquake Amen content about half-way through. But everything else went quite smoothly! I guess.
But anyway, Halfquake Sunrise turned out to be a different beast. Between 2004 and 2007 there had been three false starts. The first attempt looked and felt too similar to Halfquake Amen, so it was more or less pointless to continue. The second one should have been a sidescrolling platformer, still utilizing the Half-Life engine - yet, it didn't work out as intended. The third try was a flash based point and click adventure. Obviously, nobody was quite happy with that.
In late 2007 however, I sort of took a deep breath and simply started from scratch, discarding all previous ideas, going back to its roots as a simple Half-Life mod, and utilizing Spirit of Half-Life for a handful of new possibilities. It also helped going absolutely silent, keeping the project close to my chest. Now, more than two years later and close to a decade after the birth of this series, Halfquake Sunrise is finally a reality.
So, this is Halfquake! From now on, whenever somebody wants to know from you what exactly Halfquake is, you can reply with: "Well, I've read this post on moddb.com, and I'm still not entirely sure!"
And again, Halfquake Sunrise is right around the corner, so be sure to track it and join the Death List.
If you want to play the past entries of the series, Halfquake Amen and the original Halfquake are available for direct download here (HQA) and here (HQ).