Astrov is, simply put, a Work in Progress arcade-style space combat sim that aims to combine the refined combat systems of older, mission-based classics with an explorable world to wreak havoc in.
Do keep in mind that all of this is still in a pre-alpha state and will go through some major improvements over time. M+KB is recommended, as proper controller and HOTAS support is still very limited.
If you experience any bugs or would wish to provide feedback, feel free to leave a comment below. I cannot guarantee that everything suggested or reported will immediately be in the next update, but I will keep them noted down for future reference.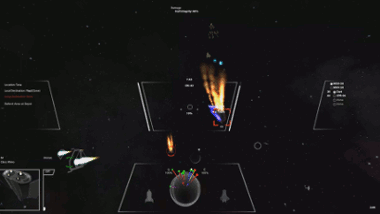 The story so far...
The Krasnikov Network - a world of star systems connected by space-time bending highways, formed after the introduction of what was then called the K-Drive. Originally the drive's functions were utilized in large, remote-controlled spacecraft as powerful spears, piercing lightyears of space to create permanent superluminal tunnels. With it, interstellar travel has become a possibility, but with an unexpected side effect: time travel.
What is available:
Functional dogfighting module with deadly cannons and missiles, as well as defensive systems such as countermeasure flares
Dynamically created space traffic
Complete freelance missions and earn money to grow and maintain your fighter fleet
Customize your ship's loadout and looks
What I gradually wish to add:
Story-driven campaign
Side quests - meet the inhabitants of the Network and make both friends and foes
Comprehensive research system - influence what weapons or equipment become part of everyday life in the Network and see your contributions affect the world
Advanced faction/employment system - work for large space-faring corporations with unique benefits or take riskier, but more rewarding jobs as a freelancer
Optional money-making ventures - examples being mining, trading, piracy and more
Large capital ships - both commandeerable and encountered throughout the world
Comprehensive hull system with destructible subsystems for all ships
No DRM, no tiny DLCs, no microtransactions, no BS.
I thank You for taking the time in checking Astrov out. Stay tuned for future updates!