Err, so, first of all!
We had a great time the other day. Four of us developers sat in a cozy Skype voice chat room, being interviewed by a friendly fella from Gamespy: Planet Half-Life. You can head over to our feature to read it or go to the interview directly on Gamespy on THIS link. If you click the Gamespy link, you'll also get the chance to see three, never-before seen screenshots, exclusive to Planet Half-Life.
Merry Christmas from the Visage development team!
We all got together and whipped up some drawings for you all, we hope you like them as much as we liked making them! (This is going in one of the Visage maps by the way)

Exclusive screen-shot!
Oh, I almost forgot! Here is the exlusive screenshot I promised you guys. :)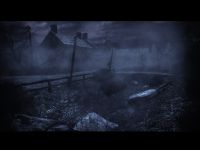 So we hope that you all have a very good christmas and a wonderful new years eve. We'll update again this Friday~, keep your eyes peeled on this page!
Oh, and DONT forget to VOTE for us on Mod of the Year!