Hey everyone.
It's FewCode here, time for some more news.
So, currently I am working on Alpha v1.5 of Interstellar Vengeance. I had made a deal with myself so I thought I would explain it.
Before working on v1.5 I made a list of things I want in that version. (As normally you should plan a bit before working on a project) This list included fixing bugs (priority), changing things (like balancing and just general flow of play) and adding more features. So far I have fixed all the bugs, changed most of the things I needed to change and I am halfway through my list of features to add to the game. So far so good.
Now, my deal was: if I have done all of this by the end of the month I will put a download out of v1.4 (so you can see where It has come from) and v1.5. If I didn't get it done then I would just put out v1.4. In fact, the only thing stopping me from putting out v1.4 when I put up the game on IndieDB was that it had place holder music that was highly copyrighted. Now the very talented person who is making the music and sound effects for the game has given me some music to put in as a placeholder. So it means I can put up a download for the game.
On that deal, I think it is going so well that I will be able to put v1.5 out for download. So, good news.
I might as well go over some stuff that will be added into that version. There is a whole lot of background stuff that I have changed, so I will only go over the stuff that are in the "foreground".
So far I have added:
An extra ship to the game

A ship select menu

Beam weapons (needs massive balancing

)

New title screen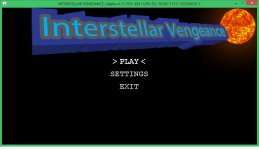 As you can see, not a feature heavy update. Though, if you count it, these are some very big features. I do need to sit down and find the time to program, plus I am only one person. So updates on this game will not be "massive".
I seem to go on and on in these news posts. I'm just gonna end it here by saying: Thanks for reading this. I appreciate it. If you have any questions, feel free to ask.