Stranded in space and faced with an alien threat. The only crew members left can't fight. This is where the engineer comes in.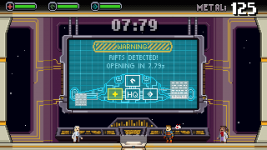 Spacejacked is a sidescrolling tower defense cum multi-arena shooter set in the depth of space, where a lone engineer named Dave must fight an uphill battle against hordes of alien scum to protect the ship and her crew.
In Spacejacked, you are tasked with protecting multiple arenas simultaneously from waves of alien scum. Fortunately, as the engineer, you have the trusty combat drone to obliterate the aliens. In addition, you have the ability to build turrets, which is key to turning the tide of battle. To keep the long story short, different turrets does different things to different enemies.

Should you fail however, the spaceship and its crew perishes. Are you up for the challenge?
Spacejacked is now in super-early-pre-alpha! Download, play and share with us your feedback!