SITREP is basically an ongoing progress report where we publicly display our current tasks, progress and focus areas. Primarily targeted at those of you who find game development and our Open Door Development methodology intriguing. - Read last weeks SITREP here
Remember that you can preorder and support the development of Interstellar Marines by upgrading your profile to Spearhead or Frontliner, or by buying Support Medals in our shop.
Team debriefing


Kim (ZPSHicks)
Game Director
"E3, E3 and E3 ... On the FPS side of things I'm really looking forward to playing Skyrim, Battlefield 3 and Far Cry 3 which no doubt will all provide many hours of excitement, inspiration and ideas .. We haven't seen any public demonstrations of Aliens: Colonial Marines yet but a recent Kotaku preview made it pretty clear that it might just blow us all away when finished ... simply can't wait!
Other duties have been centered around researching tons of reference for Deadlock; images which will be used internally (you'll see the concept art later) to nail all our ideas for the environments in Deadlock (Which at the moment haven't evolved much since Running Man).
Oh yes .. and later today its off to the woods to bury Kenneth. :)".


Kenneth
Lead Sound Designer / PR
"This has been a quite weird week for me. You see - somebody made me an offer I couldn't refuse, so from the 14th of June I'll no longer be working at Zero Point Software. My new job will be as Marketing & PR Coordinator at another Danish independent gamestudio called Reto-Moto, who are working on a browser-based persistent WWII FPS called Heroes & Generals (it's kind of a FPS MMO).
So... This week I've been transferring my tasks and knowledge to the rest of the team. Nicolai will be going back in on sound design, Kim will take over my PR-tasks, and Mikael will continue my struggles in trying to make the team work structured ;-). My last day at ZPS is Tuesday next week, where I'll write a small "farewell-blog" to you all - so these lines won't be the last you'll hear from me.
Oh sorry, I have to go - Kim says he wants to buy me a drink for old times sake..."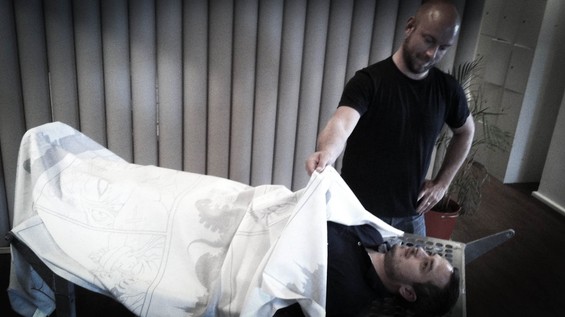 No one gets out alive :)


Mikael (heks)
Lead Programmer
"Last week's server resurrection attempt went so-so (I blame it on the lack of prayers in the comments!). Since then I've been working on mixing and matching different backups, each with their own peculiarities, in order to restore a fully functional system. This was achieved wednesday and was a small win for me and the team!
Our server park had been neglected for far too long (we lost our _real_ sysadmin 'tax' almost a year ago), so I guess this was bound to happen at some point. On the bright side it has forced us to look at our infrastructure and get it running more smoothly and, once it's fully operational, the servers will be much more fault-tolerant with multiple backup systems both on- and off-site! *breaths sigh of relief*
Unfortunately it hasn't been all up-side; Kenneth has decided to move on to other ventures. He's been a great asset on our team, leaving behind a trail of great things both in production as well as in person, and he has been a true inspiration to me in so many ways. I am _truly_ grateful for having worked with him for the past couple of years!
So, good luck in your future endeavors, Kenneth! I will miss ya :)"


Jess (NecroSonic)
Level Designer
"I ran into our awesome artist Anders Antoft that did all the Running Man modules that I am still using for Deadlock. We discussed the new levels that I am currently working on. As I am constructing outside environments that the Running Man modules was never intended for I have wish list of new modules that I would like for Deadlock, and it was great to finally share all this with Anders.
I am so looking forward to having Anders back on creating art for the game. Like a kid that can't wait for Santa to bring that new box of LEGOs".


Nicolai (Reese)
CEO & Composer
"Unfortunately Kenneth has decided to go for a career change work wise. and we will sure be missing him for his excellent Sound, PR and Project managing skills. As you can see above, Kim took him out for a drink :)
This means we will be making some organisation changes, and among other things be hiring an extra full time programmer to help out a Heks.
I myself are getting back to sound design once again as I did when we worked with the UE3 engine. /eating a stress pill" ;)
InterstellarMarines.com Summary
Picture of the Week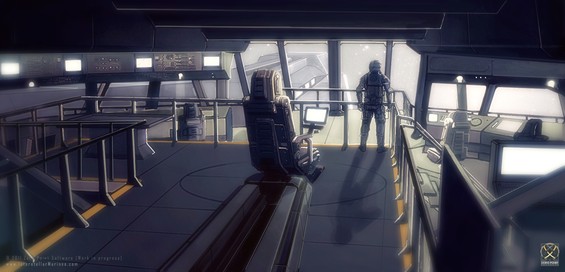 Mentions this week
Thanks for your support and feedback on our community website.
Feel free to preorder and support us by upgrading your profile.
All the best,
Nicolai (Reese) & the team at Zero Point Software
Join and follow us: