Team debriefing
Kim (ZPSHicks): "This week have been spent living and breathing the map Operations map for Deadlock, trying to rework the modules and prepping a bit of multiplayer potential in the level design, while continuously designing and implementing our ambitious light-pipeline for IM. I must confess that I've also spent a bit of time polishing various assets and effects because I actually work faster in the long run if I give myself room to try out ideas to boost creativity along the way, which actually also provide me with a good sense of peace of mind that this can and will work".
Kenneth: "This week I've started the Avatar Competition in collaboration with Aevaris, worked on and blogged about my CubeSounds prototype, iterated on our PR strategy, and lastly I've written and prepared Log Entry 019."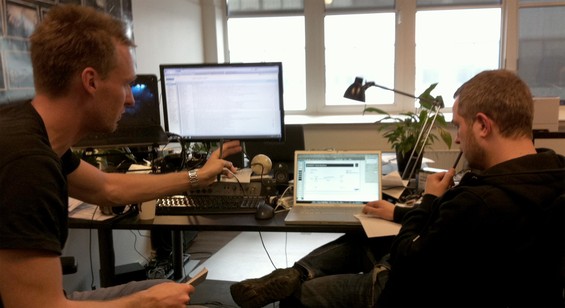 Two hard working Jarheads in the line of duty
Mikael (heks): "Okay, so this week I supported Kim's map iteration with some helper tools, got our main server unlisted on various blacklists (…don't ask), and worked on a networking prototype for internal testing of game-/level-design. I enjoyed the last one the most".
Nicolai (Reese): "I have started to prep' for the upcoming music scoring of our multiplayer Deadlock... ah i can already smell the sweet feeling of creativity. For me, this will be a superb boost and a much needed change in the somewhat daunting daily business administration and fund raising tasks. I've been installing and spend some time to setup up a rented DAW (Digital Audio Workstation) system to compose while being at the office. For those of you interested in music and/or the process I'll shortly start an ongoing music composing blog which will give you an opportunity to follow me on this new soundtrack journey. As a sidenote im looking at options for an improved payment system in addition to our current paypal only shop. I'll get back on that later".
InterstellarMarines.com Summary
Mentions this week
We are very keen to keep you posted on a weekly basis and hope you find this as exciting as us.
All the best,
Nicolai (Reese) & the team at Zero Point Software