Running Man is now completely unlocked to all registered users
The winner of the Xmas competition
The Xmas competition is over and the winner has been drawn. The lucky winner of a 64 GB iPad with WiFi and 3G support is obliter8. Congratulations to him, and big ups goes out to everybody who completed Training Day 1 in Running Man. The iPad has just been ordered and is on it's way to obliter8.
Crowd funding - preorder and invest in Interstellar Marines
To newcomers it might not be too clear how things work, so we'll try to explain a bit about preorders and upgrades.
By upgrading your account to Frontline you are not only preordering the first game in the Interstellar Marines Trilogy - you are also investing directly in the development of the games. On top of that you will get exclusive pre-access to all upcoming releases as well as a shiny badge for your profile in the forum.
Spearhead is a limited account (only 75.000 available) which besides all the Frontliner benefits gives you all three games in the Trilogy at a very attractive price.
If you wish to support us more, you can buy Support Medals. Besides being an investment in the development of Interstellar Marines, you can "save up" for a Spearhead upgrade. 9 Support Medals can be converted to a Spearhead upgrade.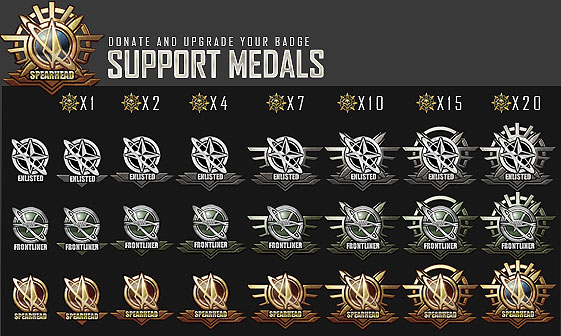 Your forum badge will also show how many Support Medals you have bought, AND your first Support Medal enables forum avatars.
The bottom-line is that your investment will result in real, tangible, forthcoming game titles.
Everything is still rolling forward - we just still need your help and appreciate all contributions - whether monetary or word of mouth.
Shop discount extended
We have decided to extend our 25% discount in our shop on Spearhead, Frontline and Support Medal upgrades to the end of the month.


Go to our Shop to upgrade your profile and support the development of Interstellar Marines.
From all of us to all of you
We gave Spearheads and Frontliners an exclusive present before christmas to juice up the christmas spirit. Allthough christmas is long gone we still feel that the rest of you should experience our small playground project made in Unity 3. Enjoy!


Download "Xmas 2010" Unity 3.1 Standalone (PC)
Download "Xmas 2010" Unity 3.1 Standalone (MAC)
Other news
We made it to the Top 5 in the category "Players Choice - Upcoming Indie" at IndieDB and are very proud of our 4th place just behind Primal Carnage, Overgrowth and Natural Selection 2. We thank everybody who voted for us!!!
A new weekly initiative "Ask the Developers" (or AtD for short) has emerged from the forum. It was spartan1997 who spawned the idea where the community can ask us questions, and Aevaris has picked it up and will make a poll each week on his own site based on suggested questions and send us the question which got the most votes. We look forward to receive new questions from you every week and will do our best to answer them. Read more about it here.
We have rearranged the weekdays for Picture of the Week and Question of the Week now that Ask The Developers has arised. It will be as follows:

Monday: Question of the Week
Wednesday: Ask the Developers
Friday: Picture of the Week
We now have 57.847 registered users, 943 Spearheads and 95 Frontliners and the total sum of Support Medals is 1590.
For the Love of the Game,
The team at Zero Point Software
Click here to go to the original article