Remember The Vault? Our first release on interstellarmarines.com
Still fundraising
Yes, we are still in the process of raising money for the next release. Most of our time goes into writing businessplans, strategy- and investor-meetings, production-estimates, and design of the next release. We have managed to secure some of the funding for the next release, but we are still not in a position where we can start up the production-mill.
Weekly initiatives
As some of you might have noticed we have started two weekly initiatives: Picture of the Week, and Question of the Week. The concept of Picture of the Week is that each Monday we'll post a new picture from our production - it could be concept art, testrenders, office pictures, etc. The first Question of the Week was born out of curiosity about which expectations our community have for Interstellar Marines in general, and also to get to know your preferences a bit more. Your input and the discussions we've had on the forum is pure and utter GOLD to us, so if you promise to continue this line we'll try to come up with new interesting questions each Wednesday!
Banner Competition
A little more than two weeks ago we started a banner competition, and to this date we have received 60 banners from 14 community members. We are once again very impressed by the level of commitment you put into our project! The deadline for the competition is Friday the 3rd of December 2010 so there is still time for you to give it a shot.

Vote for us in IndieDB/ModDB competition
Indie DB runs their 1st Annual Indie of the Year awards, where we urge you to vote for us. There are two phases - Phase 1 which runs for 8 days more from now, and later Phase 2, there the top 50 games compete for the "Players Choice Awards".
To vote for us you should go here and click on the vote button - you don't need to sign up to vote.
Unity Awards 2010
Bullseye was awarded second prize (runner-up) at Unity awards 2010 in the category "Best Visual Design". Congratulations to "The Uncanny Fish Hunt" by "Uncanny Games" who won this category, and congratulations to all Unity Awards 2010 winners.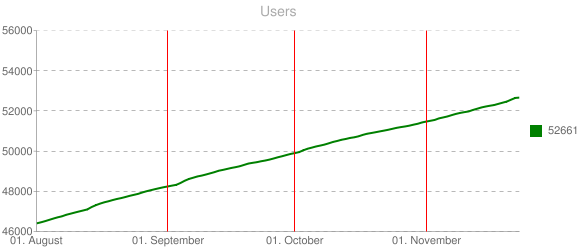 A steady growth of registered users since 1st of August.
Numbers
We now have 52.661 registered users, 873 Spearheads and 83 Frontliners and the total sum of Support Medals is 1425.
Other news
Aevaris has created an amazing leaderboard, as well as some other really cool features on his own site - Big ups from the bottom of our developer-hearts!!!
FOR THE LOVE OF THE GAME,
The team at Zero Point Software
Click here to go to the original article