This update we're introducing the first iteration of one of our central tactical movement mechanics; namely the ability to boost your movement stance at the expense of noise (volume/range) and weapon accuracy.
To increase the immersion and dynamics of the combat we've added casings and smoke to the SMG as well as impact light to metal sparks. We've also added a few additional options to the settings menu such as v-sync, audio options and post-process effects.
Finally we've fixed another nice little batch of bugs, errors and inconsistencies based on all your invaluable feedback.
Version: 0.5.2 (minor update)
Released: 12th of July 2013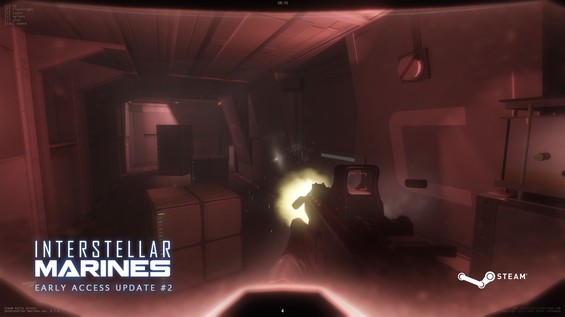 New Features
ADDED: walk/run movement (affects sounds and weapon accuracy)
UPDATED: weapon gun model is affected by hip aiming, zooming and movement speeds (multiplayer)
ADDED: casing and ejection smoke effects to weapon
ADDED: post-processing effects to settings
ADDED: "v-sync" toggle option to settings
ADDED: audio volume and mute option to settings
ADDED: light flashes on metal impact effects
ADDED: subconscious impulse
Improvements
UPDATED: short wait period (0.5s) after spawn before you can shoot
UPDATED: mouse sensitivity in settings to a broader selectable range
UPDATED: so only the tonemapping and bloom post-process effects are on by default (performance)
UPDATED: the red dot to be slightly smaller
UPDATED: the IM logo in menu to include the Early Access update number
UPDATED: level camera so it respects the post-processing effects from settings
UPDATED: level camera to change positions in half the time
Fixes
FIXED: "game crashes when using FRAPS and starting game"
FIXED: Steam exception thrown on quit
FIXED: "ODD warning doesn't show in OSX"
FIXED: "cannot bind Shift and other modifier keys"
FIXED: so bindings are not overwritten if already bound during load
FIXED: "bindings are reset to default when not bound"
FIXED: "sometimes weapon fires a bunch of bullets on spawn"
FIXED: "if firing while going to a menu, the weapon doesn't stop firing"
FIXED: "if holding fire while reloading the weapon doesn't start firing when reloading ends"
FIXED: "settings button still selected when going from intro to menu"
DISABLED: the buggy helmet occlusion prototype
Keep the great feedback coming!

FOR THE LOVE OF THE GAME,
Your team at Zero Point Software