New user interface features have been added, and the Construction skill will allow players to use Blueprints to create their own structures, carving out a slice of kaiju! internal history for themselves.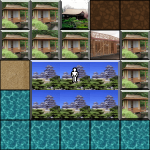 First of all, a feature I've been hoping to add for months now has finally found its way into the game. Players can now tell which map cells belong to the same building thanks to the new, beveled "walls" that are superimposed over the map tiles (as seen to the left). If more than one map tile is included in the same building, it will be immediately obvious thanks to not only the lack of a border dividing those cells, but also the beveled border that is now displayed around the perimeter of the building for player convenience. This isn't anything especially game-changing, but it's an idea I've wanted to implement for some time now. I'm glad it's finally been crossed off of my "to-do" list.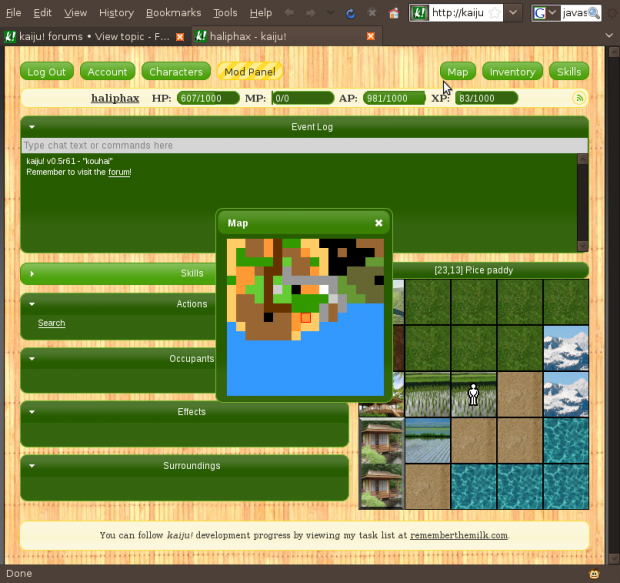 Next, players now have access to a color-coded mini-map from within the game. Their current location is highlighted in red (as seen to the left). Unlike the "Scan the horizon" action that is available from elevated positions such as Towers and Mountain Peaks, the mini-map does not show you the locations of any people. It does, however, stretch farther than Scan, and is made available to the player at all times. Eventually, a Cartography will most likely be added so that the player can track their progress throughout the world and witness their location while viewing more than a 17x17 slice of the overall map. Skills could accompany Cartography, including the ability to view Faction boundaries, etc.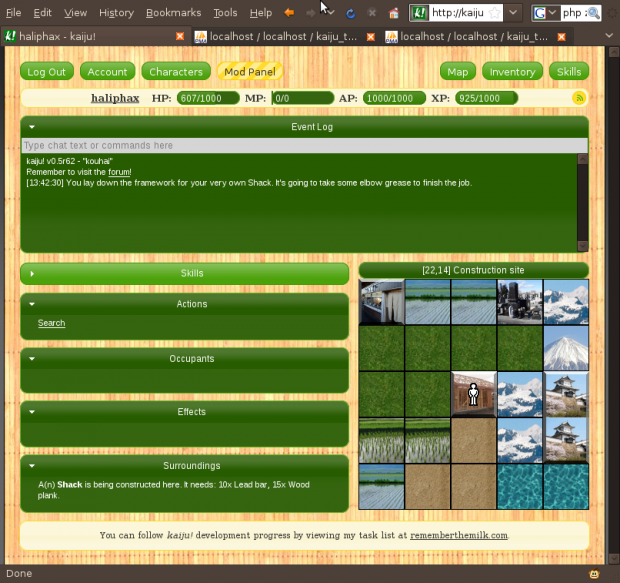 Finally, the target of my obsession for the past couple of weeks: player-driven construction. The Construction skill is now part of the closed alpha. In conjunction with a Blueprint item—which creates the Construction site and generates the list of necessary items for completion—the Construction skill will allow players to create, own, and maintain their own buildings as part of kaiju!'s persistent world. From this skill will sprout building damage and deterioration, building repair, barricading, faction strongholds, text decoration, and so much more. There's a long way to go until this mechanic will be completely "finished", but the path has been laid!
Up next on the drawing board: Factions, building damage and repair, and the Geisha and Merchant classes.