Now when a radar site is selected a radius sphere for the radar site is shown. the size of the sphere in the screenshot has not yet been adjusted yet, but we can adjust it to any size for correct radar operation range. the screenshot was taken in a quick flat test map ingame and not the main world map.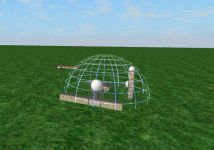 I also want everyone to know the project has a new forum at the following address
Interceptsimulationdesign.com
With the current progress being made we are hoping to very soon have the first intercept video showing player building and deploying defenses then attempting to intercept incoming threats.
This is Servo signing out!