For your viewing pleasure we have attached a quick screenshot of the newly skinned Ground Based Interceptor Mesh.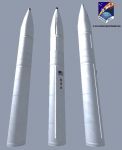 The new missile mesh is the Ground Based Interceptor missile, and is deployed from the Interceptor field silo sites. The Ground Based Interceptor is the longest range Interceptor in the USA player's arsenal.
In the next view days once the last changes are made we will be posting a higher detail screenshot showing off the detailing on this new mesh, we are also hoping to have the finished USA Player's Capital building back from the skinner and the first glimpse of this newly finished building.
This is Servo Signing out.