This F-117A mesh is very low poly mesh and may be tweaked or updated later on into the project at a later date but we needed the stealth fighter done and put into the project so last month I took a break from working on other meshes and did up this low poly version as a quickie. The F-117A Stealth Fighter will provide players with the ability to strike inside enemy territory with minimal risk to their fighter depending on the level of Air Defense the opposing player has deployed.
So with no more delay here is a sneak peak at the current USA player's stealth fighter aircraft.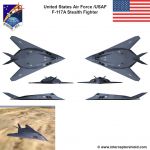 This is Servo signing out!