Continued from Part 1.
Miscellanies Departments

Over the year, INT has grown to become a team set on building more than just a single game. We established a creative development department to work on new non-software related products like the Tens Day comic line. In addition we established a HR department to resolve inter-department issues and recruit new members. Finally, our PR department one of the original departments I established at the onset of the project has been very successful late in the year at securing interviews and working on community building projects. Please read a few statements from several of our Miscellanies Department membership below.
John (HR Lead/PR):
Whether it be concept arts, background lore, or 3D models, we have been providing the community with the knowledge of
what to expect in the finished game. Moving forward, we will be able to provide materials of larger scale and gameplay footage for the community to preview and comment upon.
The company has established a dedicated HR department to improve both our recruitment process and team efficacy. The HR department has provided the company with a standardized recruitment process, which improved fairness to all applicants as well as improved candidate-to-company match in collaboration. We will continue to improve our recruitment process and build a tighter, more ripped team.
Richard (PR Lead)
Starting in July, we have done two interviews with media from the US and UK and are currently working hard on setting up more coverage.
Games Defined Interview:
Exepose Interview here.
The INT IndieDB page has grown massively and we reached 100 subscribers very recently. The news, and almost all of our updates bring us into the Top 5 of IndieDB. The website has received a massive overhaul and is looking nice and shiny now thanks to Panda. In the last update, I drove traffic to the site and the team is producing more of development blogs which devs and gamers alike find interesting. For next year, I hope to increase the coverage even more and show off the game in it finalized look. People want to see INT and I wan to give it to them!
Stephen (Creative Development)
In my early role as a writer, I got to design the poster that was included in the July 2 update (July 2nd Update Link: here). It was my first time being involved in the creative process, from concept to creation to implementation, and it was very exciting. Now I am on the creative development team, creating the lore that will enrich a fantastic game universe.
Panda (Creative Development)
This year I redesigned the INT website, customizing a WordPress theme for the purpose. In addition, I reorganized the content already published/available and created additional content. I'll continue to update the site and work on both the
content and the layout, aesthetics, and general appearance. In the meantime, I'm also working on a 3D or psuedo-3D - map of the game universe for release in stages. I've also developed a custom deck of cards, and rules for a card game that may appear in the game. I also wrote a bit of ambient dialogue and created a few dialogue trees in Unity (using Dialoguer).

Work in progress from Panda and the Creative Development Department:
Above Left: A working tease for the upcoming INT card game. We will announce more information about this when we are closer to release.
Above Right: The work Panda has done to re-design the INT Website. Expect this page to be updated with guns, armour, characters, and organizations as we continue to develop web-based content for our community.
Below: A working model of the INT star map. This will be a new website feature that allows you to explore the INT universe and find the available planets in the upcoming INT RPG.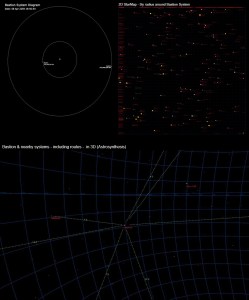 Brian (Creative Development Lead)
Creative development is a relatively newer department, emerging during the late summer of 2014 to supplement the then half-year-old INT project variously. In some respects, we are still finding our stride heading into 2015.

The origins of the department can be traced back to "The Initiation," a short story that explored a darker and uncanny side of the INT universe. I crafted the tale as a member of the writing team, and it was published on a popular Creepypasta YouTube channel in July of this year.

My central mission as creative development lead heading into 2015 will be to expand the Starboard Games brand and INT's universe and history in various media forms, primarily, at first, by overseeing the development of the serialized graphic novel Tens Day. The first issue is ready for release, and 95% of the script for the entire narrative has been drafted. The entire series of six short installments will total about 85 pages or so.
Expect to see Tens Day 1 in its entirety shortly. Here is a sneak peak:

Joshua (Creative Development)
In addition to designing a striking Tens-Day cover, illustrated and lettered the first issue of the series. In many ways, Joshua was a co-creator of the characters, whose exploits also entailed bringing to life with his art what previously had been brief descriptive bios at the start of the project.
Tease 2015
Please check out recent in-game videos below. As 2015 rolls forward, we will introduce more and more in-game videos that showcase the characters and character interactions. Recent in-game videos:
Basement:
Character Creation Suite:
Roof:
Summary
Above anything else, this project is a labor of love on my part and my team's part. We want to build a fantastic sci-fi universe for the player to enjoy. Our goals are to give the player story and choice while producing a realistic art style and innovative game systems for the player to interact with. Going into 2015 you can expect more of the same. We will continue to produce monthly blog updates on the 2nd of the month, smaller blog entries in the middle of the month, and begin to outline some new projects that we seek to establish on the software and creative development side of things.
One of the first things to drop in 2015 will be Tens Day and after that we have more and more content from Creative Development that we will share with you. Journals of War produced by writing will continue to be created. The star map, card game, and other projects that Panda is helming will continue to be rolled out and other unannounced projects from the team will begin to be shared with you. However, our primary goal is to finish the demo for INT and we are close to that goal, but refinement and (internal/external) testing is likely to happen before the release of the demo which I expect will happen in 2015.

I hope you enjoyed this update and will continue to follow our progress on the forum, website, social media links, and steam. We will need your help to make this happen and if you like what you see please give us a chance and follow us. As always, have a good month and I will see you again on February 2nd with my next entry.
-Justin
Project Lead