Greetings,
Over the past year the project team has been hard at work building our first indie game, titled INT. IF you have been following our progress you have certainly seen the outstanding work produced from our four departments: DEVTEAM (collectively coding/art), writing, sound and the miscellanies departments (Creative Development, HR, PR). I am proud of both the quantity and quality of the work produced by the team this year and this update will be a year in review with an eye towards the future of what is to come from the INT team.
I would like to begin by examining the year in terms of months and milestones, which I will share below. This overview is followed by specific testimonies from project members, divided by department, and then a look at what we hope to accomplish in 2015 and how we intend to do it.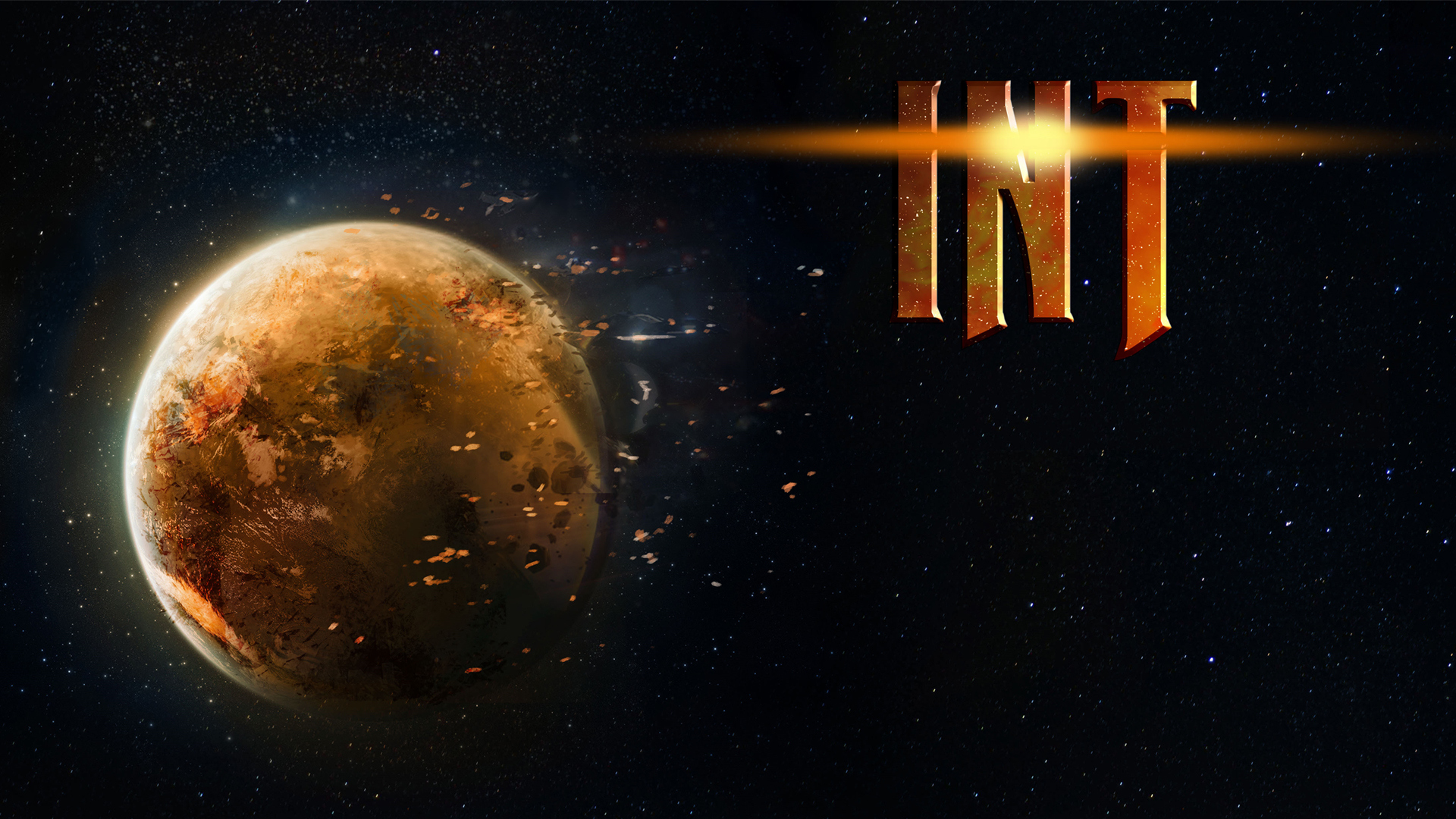 ---
Initial Months (January-April)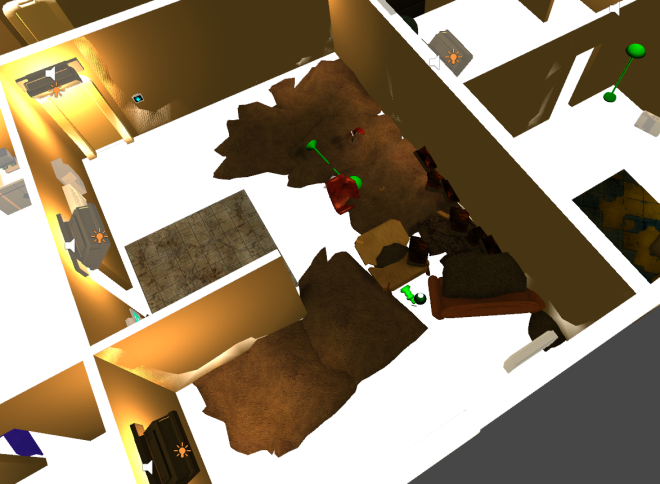 The project began on January 2nd, 2014 and was started with the hope of providing players with a Sci-Fi RPG that took elements of roguelike and dungeon crawler games while preserving the core tenets of what makes a role playing game: story and choice. Initially the project was slow getting started. I had to construct the GDD, compile reference art/photos and recruit a team from the internet.
This period saw the creation of our first forum and website: At this point in development we used the forum primarily for all communication and held our meetings on Google Hangouts. As time went forward we switched to Skype as it provided us with the methods to call more people and share screens with more people. Trello became our new project management software. The website was changed, but did not do all that we hoped it would. This period cumulated with the launch of our first trailer, where I outlined what the project was setting out to do and provided early concept art and a look at the apartment level (pictured above).
I define this period as our startup phase where I recruited the initial team, established the universe, provided reference art to our concept artist and modeler, and worked to build the final GDD.
Middle Months (May-August)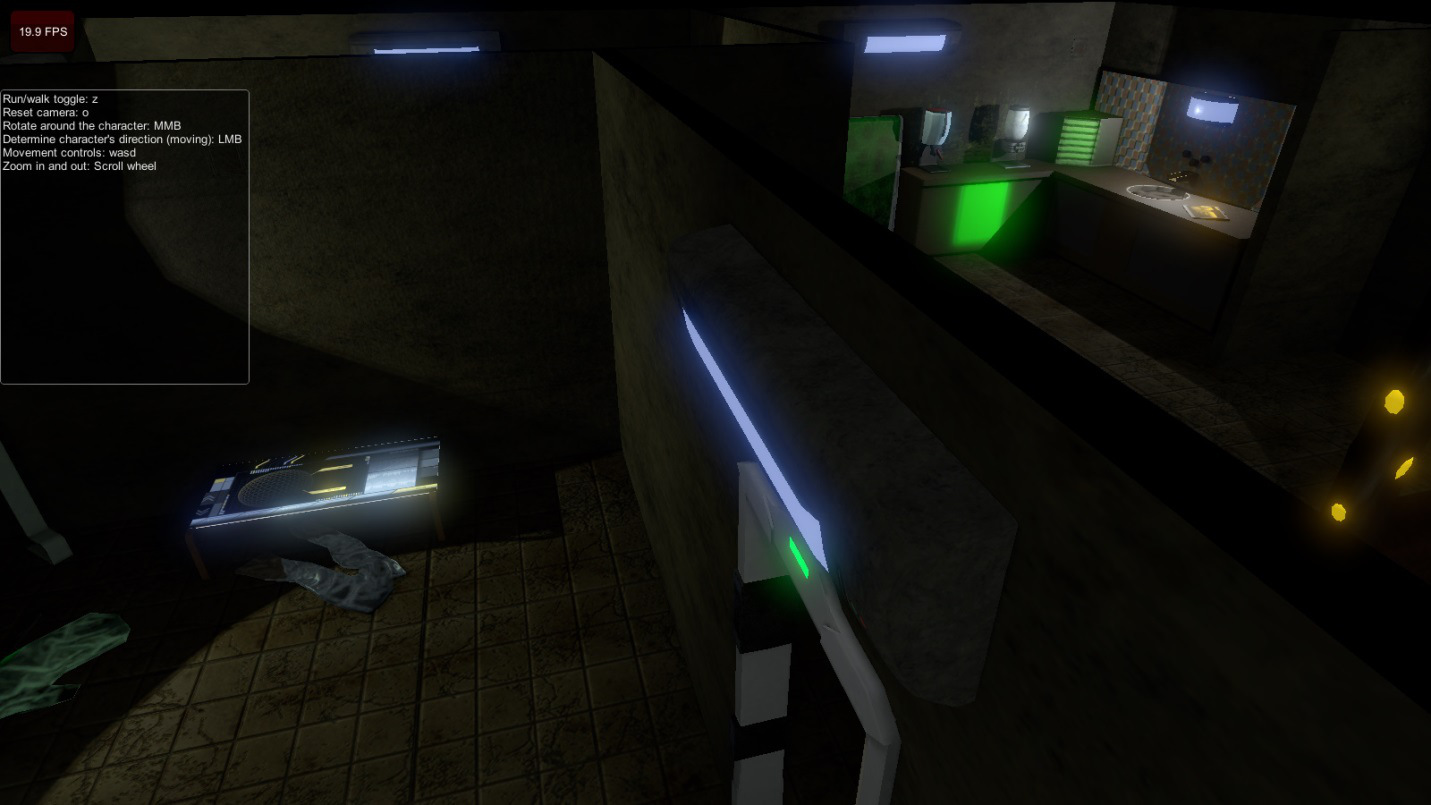 By May concept artists had used my initial reference art to begin building the concept art for the universe. Modelers
had taken this art and begun constructing the levels and the first GDD was used to begin constructing the systems for the game. Our first forays into social media and PR were attempted by our first PR lead and the early work at building a community was established, but we had a long way to go and still do.
This period saw the final transformation of the project in terms of how the universe was being established, the faction ideologies, and the featured planets, and art style used. I finished the final GDD at over one hundred pages for the coders and developers which is still being used with slight modifications. Our PR staff had a shakeup, but our new PR team is far more adept and able to perform the duties outlined. We established a creative development team under Brian, with the goal of producing a comic (now finished and scheduled for a release in the new year). This period saw the combination of art and coding into a single entity to develop the game under Monte and we made significant progress on finishing the first level of the game.
We solidified our use of Skype and Trello for efficient project management and found that this process worked a lot more efficiently than forum based communication. This period also saw a shakeup with our coding department which set us back a bit, but by December we had begun to put out more and more internal buildings, far surpassing previous progress.

Final Months of 2014 (September-December)
The final months of 2014 began with a change in design and with the goal of putting out a fun yet simplified demo. While the original conception of the demo is still being worked on; we established what we wanted to do and how were going to do it by the end of September. Ever since then we have made significant monthly progress towards meeting this goal. I believe the final result will be something players will enjoy and that our collaboration team can accomplish in 2015.
One of the biggest developments to occur besides internal progress towards accomplishing the demo during the final months of 2014 was the development of Tens Day. This is the first comic for the INT universe and developed by our creative development department.
Going into 2015
Going into 2015, I am proud of the work we have done in the first year, but know this will be a long journey. INT the RPG will see fruition this year and then the truly difficult task will confront us:
fundraising. However, I know that we will be successful in this because our team has faced challenges from the beginning and will continue to do so, but under my leadership we will preserve with tenacity, and a drive to produce a great indie RPG for our fans. I will summarize at the end of this entry in greater detail.
All Monthly Updates
Check out all of my monthly updates from 2014 below (unfortunately a few have been lost in the website changes):
April, June, July, August, September, October, November, December.
---
DEVTEAM Department
Monte (DEVTEAM LEAD)
I joined the INT team in the second quarter of the year and we have come a long way since my initial role as a hard surface modeler for the team. Over my time with the team we have evolved the style and quality of the art that will make up the INT game. We recreated the entire level that will make up the demo when it is finally released and are currently upgrading those same items to have an even better appearance with the lighting improvements coming in Unity 5.
During my time here I have been asked to take on several roles. I have filled positions as a hard surface modeler, development team lead and art department lead. I feel that working in all these roles has given me a very good understanding of what we are trying to accomplish with the INT project and what it takes to get that done. I can honestly say that this always ends up being more than you expect or plan for. Overall, I know I and the team as a whole has grown and learned what it really takes to put this kind of project together.
As an art team lead and development team lead I look back over the year and realize how important having a real plan and
ood people to implement that plan really is. All of those working on INT are fairly new to game development. While the talent level of some of our members is extraordinary, all of went through growing pains as we really put those talents together and used them in creating a grand vision. We had to learn how to function as a team and really get to know how our work would be used after we finished it. As the lead, I found myself learning more about what and how different assets would be used in the game and what it really took to get all the components working together.
As with any collaboration indie project, we have lost some people through the year and had to fill many spots that we
thought we had covered. Again, this was a learning experience and has set us back in a few areas that we are struggling to find consistent output from.
Looking forward to year two, there are some great things in the works. There is a great foundation for the game set and all we need to do is fill in some areas that are behind. The good news is I believe we have learned from the trials and mistakes we had during the first year and are finding ways to overcome what didn't work and replace it with things that do. I am excited about year two and look forward to what we will be able to deliver to the fans this year.
Matt (Art)
My first year working with Starboard Games L.L.C. has been a fantastic period of growth for my art and my skills. During this first year I have created over 35 models for the INT project. These models have been quite varied and complex. I have enjoyed each challenge that the Concept Artists have thrown at me as it has helped me grow by leaps and bounds this year. I want to thank all the members of Starboard Games for their continued hard work on this amazing project. I can't wait for the world to see the end result of our hard work. Thank you all, and I look forward to another great year!
Cheers!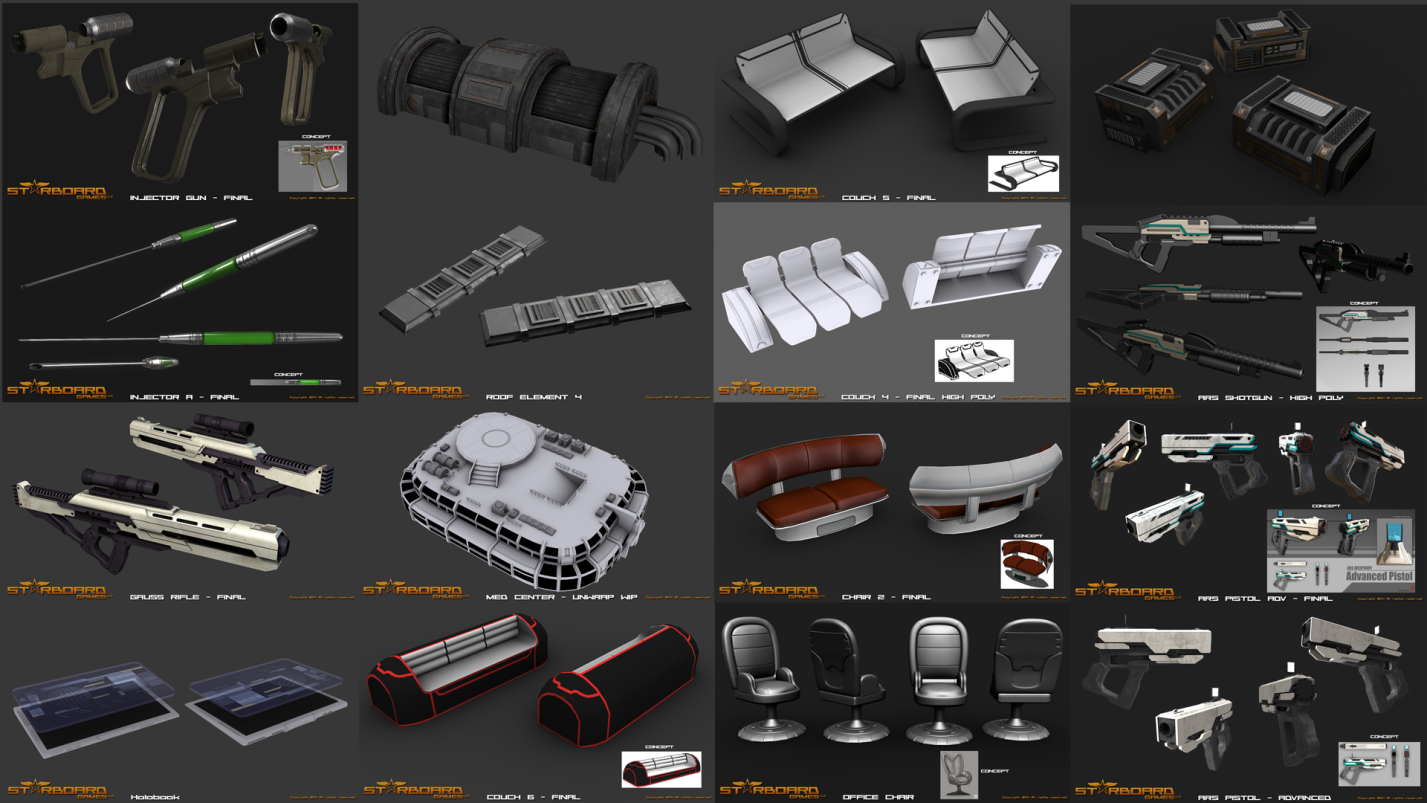 If you are interested in checking out more of Matt's work for the INT project please review some of his modeling videos here:



Robert (Art)
For the first and middle months of 2014, I was not a part of the INT project. I became a member of the team during August, and initially I was blind-sided. I read a post online that some people were looking for a comic book artist, and being traditionalist, I figured I'd just be drafting drawing and inking some-one's story. It was an offer I couldn't refuse, it was a dream to work on games as a kid. Being a member of the art department, I feel privileged and honored to be apart of INT, but I had a long hill to climb, black and white comic art isn't concept art and seeing the work of others and knowing that a project like this is kept moving with team work and help from things like media and kick-starters I had an exception to myself of the quality of art work I should produce. So I've spent long nights watching endless hours of free Photoshop tutorials, slowing advancing my skills. Going into 2015 I've set high expectations for myself and look forward anxiously to seeing INT reach completion.


Bobby (Coding)
I joined the team late in the year. Since I am new to Unity, I have been trying to learn as much as I can about Unity. I have been researching path finding.I have been researching UMA.
Nathan (Art)
I was one of the first 2D artists to join the team and was drawn in by the vision and concept behind the INT project. Initially I was brought on as a concept artist, but later went on to do other work including the logo and it's subsequent redesign.
Though, I've been working on many different parts of the INT universe, designing the look of well written and interesting characters such, as Wes and Miranda, has been my favourite part of the project so far. It's been a real joy to take those back-stories and descriptions and work together with other members of the team to incorporate characters in trailers and eventually see them brought to life by the 3D modelers.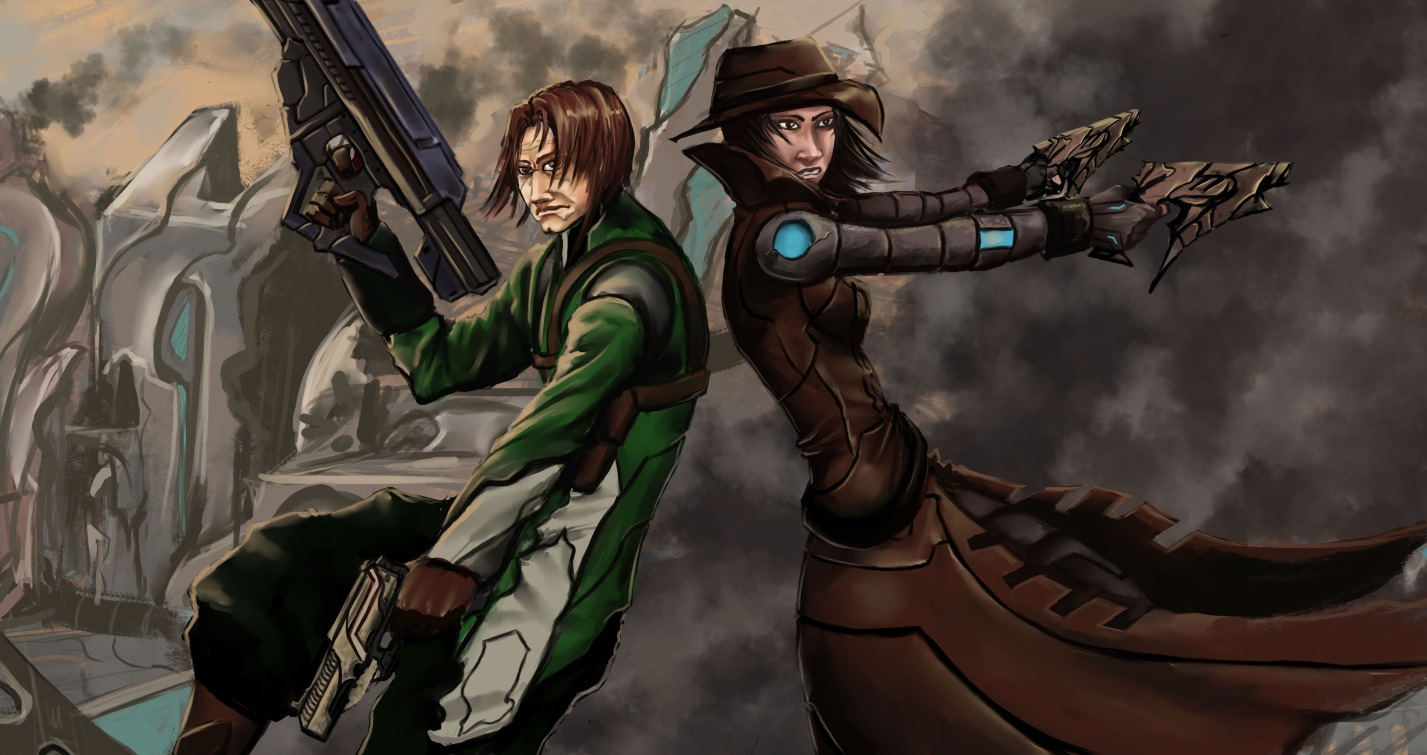 DEVTEAM Trailers:
Trailer #1
Trailer #2
Trailer #3
Extra Material:
NPC Pathfinding
Inventory System Preview
Drawing of the ACP Fighter Pilot Concept
---
Sound Department
Kurt, our sound lead, also known as Heath Music has been creating excellent sounds for the INT universe. Kurt states that working on the INT universe sounds have been a lot of fun and he constantly works to perfect his technique. Please continue to check back on our monthly updates for more work and features from Kurt.
In case you missed his recent posts please check them out below.
Re-amping
Dust Kicker
---
Writing Department
BC (Writing Lead)
Over the past year writing has been hard at work to create a universe that you, the player, would want to play in as well as characters that are round and interesting. Perhaps our greatest struggle has been seamlessly melding all of these elements into one cohesive bundle, but our successes have proven to make a truly great product. As we go into the new year (and thus closer to release), we will be releasing more and more information on upcoming companions and the INT-verse. Right now, I'd like to let each member of writing discuss their work this year as well as their own writing process.
This past year has been a glorious year in both practice and actually seeing our work come to fruition. For the most part we have worked on building up the INT-verse from the ground up and dialogues for our many companions. After many scrapped elements and companions we are just about to round off the last of the dialogues for the tech demo and are excited to showcase them to you, our admiring fan. As the tech demo draws closer and closer we'll be releasing more and more on companions and hope to have some feedback from the public so that we can truly craft the game to the liking of our fans.
That's it for this year folks, a lot of dialogues and universe building, but I won't leave you completely unsaturated. Here is an excerpt from one of our dialogues, one that I feel you all will enjoy quite a bit:

"This world is on fire and we mean nothing. We are simply the huddled masses suckling on the teat of one faction or another, scared shitless to actually do anything. This is our only advantage. We need to get the hell out of here and we mean nothing. Our lack of meaning is the only thing that's gonna carry us outta here."

Andrew (Writing)
When I joined the INT team, I quickly fell in love with the atmosphere of the game and the chance to do something unique. I was given ownership of two existing companion characters, and enjoyed creating my own companion character as well. Working with Unity and a program called ChatMapper, we are able to create life-like conversations and make the characters even more alive and relatable. I also have written several of the journals of war as well as created the artwork that accompanies them. I have especially enjoyed writing a series from the perspective of an ACP farmer's wife. These journals are based on real letters written by a Southern woman during the Civil War.
Journal Links:
ACP Letter to Beloved, A Farmer's Log #1, #2, #3, #4, #5, #6.
Writing Videos:

Lore Video #1
Lore Panel #1
Writing Jam #1
---
PART 2 Coming soon...