We have accomplished several important milestones, which I will share with you in the following paragraphs focusing on Sound and Creative Developement as well as news of our new Website. While we still have some distance left to travel before release, we are nearing our final milestone of the demo. If you missed part 1 of our November update you can find it HERE.
---
Sound
Our sound team, led by Half-Rats, has been hard at work over the past few months and we are pleased to announce that almost 100% of the needed sounds for our public demo have been accomplished. This month we would like to share with you a sound feature, featuring Half-Rats himself. Please watch below and let us know what you think.
---
Interview Roundup
Last month we discussed several interviews, but to recap we would like to share those links with you again. We will be on the lookout for additional interviews in the coming months as we prepare for launch. Here are the links to the interviews conducted with GamesDefined and Exepose. Great work to the PR team led by Richard and John Shen for working hard in achieving these interview slots.
Interview #1: Youtube.com
Interview #2: Xmedia.ex.ac.uk
Feature: Indierpgs.com
---
Lore Video
Last month, we announced that we were working on our first lore video. In this month's update you can hear the voice of N.D., the leader of the ACP (one of the two factions in the game). If you want to read more about the ACP, check out our faction page here
The video, illustrated by Kong, shows a rousing speech by N.D. after the reclamation of Atlas during the Interstellar Civil War. This video will showcase the reasons and leaders of the ACP. Check the video out now!
---
Creative Development
Last month and earlier this month we showcased work from the comic. If you missed the update, then please check it out here: Indiedb.com.
"We expect to have the first issue of the serial available for download (for free!) at our website and elsewhere shortly"
Brian and Josh have been hard at work to finish the comic. We expect to have a full release of the comic in the coming days. Please check back to receive news about the comic and where you can download this. It will be released to the public for free on several different venues. Please check out the teaser for the comic below:
---
Please read the update from our Creative Director below: "The Creative-Development team continues to work on its two central projects: the Tens-Day graphic novel and updating INT's website. At this juncture, we have working scripts for five short installments (10-14 pages each) of the Tens Day graphic-novel arc. Joshua has completed the black and whites for issue #1 and continues to rework and colorize them. We expect to have the first issue of the serial available for download (for free!) at our website and elsewhere shortly. Here is a four-panel teaser sans text, which depicts reporter Shade Reyes in her room at The Pinnacle Hotel, the location at the center of the first issue's plot:"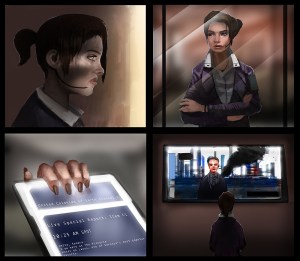 While Creative Development's writer-artist tandem nears completion of Tens Day #1, its one-member design team, Panda, continues to restyle INT's website. A guiding aesthetic for the new site establishes a more interactive portal to the story of the game's development, as well as to the stories underpinning INT's growing universe. Be sure to check out int-game.net to keep up to date with INT's progress and the ongoing redesign of our website, which Panda discusses in more detail below.
---
Website 2.0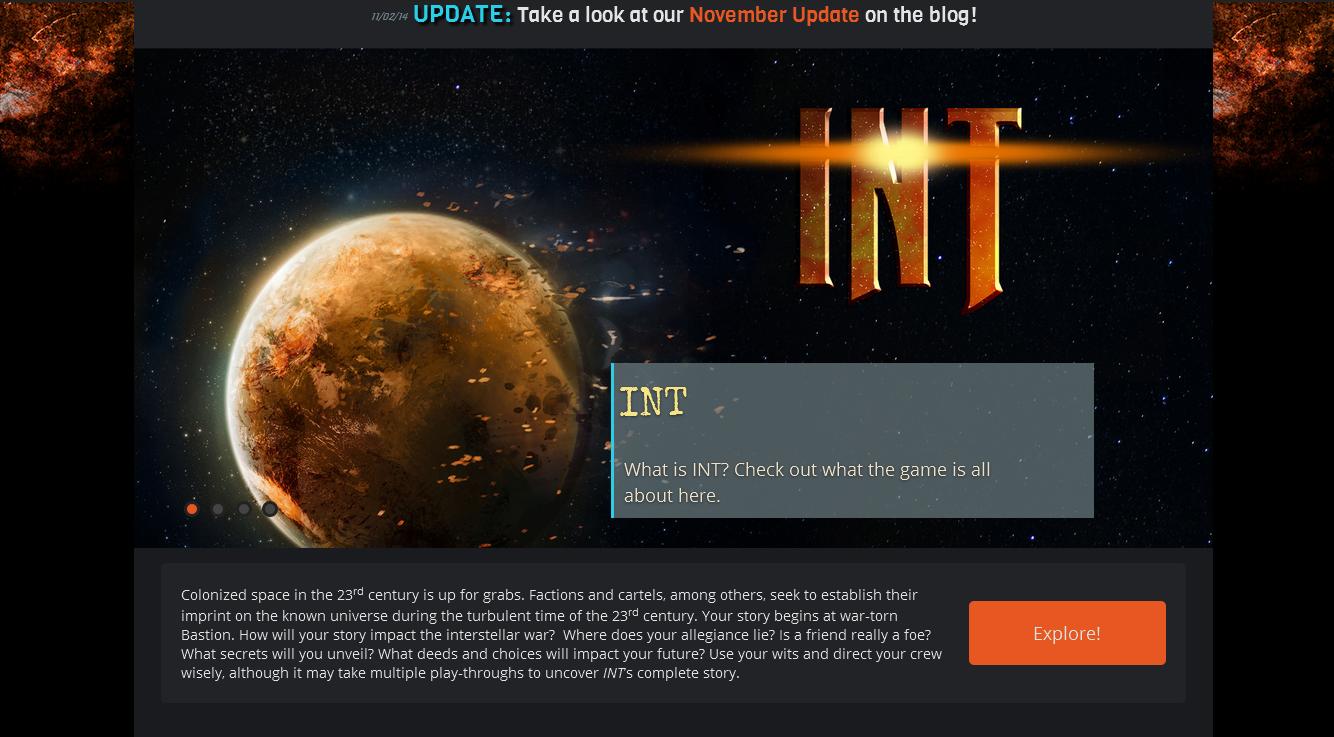 This month we overhauled our website for INT. Our new website will continually be updated as we move forward with our release plans for both the demo and comic. Please check the website out again (if you haven't already), our forums, and let us know what you think!