PART 2 FOCUSING ON SOUND AND CREATIVE DEVELOPEMENT CAN BE FOUND HERE
We have accomplished several important milestones, which I will share with you in the following paragraphs. While we still have some distance left to travel before release, we are nearing our final milestone of the demo.
Art
The art department, led by Monte, has continued making progress on the street level. New concepts, animations and hard surface/organic models have been developed for the project. We are continuing to polish and add extra content to our first level. Additionally, we have been hard at work building roof elements and buildings for the street level. Below you will find two models from our art team. We have put these on sketchfab so you can see them in 3D.
Roof Element #3/ - Sketchfab.com
Matt:
Matt's Roof Element #3 is part of a larger collection of roof elements that, when combined, give us a unique set of models we can place on any of Bastion's buildings. These will allow us to customize the buildings and, since it is part of a set, give us a chance to make each building top as unique as possible.
Character Creation Chair - Sketchfab.com
Johnny:
Johnny's chair is a polished version of a chair previously released. This chair will feature prominently in our character creation studio. Please look out for more information about our character creation studio; we will announce details on this in the coming weeks. We will continue to release one or two models a month via sketchfab to give everyone a chance to look at our 3D models in 3D. I hope you all enjoyed these models and again a big thanks to Johnny and Matt for the work and time put into them. In addition to these models, I would also like to share some concept art with you for the street level and beyond.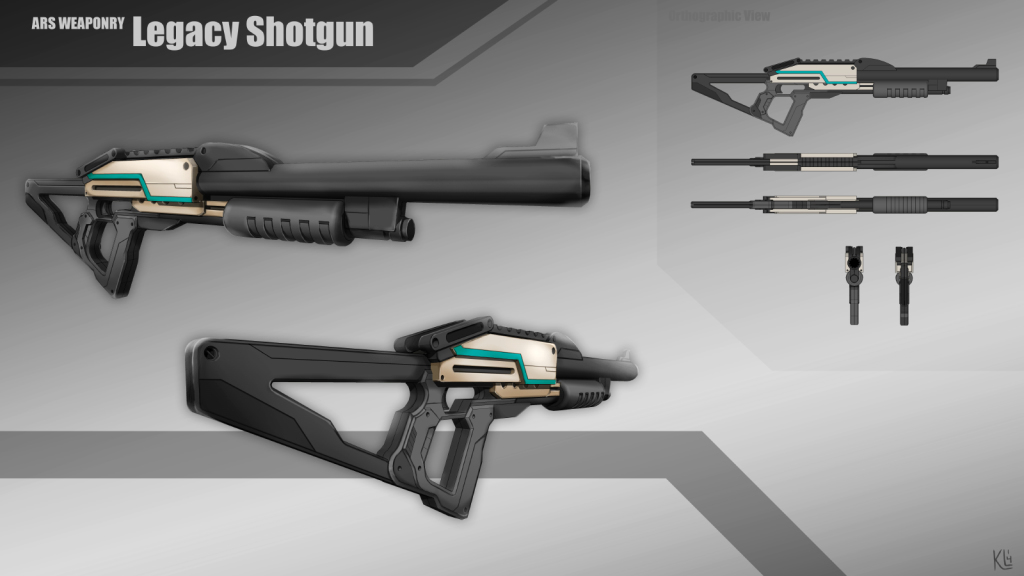 Above is a picture of an ARS shotgun pictured. This is a legacy weapon and it is commonly used for ship-to-ship combat. However, you may find several NPC types on Bastion wielding a legacy shotgun, perhaps an ARS version in the darker parts of the city. Thank you to Kong for the ARS shotgun concept.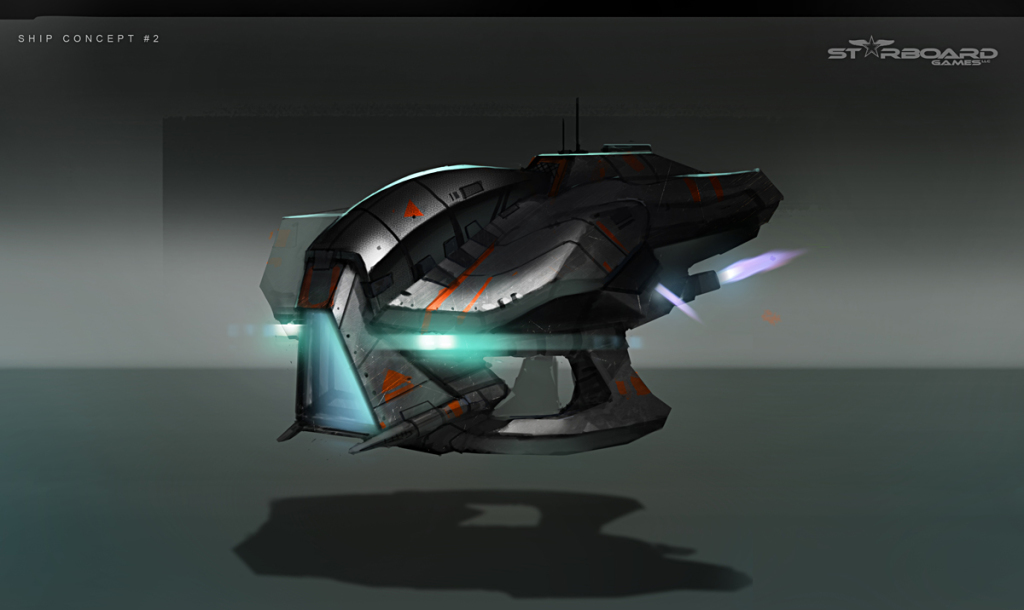 Pictured above is the third in a series of proposed space ships by our concept artist, Josh. If you missed the mid-month update then please check the other two out here: Indiedb.com
Please sound off in the comments if you want to let us know what you think about the other two ships in the set, nicknamed the Turtle and S63 Series. Also, let us know if you have a name for ship concept #2 pictured in this update!
Coding
Last month, coding led by Abasys presented a video showcasing NPC path-finding. If you missed that video then I would encourage you to re-visit it here:
In the month of October our coding staff finished the inventory system, simple HUD/GUI, and NPC movement + AI. Our next objective and one of our final coding objectives is to implement the dialogue, quest material, random elements, and combat. Look for a unified and compiled video with art in the coming months showcasing these features.
Writing
This month we have begun to roll out what we are calling the journals of war. Check out our first update from this week.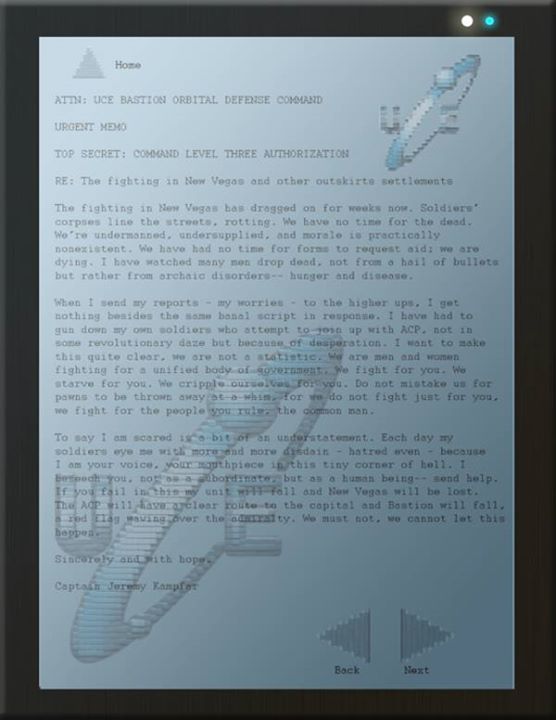 In addition to this journal of war entry, written by BC and edited by Andrew, I am releasing another journal of war with this update. This journal of war written by myself and edited by Andrew.
These updates will be released periodically and tell stories woven throughout the INT-verse. You will experience the Interstellar Civil War from the perspective of soldiers, civilians, and the upper echelons of society. I hope you enjoyed these two journal entries, and be on the lookout for more to come in the coming days. Finally, I am pleased to announce that writing has finished nearly 100% of the necessary dialogue and materials for the public demo.
Thanks as always and have a great month!
Follow us on Twitter and Facebook
Stay tuned for PART 2.