Hey guys,just letting you all know what all of us here at the Insurgent Strike Development team have been up to lately..We've been working hard to fix the things that we slacked on a bit in .11, and are really pleased so far with the current status of .12.Things are looking a lot better with the realism factor, and the release is just looking all around solid.We're pretty sure you all will be very pleased with the release.
Here's our M16A4,the model was done for us by PenguinGeneral,but Nick has done UV's,exported it,and done various updates to the model and texture.It is textured,and I'll try and get a better shot of it to post.Hopefully we'll get our ACOG mounted on it soon,and if not,expect an AimPoint to be mounted.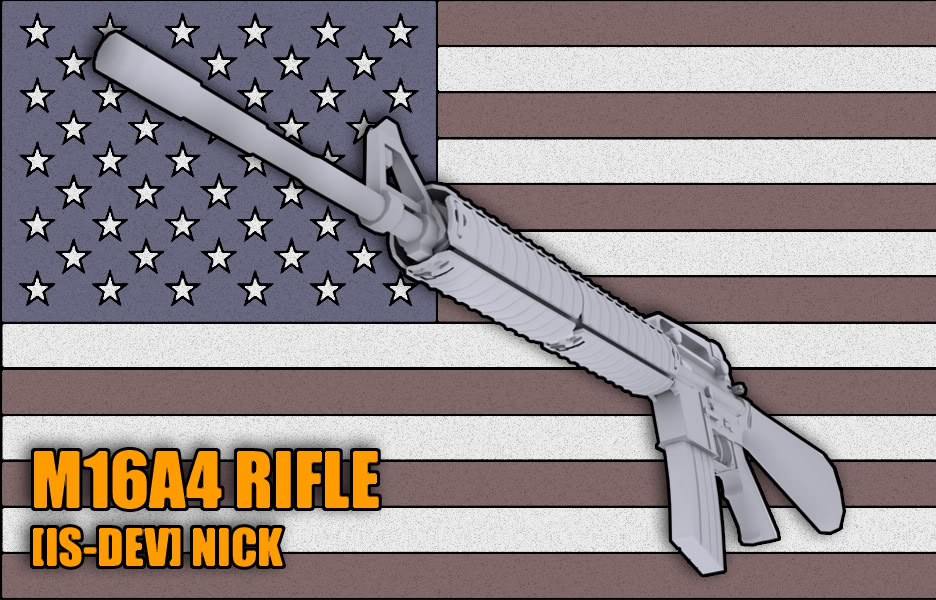 I'm sure most of you have already seen it,but this is the L85A2 w/IronSights our guy Nick has done for us,and the UK Medic will be honored to be wielding this weapon.
Moddb.com
If you've been keeping up with our images here on ModDB,you can see the beautiful L85A2 w/SUSAT & AG36 Grenade Launcher Nick has done up for us,which we're sure you'll love.You should also have seen the L22A2 Carbine w/SUSAT in our images,also done by Nick,which the UK Heavy Weapons kit will be granted with.
Finally,here's a look at the changelog for .12 so far..Most likely will be updated with some more goodies by release.(Hopefully our SR-25 for the US ARMY Marksman kit will be completed for .12 also.)
FACTIONS:
USMC Added
MAPS:
-Baghdad Streets Re-Done (Hopefully Agent will have it done in time for .12)
-Morning Breeze Added (By JONES)
-Urban Raid Added (By JONES)
-Downtown Added (BY JONES)
-Changed billboards on Urban Decay
-Al Janna now has bot support
-Al Janna sky texture updated
-Removed Divided City
-Removed Night At Karkand
-Removed Yadz Desert/Desert Fight
WEAPONS:
-L85A2 w/IronSights Added
-L85A2 w/AG36 & SUSAT Added
-L22A2 Carbine w/SUSAT Added
-M16A4 added
-M16A4 accuracy increased
-Added G36 w/AimPoint (For SAS Operative Kit)
-SKS Added
-Makarov Added
-Makarov accuracy decreased
-SA-7 Added
-Galil Re-Skinned
-AK-74U w/Red Dot Re-Skinned
-All Weapons have new sounds
-Kord Ironsights
-AK-47 damage increased
-AK-47 accuracy increased
-M9 accuracy decreased
-PKM zooms slower
-PKM damage increased
-PKM accuracy decreased
-shell shock on all weapons,except 9mm pistols
-new bullet/projectile impact sounds
-SRAW ammo adjusted
VEHICLES:
-Bomb car added
-AH-1Z Super Cobra Re-Skinned
-Adjusted AH-1Z Super Cobra Handling,etc.
-Adjusted AH-1Z Super Cobra Cockpit View
-Adjusted UH-60 BlackHawk Cockpit View
-Adjusted AH-6 LittleBird Cockpit View
-Adjusted Challenger 2 driver's View
-New M1A2 Abrams Engine Sounds
-New US/UK 7.62mm Co-Axial Machine Gun Sounds
-New M2 Browning 50cal. Machine Gun Sounds
-M1A2 Abrams Woodland Re-Skinned
-7.62mm Co-Axial Machine Gun Added to LAV-25A
-Strobe Lights added to Helicopters
-Helicopters can now pick-up heat signatures from smoke grenades/LZ marking
OTHER:
-Completely re-designed menu
-New Effects
-Community Event Gamemode Added
-Updated various Localization
-Removed kill messages,eg "You killed bobo",KIA is still there
-Removed player icons+Squadleader icon