Maps!
So, as you may or may not know War of The Servers has a real big range of maps. Each map is styled almost completely differently to keep the game play fresh. Another way we kept the gameplay fresh was by adding dynamically changing routes on the maps too. Most if not all maps will feature dynamic routes.
So, here's some of the most interesting maps at the moment:
Powerplant: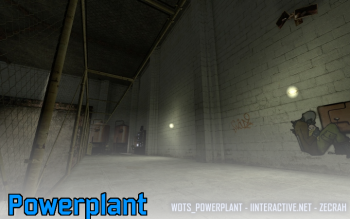 Powerplant is a small to medium size map. It was one of the first maps to introduce dynamic routes. It is made by Zecrah and is one of the two maps that will be appearing in the War of The Servers Beta.
Powerplant is based off an old abandoned Powerplant that has been derelict for many years. No one has entered the abandoned Powerplant for 50 years after it was shutdown due to radiation hazards, until now. (Recommended: 8v8 - 12v12)
Powerplant offers a range of battle opportunities. For example, it has tight corridors for CQB battles, which may lead outside into the long courtyard which is great for snipers to lurk, and into the old main reactor room where there is a big indoor space for your shootem ups. Powerplant is a really effective map and is great for 8v8 or 12v12 objective gameplay. It allows players to play using tactics and working as a team.
Metro Exchange:
Metro Exchange is a small to medium sized map. Metro offers dynamic routes through back tunnels and offers almost as much as Powerplant.
Metro Exchange is a derelict train station for the Metro system. However, though the Exchange is shut down, trains still pass by the station occasionally and will not stop for nothing! Leaving every door unlocked, The Exchange station can offer plenty of it's insides.
Metro Exchange offers mainly a CQB-Mid range battle. Underground in the station, there are 2 platforms, one either side. Trains will pass by now and again and will kill a player if in the way! Metro has many places for head on head battles, however up top outside the station is a whole new world, this area will open the roof tops and buildings to snipers but will allow more mid-range combat!
Dusk:
Dusk is a massive uninhabited desert. Dusk is literally what it says in the name, the time of day is Dusk. The idea of dusk was all out vehicle warfare. The map is huge but at the same time looks amazing. Dusk is perfect for almost all kinds of battles. If you're into smashing in there with your jeep, no problem. If you wanna sit back up in the sand dunes with your trusty sniper rifle, no problem. Or if you wanna sneak into the objective, you can do that too. Dusk is a really fun map to play, just make sure you don't flip your damn jeep!
More on Dusk coming soon! We hope to put Dusk in as one of the Beta maps but hey, first one done after all.
Thanks for all the support people! We reached number 70 this morning! Thanks a lot! <3