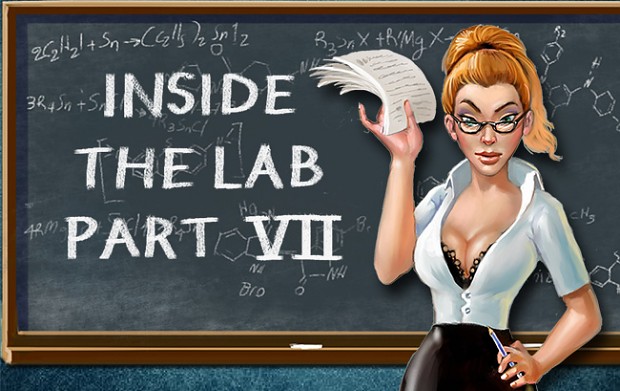 CLOSING
Today we are closing this series with part VII of our Making of "Inside The Lab". We have come a long way since our first article and there is alot of work that has been done since then. But we are not finished yet…
MUSIC
As in movies, a crucial part of the game is the music and sound effects. The music can completely change the mood of the game and because we consider it such an important part we leave it for last. What we think when creating it is what purpose it needs to fill. Do we want to evoke some emotions? We want it to add some sense to the game? Or we just want something to fill the game with. Also there are questions about the type of music. And this is a very delicate matter because you can create a good game and the music can totally destroy the mood and the atmosphere we so hard try to create. That's why for BioLAB we try to design some music that will enhance the cartoony style of our game. Of course since there are two paths the player can choose from, we create music with this in mind and depending if you play as good or evil the style of music will follow accordingly.
GAMEPLAY
BioLAB is all about finding the correct virus or vaccine you have to use in order to manage your budget accordingly. When you make a contract with a client it's yours responsibility to fulfill it in the time given but you also have to be careful because a wrong virus that will not have the desired effects will bring you less money. This way we want to make the player to think twice before making a choice because every dollar counts!
COMING SOON TO A LAB NEAR YOU
The game is shaping up nicely and although we experienced some delays that will make us not catch the original September release, we hope that soon we will be able to anounce you the official release date. Until then you can check our website at www.demigod-studios.com. We would also be pleased to see you in our forums at forum.demigod-studios.com to join our great community!