That Resident Evil Co-op Mod, a modification for Deus Ex, that will enable playing of the original Resident Evil game in (somewhat) glorious 3D on the Unreal 1 modified engine of Deus Ex.
As the latest screen shots show, the shotgun and flamethrower are coded into the game, though the flamethrower awaits a proper mesh.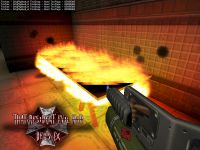 - Shotgun:
Produces variable damage per initial hit, based on range from target.
For every object this weapon hits, it's damage for that trace is dvivded by 2, through up to 5 targets. As such, it is possible to damage up to 25 targets (provided they're packed close together) with one shot.
- Flamethrower:
Produces 4 damage per fireball that hits. Causes burning.
This flamethrower seems to be inferior to it's Deus Ex counterpart, because of the ammo being limited to one clip of 250 fireballs (easily used within about 8 seconds), and its range being severely stunted,
However, it has one major advantage.
Firing the flames at anything wooden or carpet makes the fireball stick to the surface, and burn in place for 8 seconds. Anyone who goes near the fireball gets burned for 2 damage per 1/2 a second they're in the fire radius. After 5 seconds, the fire will eventually fade to nothing.
The funny thing is, standard Deus Ex pawns will quite happily walk into the flames, bringing about their own death in the most humorous way - screaming and on fire.
- Zombies:
Of course, there are to be zombies. Or it would be 'Lost in a Mansion', not 'Resident Evil'!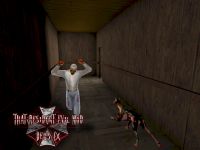 (NOTE: The zombies shown in the preview are from my OTHER Resident Evil mod, and do not represent the content/quality of the zombies that are to be in the final game. Or any beta, for that matter.)
- Doors:
No more annoying loadtimes!
You can move between one room and another in the Deus Ex remake of the mansion and grounds without worrying about a 6 second loadtime while you're waiting for a door to open.
Better yet, you don't even need to right click doors to open them. Simply walk into them, and they open!
(Credit to Morpheus of DXEditing for the original code for this)