Well, I said I would get this thing out almost a week ago but life got in the way <_<. Anyways, here is the Infested Starport made by yours truly. I might change a few things here and there but for now this is how it will look in game. The old screenshots in our gallery section are now outdated (obviously) and will most likely be taken down.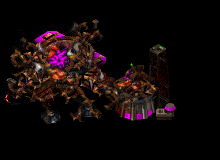 Info:
Hitpoints: 1000
Special Abilities: Regenerates hitpoints, default flying capability, and decreased unit prodction time by 10%
Building Type: Mass quantity unit production facility.
Notes: Much like their original origins, the Zerg relied on quantity over quality. The 2 main groups that the newly infested race has focused on for mass quantity is Air and ground troops. Their heavy weapons factoires are somewhat slow in production but pay off witht eh quality of the units produced. These infested starports are the main core of production for the "reborn" Terran race.
Again, no portrait has been decided on, we may alter an existing one or we may just make a new one entirely, not quite sure yet. It will look bigger ingame as well, the picture just makes it look small ;)