I haven't posted an update in a while. Part of the reason is that after the SC2 release, my schedule has been turned upside-down. Thankfully, I think that I've recovered this week.
The other reason is that I've been working on various graphical improvements to the game. Let's go over them so that I can brag.
Explosions
Before, explosions used to be just puffs of coloured smoke, like this:

I spent a couple of days last week tweaking how they look. Now I have a nice fireball, sparks and shockwave effect.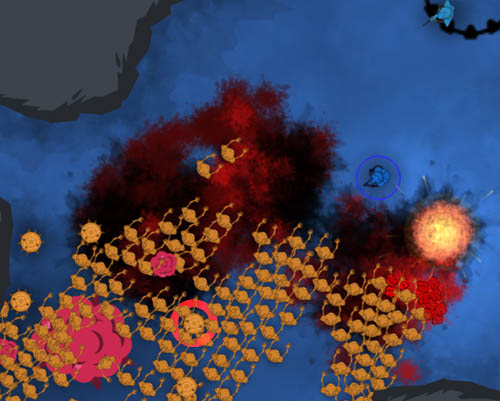 Lighting
I wanted the game world to have more variation in brightness, instead of being the same tone all over. I already had a simple shadow system hacked in, but I also wanted lights. Thankfully, I played around with something like this in a previous (unreleased) project.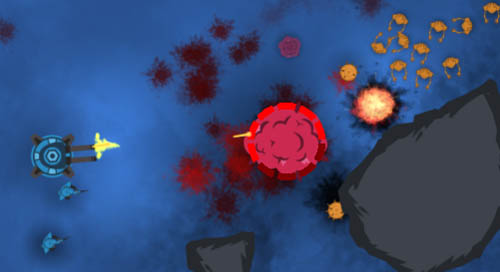 I also added the small detail of muzzle flashes for the marines and turrets. They help make the firefights more alive. Notice how the areas around the cannon and the explosion are subtly lit.
Background Texture
One thing that's always bugged me about the new art style is how flat the background was. I was also worried about the colours - grey just seemed bland to me. We're still working to improve the colour - that's why I'm experimenting with blue - but I think that I've solved the background problem.
I did two things to make the map more interesting. I added textures to the ground and I also added extra texture around the walls. Check out this zoomed-out view.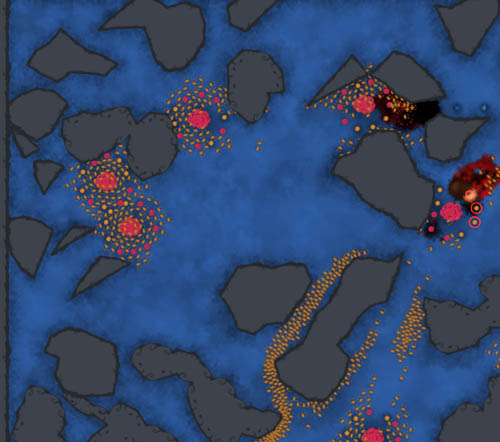 Future Improvements
As I've mentioned, there are still a couple things to figure out. I still think that the colours of the game need an overhaul. Carlos and I are working on that right now. I'm shooting for a darker, more grungy look for the enemies. The second thing that I want to do is to make the walls more interesting. I'll probably use the same technique that I did for the background.
Once I have those two things out of the way, I'll probably release a trailer for the game. That won't mean the end of graphical improvements, but at least the large parts of it will be complete.