For those that haven't seen the news (A MUST READ), we have just launched IndieDB a site dedicated to covering indie games. With this launch comes a bucketload of changes which I will run through now. Once we gauge the reaction from this news, it is possible that these changes will be ported onto ModDB along with IndieDB's new design (but red of course!).
New Design
IndieDB features a familiar design, but with rounded corners, streamlined header, cleaner footer and plenty more tweaks such as less images to speed up loading times.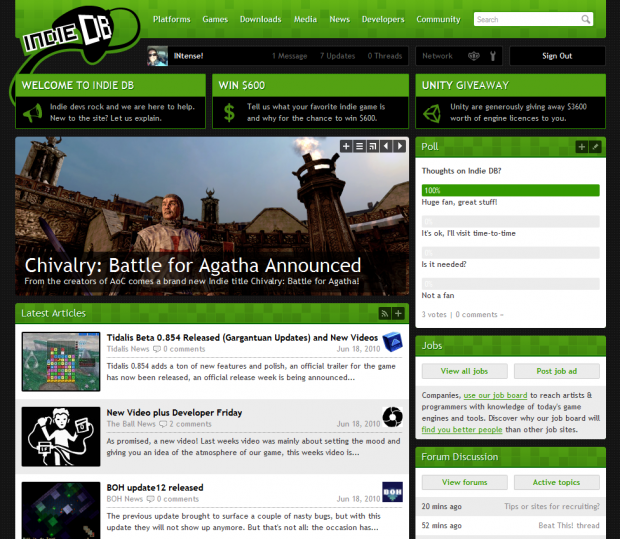 Smarter Platform Selection
Whilst modding is primarily limited to PC games due to consoles and mobiles being closed platforms, indie games are being made for iPhone, Android, PS3, Xbox360, Wii, Flash etc. To cater to these developers and gamers, we have revamped our platform system so you can choose which platforms you want shown in the menu dropdown. By default all content from all platforms is shown, however you can easily select a platform and view only related news and games.
Search Suggest
Search on ModDB / IndieDB isn't great... we know that and are working on it. One MAJOR improvement that IndieDB now features is search suggest. Don't believe us? Start typing the name of your favorite indie-game into the search box top right corner on IndieDB. We have a feeling you will like this feature.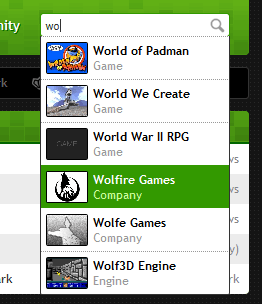 Login by Email or Username
You can now login to any DesuraNET site using your email or username.
Speed Improvements
Whilst this is a backend change, we have recently upgraded our database server, fine-tuned our profiling and overhauled the sessions system to minimize the load on our machines. This should mean faster load times for you and greater scalability in the long run.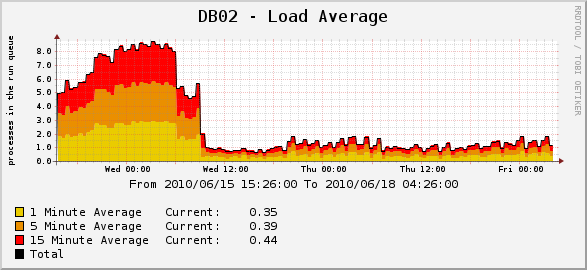 Better Spam Filtering
We have 0 spam tolerance and will 100% erase any members that spam. Despite this, spammers have been abusing the PM system and jobs board. We have just put in additional restrictions to make this very difficult for them.
Helpful 404
The 404 page has a shiny new design and comes with a very handy search box (with suggest). Never get lost again!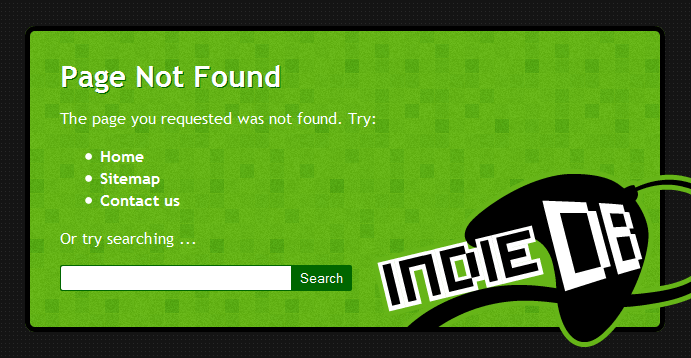 Less Ads
IndieDB only displays one ad per page (no header ad) and that ad disappears if there is no ad to show (0 ads per page!). Forums and videos are now 100% ad free also.
Network Integration
Did you know your login on ModDB works on IndieDB and Desura also? All sites in DesuraNET share the same backend, so you don't need to re-join or re-add content. If your content isn't shown on IndieDB and you want it displayed, just ask and we shall assist.

Shout-out
While ModDB has been supporting indie developers for a long time, IndieDB is a first for us and we eagerly look forward to working with indie game developers on all platforms be it PC, mobile or console. IndieDB is far from being the first indie site on the web, so I wanted to quickly shout out to some of our favorites. We look forward to supporting indie games and working with you (and many other game sites also, email us).
As always, developers and gamers we want to hear from you so we can make this the ultimate place for you to interact, promote your games and make friends. So let us know your thoughts, and check out the official launch post for much more detail. Game on developers!