Heya lads and lasses!
So, first off, I want to send a huge thank to all those who participated in our Pre-Apha Test on behalf of our entire team. I had a ton of fun and can't wait to bring you guys more content and good times!
Now, onto the business:
~Pre-Alpha Changes~
As some of you know, our Pre-Alpha wasn't perfect, as is the point of something like a Pre-Alpha. We Changed and fixed quite a bit since the closing of Pre-Alpha.
-Death System-
We know that some of you hated our Death System. As such, we're making some much needed changes. Now, upon death, you have 60 seconds to be resurrected, else you will be auto-respawned at your character's checkpoint. What we changed, however, is now you can respawn at any time during that 60 seconds by pressing the "V" key. A little prompt will come up as soon as you've been rekt by some Fungoids.
-Bug Fixes-
A big thanks again to all those who found bugs for us to fix! At this point we've fixed all bugs found during Pre-Alpha! This is great, because it means a more wholesome and fun experience for you all when we launch our Open Alpha!
-Gems-
Some of you noticed that there were 4 un-used equipment slots during Pre-Alpha. One of those was Gems! Gems are key items for your character's build later during the game. Depending on the Gem Type and Color, you get a new Element applied to your character. Depending on your element and the element of your target, you could be dealing some massive damage!... or maybe face a little resistance. We hope to see this play a key role in PvP!
~Kickstarter~
Sometime during this month (hopefully) we'd like to start a Kickstarter to put our game up on Steam Greenlight, and past that, Steam. For now I'll only mention this as something to keep in the back of your minds. Backer perks will (again, hopefully) be announced before too long.
~Mount Ironstar~
Thanks to our wonderful Zetasis, Mount Ironstar is nearing completion! Zeta's really been hard at work for the last few weeks as we work towards our Alpha Test!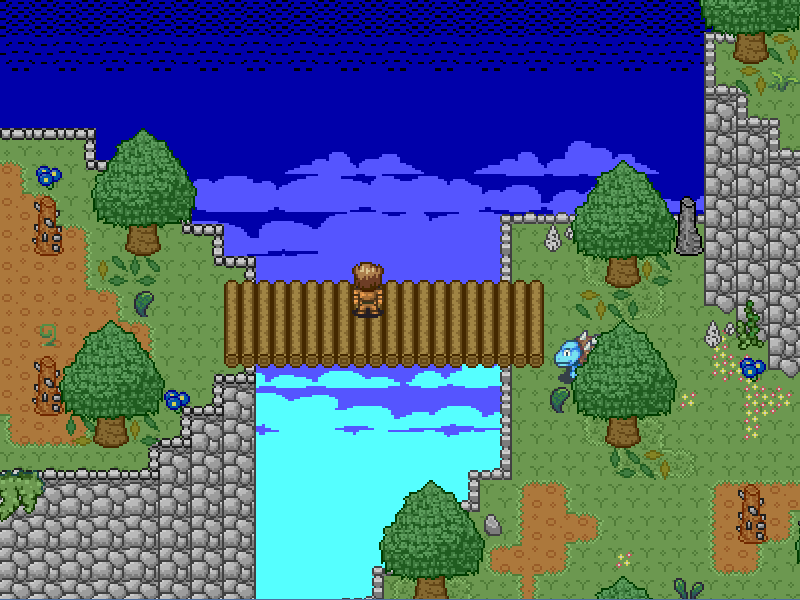 Tons of new mobs, resources, and riches to be found here!
~New Graphics~
Again, thanks to our amazing artist we have tons of new graphics we just can't wait to show you!
~Capes/Cloaks~
Another big thanks is due for Zetasis as we now have Capes/Cloaks of various colors for you all to craft and/or loot! The capes are brilliant and fit right into our game's style! All those who participate in our next Open Test will receive a special Cloak!
~Items~
I've nearly completed all the items that will be available in our next test, and this includes their crafting recipes. There's still a lot to do, but we're getting closer and closer to our next Test!
~Buffs/DeBuffs~
Buffs and debuffs are in and will be in the dev build tonight! Benjo has even programmed a system where your buffs and debuffs show up with timers on-screen! This can display a ton of buffs if need be! It shows the buff/debuff's name, icon, time remaining, and stat change!
~Backstab Spells~
We found that one of the biggest problems with games like Orake and EverEmber was the lack of balance in PvP. To us it just seemed as though ranged based characters were strictly better in PvP due to being able to kite from a safe distance. With our new spell type, Backstab, however, we now have good gap-closers for our melee characters. These spells will either warp you to the front or back of your target depending on the spell, and it can be designed to stun or deal flat damage as well! This means our melee players will be able to close that gap and get in a few good hits without being at a total loss against ranged players.
~Quest Improvements~
With a little genius programming we can now have Quests have a task to talk to specific events! This means we can actually have moving and intricate storylines with our quests now!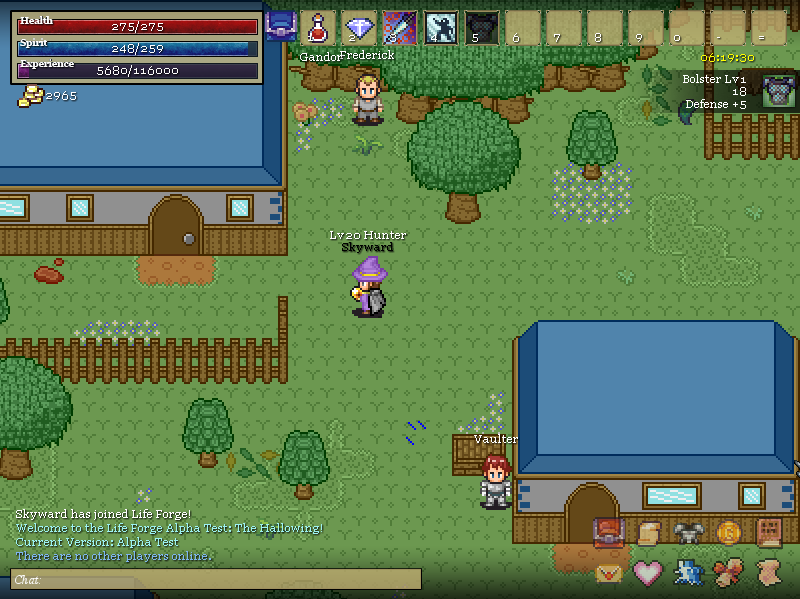 ~Duskin Desert~
A very good portion of the Duskin Desert was finished today!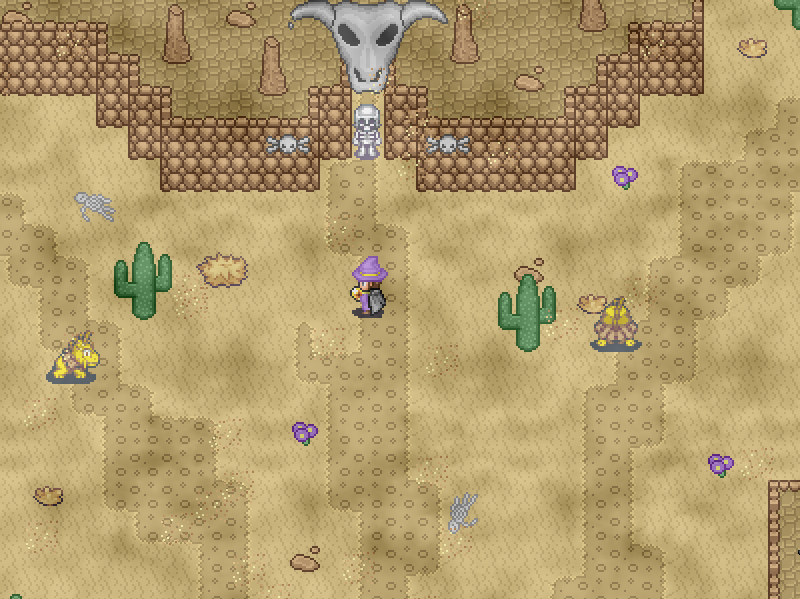 These are big wastelands with many PvP opportunities! Zetasis also got a alot of mapping done today as well!
~Debuffs~
I tweaked the buff system to now work with Npcs. Npcs can now cast Debuff spells on you!

~Disaster!~
Due to real life, our artist and Co-Developer Zetasis will be taking a break from Dev for a while. He may be able to do something here and there, but until things work themselves out, it'll be yours truly leading the charge into new Content. And on that note:
~Armistin~
The Desert dwelling of Armistin, home to the Ember Knights, is being worked on extensively. This is the second settlement in Life Forge, and as such, it's gonna be very important.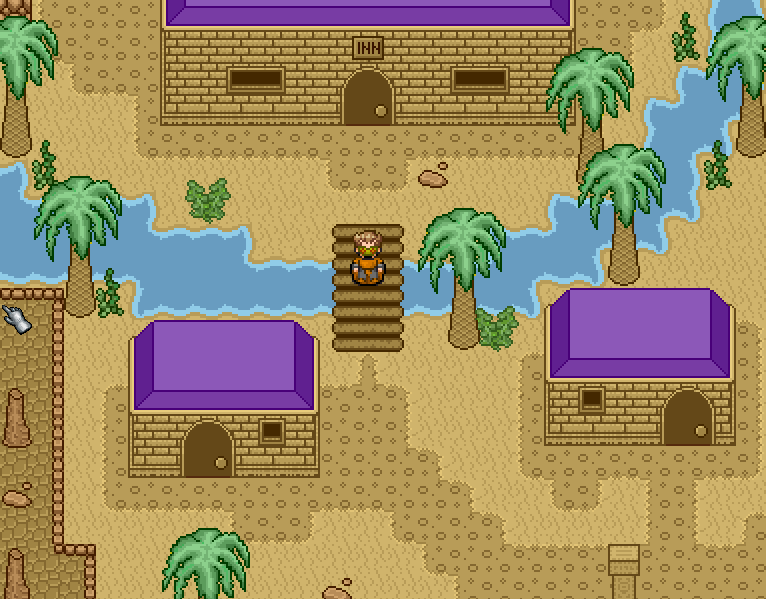 And for those of you who wanted to know, this is what an Ember Knight looks like: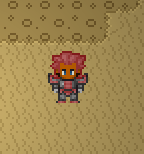 Phew. Lot of stuff. Don't expect the other Dev logs to be so huge! Go ahead and sign up to our site at LifeForgeRPG.com for all updates and info on the game! I can't wait to see you all in-game!
~Life Forge Team~