Indie Dev Log – 0.0.4.0
There weren't many edits here, but we did tweak up some stuff and add a little bit.

Fluid Camera
We added fluidity to the camera, meaning it is not "locked on" the character and follows it keeping it at the center, the camera now keeps a little delay and "follows" the character. It makes the camera feel neater. Well in my opinion at least… lol

Bull…
You may be asking yourself… what's up with that bull… and where did our beloved Baby Chicken disappeared to?? Well, don't worry, I was just testing it for future purposed, they will both be place holders for other stuff.

HUD
We started working on HUD for the game, but for now it is on the same layer as the game itself, so the HUD will remain at the same spot when the character moves, meaning that it acts like a game object and would simply get out of your point of view… ehh… you'll see what I mean in the GIF. Oh, and side-note, all of the GIFs have low fps compared to the actual game, it is much smoother in the game, you will see when I publish the video, which will probably be tomorrow on our website IsolatedPixel.com!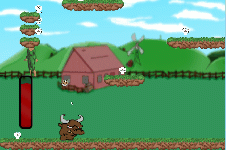 Random Side Note
So, lately we started "twitting…" stuff… well… yea… we never actually used twitter except for publishing our articles on there, but now… i got addicted… I twit like… anything… lol. Go follow us @_isolatedPixel For updates on versions that we didn't post on here yet, and get random leaks… there are even some there right now that I took while programming the game!…
Also, Check our website for a full talk on V. 0.0.4.X!
IsolatedPixel.com