Since Half Life 2 nor the HL2-SDK has been released I've taken the liberty to test out all weapon, player and other oddity functions in UT2K4. Durring these tests I will be taking screen shots of the weapons to show off them in real time gaming. Most of these screenshots however will be Beta version articles, such as my first post here.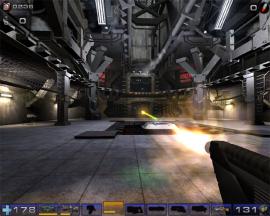 This is the DX2 Disruptor Pistol in UT2K4, I was just testing the guns firing functions so the weapons animation isnt complete nor is there a texture on the weapon. Which is what I am going to be working on the next few days. You can see the full sized version in the gallery.
I'll be creating full Idle, Firing, Reload and other animations per weapon. Getting more articles modeled up and tossing them into UT2K4 for testing purposes.
I hope this will generate more support for the mod, as it currently needs a lot of support. :) I am only one man after all!