Imperial Age v1.12 D2 Released
Our Team has finished the new client version 1.12 D2 just now.
All content is currently active on the server which include several code bugfixes and additions, texture glitch fixes and some object fixes.
The game is now running on the TT 4.2 RC1 code which opens options for mappers as well as fixes for several bugs.
New interiors for most buildings with Special Lightmapping applied by dblaney1.
Many balancing issues addressed by ImperialKaskins and dblaney1.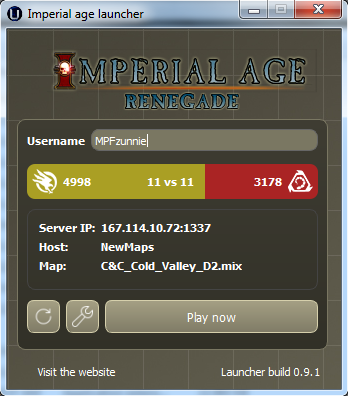 Downloads
To download Imperial Age v1.12 D2 click one of the mirrors below:
- Mirror 1: multiplayerforums.com
- Mirror 2: indiedb.com
Notes
If you already had v.1.11 installed, no need to worry, just install this on top of that installation.
However, in some cases it is recommended to do a clean install, in that case simply delete the old folder.
Default installation folder is C:\MPF Games\Renegade Imperial Age\
Help & Common Issues
For help with (common) errors please visit and maybe post in the Support Forums.
Thank you
Thank you for downloading Renegade Imperial Age v1.12 D2