We are holding a tournament at the Queensland University of Technology's Game Industry Showcase - which is being held in Brisbane on October 31st.We encourage everyone to find a friend and sign up if you can make it on the night - There will be free food, drinks and lots of games to play.
---
This Friday, QUT will be hosting their annual Bachelor of Games and Interactive Entertainment end of year showcase! We'll be there to show off Ignis Uprising, and we'll also be holding a tournament! We're looking for teams of two to sign up between now and 5pm this Friday (31st of October) to participate in several best-of-3 rounds, starting at 7:30pm. The winning team will receive two $20 Steam gift cards!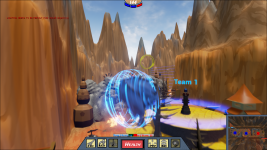 The showcase will be held at The Cube in P Block, QUT Gardens Point Campus, from 5pm-9pm. Feel free to come along before the tournament to check out other games produced by our graduating cohort!
To sign up and find more information head over to our Facebook Page.