Greetings Comrades,
After months of work, testing, and balancing, I'm pleased to report that we can finally reveal one of the most exciting and interesting features of Dawn of Victory: Operational Doctrines.
It was important for us when designing the gameplay for DoV that each faction should have a degree of customization. It was our hope that even if two players were playing as the same side, the abilities, ships and research available to them could greatly differ based on some key choices. This, in a nutshell, is the idea behind doctrines.
If you've played any of the recent Company of Heroes or Command and Conquer games, you should already be familiar with the general concept. Each faction has three distinct Doctrines available, divided into two further sub-doctrines. By spending research points, players can unlock powerful abilities and improvements, culminating in an extremely powerful completion bonus that can often tip the scales of the game.
You'll have access to only a limited number of points however, so you'll need to choose whether you want the flexibility of lower tier abilities from a couple of different doctrines, or the completion bonus from just one.
If you're still a little confused, let's take a look at the Soviet Doctrines. As you can see in the image below, the Soviet Union's doctrines are divided more or less along the three main branches of its armed forces; The Red Army, Red Space Forces, and Red Air Force.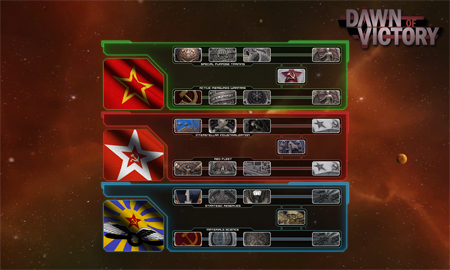 Although reliant on the Soviet Navy to conduct offensive operations, the Red Army is perhaps the most powerful element of a Sector Front. The Red Army Doctrine focuses on ground based communication centers and planetary invasions.


Engineer Academy: Planetary based communication networks are constructed by elite Soviet Engineers to boost interconnectivity with Red Navy navigation systems, resulting in faster and more efficient interstellar travel.

Spetsnaz Detachments: During planetary invasions Special Operations Brigades are deployed alongside Red Army units to disrupt enemy defenses and hasten Soviet control.

Relay Interception: Communications officers are trained in breaking the encryption of neutral and enemy fleet beacons, allowing for closer interstellar jump distances, possibly past enemy defenses.


Efficient Propagandists: Propaganda streams are enhanced and made less susceptible to enemy jamming increasing the rate at which it spreads.

Internal Indoctrination: Political Officers are assigned at all levels of the sector front, increasing the capabilities and moral of Soviet forces fighting in friendly territory.

Priority Front: Warships are pulled from less active fronts to help further reinforce local garrisons.


Class Consciousness: KGB operatives from the First Chief Directorate are deployed to enemy controlled worlds in support of local underground, revolutionary, criminal and terrorist groups, creating planetwide insurgencies.
---

The Red Navy, also known as the Red Fleet and officially as the Red Space Forces, is one of the most powerful organizations in the Orion Arm. Unmatched in numbers or in firepower, the Red Navy Doctrine focuses on warship production and improved armaments.


Civilian Encouragement: Through the use of three and five year plans, quotas and other incentives, civilian industries increase efficiency and lower the price of planetary enhancements.

Orbital Regulation: Autonomy for planetary civilian authorities is rescinded; orbital construction authority is transferred to the Red Fleet Proletarian Colonization Main Directorate, allowing larger numbers of orbital facilities.

Veteran Workforce: Red Navy specialists are brought to local shipyards and armament factories to help train workers and improve efficiency, resulting in faster ship production.


Advanced Ordinance: The sector front is granted priority for the newest and most advanced munitions designs. Firing rate greatly increased for majority of deck and flak guns.

Improved Reactor Designs: Modifications are made to fleet power systems allowing larger power reserves and regeneration.

Experimental Spaceframes: Reports from front line engagements are sent to research bureaus to reduce mass while increasing armor and hull effectiveness.


Streamlined Industry: Local armament facilities move to total war production increasing automation and production capabilities. Cost of all orbital facilities and warships drastically reduced.
---

The Red Air Force's strength lies not only in numerical superiority but in its tactical flexibility. Its fighters' precision missile strikes and bombers' torpedo salvoes can on their own cripple enemy fleets in sectors where fielding entire defensive battlefieets would be tactically unwise. The Red Air Force Doctrine therefore focuses on the ability to wear down an opponent through hardy defenses, allowing strike craft the time (and hangar space) they need to deter planetary invasions and lock down key territories for the Union.


Accelerated Epitaxy: Advances in the processes used to construct and join the most basic elements of planetary structures' hulls in the field allow greater rapidity in their construction.
Integrated Transmitters: By building structures with embedded, atomic-scale microtransmitters, data can be collected about projected orbital flight paths to a higher resolution, allowing the construction of additional Heavy structures in orbit.

Improved Alloys: Cheaper metals used in fighter and rocket launch mechanisms unsuitable for higher-velocity launches are replaced with more costly alloys, allowing more fighters to operate per squadron and a chance for their missiles to penetrate armor completely.


Directed Charge Plating: Intelligent detection of projectile trajectories before impact allow ships' electric plating to disable explosive projectiles at a slight distance from the hull, rather than during penetration of standard armor, increasing its overall effectiveness drastically.

Modular Bunkers: Miniaturization, standardization, and lightening of the construction materials used to buttress hardened planetary bunkers allows them to be rebuilt significantly faster after damage.

Magnetic Catapults: Torpedo and missile weaponry are launched through miniature coilgun-type catapults, rather than igniting their propellants inside the launch tube. This allows for less wear in the tube and faster cycling through available tubes, increasing the rate of fire of missile weapons significantly.


Corvette Refit: Suvorov and Pavlov class corvettes deployed in the sector front going forward may be fitted to Air Force specifications, greatly improving firepower and protection.
---
The eagle-eyed among you may have noticed that there are three doctrine subjects not described here. These have been classified by the KGB and will be revealed at a later time.