At first sight it's just another Excel document. In fact, it's divided into two main parts: the level design intentions and the restrictions to which they lead. Whenever you fill the "intentions" column, you also have to fill the corresponding "restrictions" one to have a concrete idea of what you'll build in the end. Hence the "mirror" thing.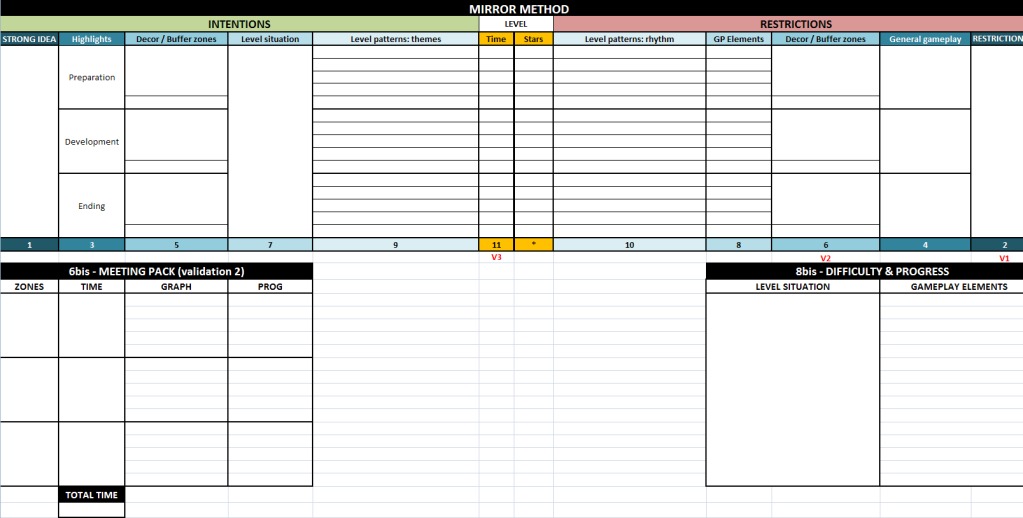 You start with the 2 opposite borders and alternate the 2 parts of the array until you get closer to the center columns. So the more precise you get in the method, the closer you get to the center. Columns stand for specific validation points. Priorité des contraintes inverses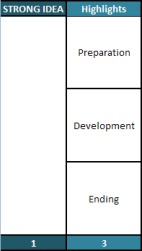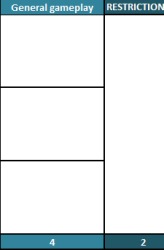 A level consists in one or several strong ideas that you may define in columns 1 & 2 (e.g. in a DESERT, our zombies must be dying slowly and can't meet humans). A design validation must be set when about 10 ideas are at step 2.
Then, divide this idea into 3 parts: the preparation of the strong moment, this moment itself, and the consequence or reward you will obtain.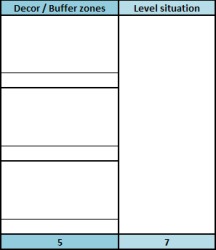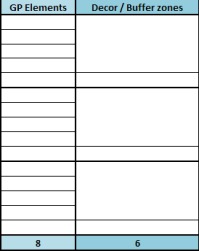 Steps 5 & 6 are meant to define the transitions between the divisions, to make them coherent. The décor elements are defined more precisely, in order to know the essential assets and feature to produce. At step 6, a team validation is necessary to talk about priorities and possibilities.
Once validated, the designers include the level in the whole game (e.g. World 1, level 3), to put the right gameplay elements at the right moment of the learning curve.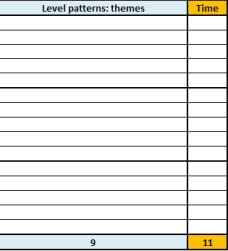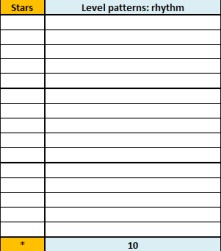 Finally, we must define the various patterns making up the level, with their rhythm and shape restrictions (e.g. in the canyon zone, the paths must be narrow and long, and a bit guided). We can also put them in chronological order before starting a concrete level design.
Time estimation for each part and our homemade "stars" placement can be done along all these steps. Once the array is filled, an ultimate validation is set to decide if we go on with the secondary assets and the level itself!
I hope this will be of interest for your own level creation and that you can adapt it to you own needs. For the moment, this method is still a baby, and we are testing it. We'll show you our results in no time!