We are well on our way to the Top 100 on Steam Greenlight and achieving the eventual goal of being greenlit! Thanks to everyone for giving Hypt your support and telling your friends about this game! But there is still a lot to do and a ways to go. Don't forget to share a link to Hypt and our Steam Greenlight page on Twitter and Facebook if you want to support us.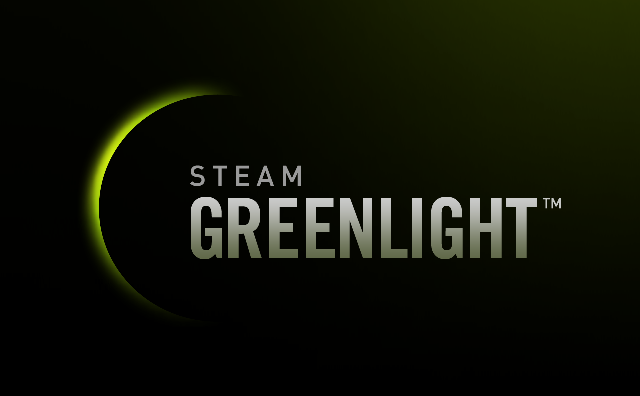 In terms of changes towards Hypt, i've discovered the particle effects on levels and a few enemies could be improved, so minor changes were made towards that. Furthermore, the tutorial level has been re-added to Hypt's latest demo builds. Accessable by clicking "New Game." In addition, a Quit button has been added to the main menu to exit the game. Check it out in Downloads or play the web build here.
Now then, last week I said I would talk about Hypt's bosses. It's time to do that!
Boss 1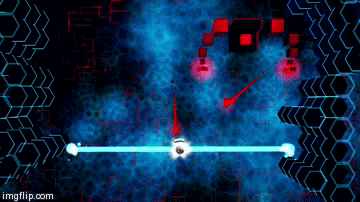 The first boss you encounter follow a simplistic attack pattern. Its arms fire shots at your position similar to a tracker. However with the distance between the two arms, if both shots come at you at once, they could go around your shield, to say nothing of what might happen given the unpredictable nature of shots that happen to bounce off the hexagonal walls or even the boss' own body. All you need to do is reflect shots back at it, and try to hit the red square in the middle of its body enough times and your victory is assured! Be wary: This boss doesn't like being shot at, and will take measures to defend itself.
Boss 2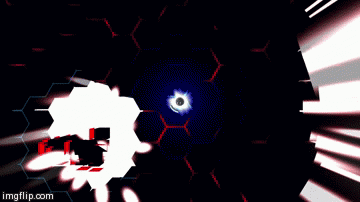 The additional freedom of movement bestowed in this zone should give the player knowledge of how best to avoid attacks from every angle. This is good, because not every attack from this boss can be reflected. It's very mad at you, and uses a variety of attacks to make sure you cease to exist, from massive projectiles you can't reflect to laser beams, even to summoning Infectors to come to its aid, this enemy will pose a challenge to even the most adept of Hypt's defenders. As tough as it is, it's not invincible, and clever players will notice it's stationary. With good reflexes and cleverness, even this worm will fall to you.
Boss 3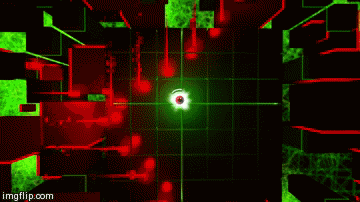 It's a trap! With no way out against an immense opponent that has completely encircled you, all that is left to do is survive as long as you can against this beast against a barrage of attacks in a true bullet-hell. Although it seems impervious against all of its attacks, remember that the candle that burns twice as bright lasts half as long, and for every shot that does not hit you is a shot that will always strike him. All you need to do is survive and watch this beast tear itself apart.
Boss 4
The Final Boss of Hypt. In the interest of not spoiling the surprise, no image will be presented of this boss. What I can say is that the player should be wary of the unexpected, as things are not what they seem. Like a true virus, this one will adapt to its environment and become more powerful the longer your battle goes on, even going so far as to raise shields to defend itself against your onslaught as the world crumbles around you in this ultimate test of skill against the very root of the corruption overtaking the digital world. But with grit, determination, reflexes, and a bit of luck, you can return Hypt to its rightful state and purge the digital world of this corruption once and for all!
Stay tuned for more news regarding Hypt and its development. Check our Downloads page for the latest demo build, now available for Mac and Linux as well as Windows.
But there is still more to talk about, because enemies and bosses aren't the only things in your way in Hypt! I also want to talk about Downloadable Content for Hypt and the possibility of new levels post-launch in whole new areas. These areas will use new color palettes, level designs, obstacles, enemies, and most importantly, geometric shapes. I will talk about all these, with concept art and everything, next week.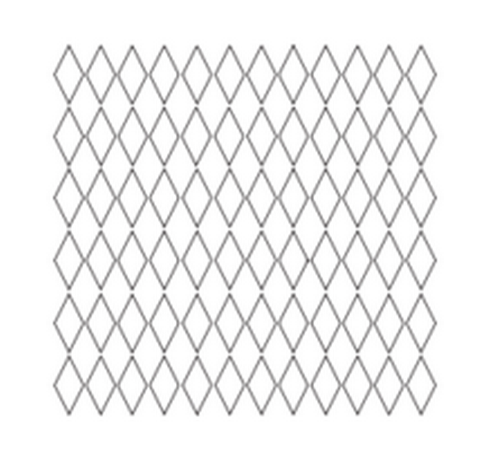 It just needs to tessellate.
In the meantime, share and follow Hypt on Twitter, TIGSource, and vote us up on Steam Greenlight! Also, please leave your thoughts in the comments below. I'd still love to hear from you!