It's the fifth day of the Satellite Rush campaign and the engines are already 30% loaded! Thank you! Thank you very much for the love!
Will you help us get to 50% in 10 days? One week!?
It doesn't matter. What matters is that you keep sharing our game with your friends to keep the awesomeness flowing. Can you call your friends? :3 - we could really use your help in getting people to know about Satellite Rush beyond our motherland.
We know our "thank you" is good, but not even in distant galaxies pure gratitude has succeeded as a valid exchange currency. The best way we can thank you all is by working harder on the game and showing you results!
So today, after five days of nonstop PR, we're putting one foot back in the development pedal, planning our next moves to make the Satellite a fantastic experience. This means we'll have new stuff to show about the game very soon, however we can show you some new enemies animation right now!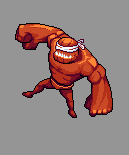 Thank you all,
The Kimeric Labs Team

Kickstarter