This week I actually sat down and played the game. After three months of development, I lost sight of what Miner Threat really is: a game. I always think of it as a project, not a medium for people to enjoy themselves. I mean, I designed it for two players so I could sit down with a friend and have a fun time with some rogue-like platformer action. But for the first time in 3 months, I sat down and played it for fun. While playing I noticed 3 things:
It's hard, but not enough enemies
Medkits need to be a thing
There is only one level
Bombs (You'd get it if you read the last couple updates.)
So this week I addressed those things and then some. First thing was the bombs, because it's the easiest. For those who don't care, I fixed it. For those who do, I can explain the weird bug. So when exploding, the bomb would loop through all walls on screen and check if they are x pixels away from it; and if so, destroy it. But every time I destroyed a wall the instance count dropped one therefore skipping the next wall. So it is still the same thing, but instead, the wall id's are put in a list then destroyed at the end.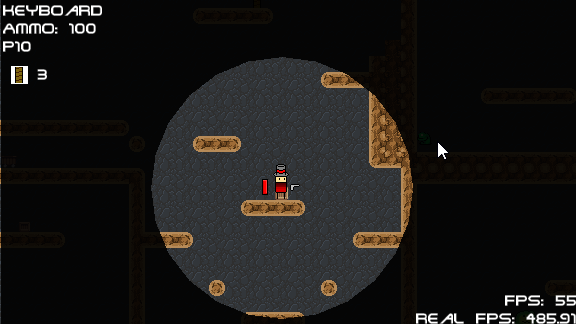 I also stopped being a ShareX noob and turned up the GIF FPS so it doesn't look like complete trash.
Next up was levels -- as in there is only one. So I stopped putting it off and got started. Miner Threat is a roguelike, and therefore doesn't need more than one room to actually play. So when you enter the door at the end, it gives you a rundown, then restarts the room, generates a new cave slightly different from last time because it's the next level, replaces the enemy place holders, and sticks you in it.
It's simpler than I let on.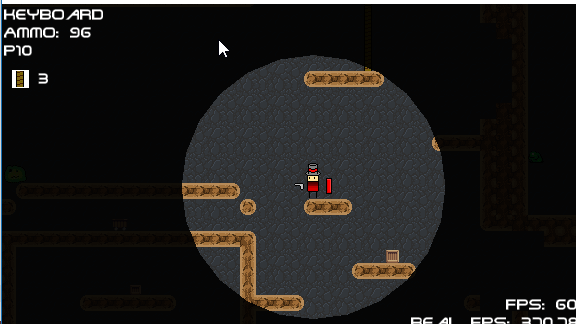 That gif showcases something I never talked about (I think) which is melee enemies don't chase you initially. Recently, I changed melee enemies. They used to walk back and forth, but then you can stand next to them and shoot them down. Now, they walk back and forth still, but when you shoot it, it will chase you.
The last (Major) issue is medkits. The game is hard. So now enemies drop medkits. Not much explaining to do there...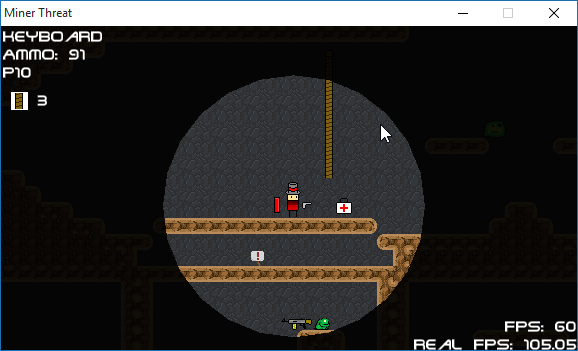 I like how the enemies basically walk off the platform. (Top right) I'll have to fix that...
So in conclusion, there's still a lot of work to do, but this game is going places.