SUPPORT US ON STEAM here : Urlz.fr Play the DEMO and VOTE YES if you like it!





HUGE ENEMY - WORLDBREAKERS. Modern mechanics. Everything you see bellow can be played now.

You need to know we are a tiny company, 100% indie. No money. We have put everything we have inside this project and it's hard !!! We hope you like it, all feedbacks are welcomed.




Adding dodge action to our game made gameplay more fun !
This way even if you have tons of power we have added so many enemies in the same spot you can't stay put and kill them all.

You need to move and replace yourself on the good spot to survive, but it's very easy and fun to do.
Dodging add a new level of gameplay, we can add TONS of enemies and bullets you can avoid. More bullets, more enemies, more dificulties ? We answer : "Not if you press dodge action." After 1 year of tests with many players, everybody is happy and the gameplay is really good.


You ship use a life bar of 8 life points. In shmup when you are hit 1 choice happen with life bar :
you blink and become undestructible a moment. It's good but not enough for us.
The first thing we have in mind was : " Why do not use this moment to do something ?"
The PAYBACK SYSTEM was born.




With HUGE ENEMY when you are hit by something you become BERZERK !! You can exact revenge using 3 diferent PAYBACK systems. On the DEMO you can use only the JUMP system. Teleporting yourself with the right click anywhere on the screen and with gamepad pressing Dodge+direction get furious amount of speed. In both cases destroy almost everything on your way.





All the weapons can use DEPTH MODE. With a simple click you change FRONT MODE to DEPTH MODE.
Now we can have Front and DEPTH BOSSES and ENEMIES, adding so many possibilities into the game.
50% of the BOSSES of HUGE ENEMY will be in DEPTH MODE.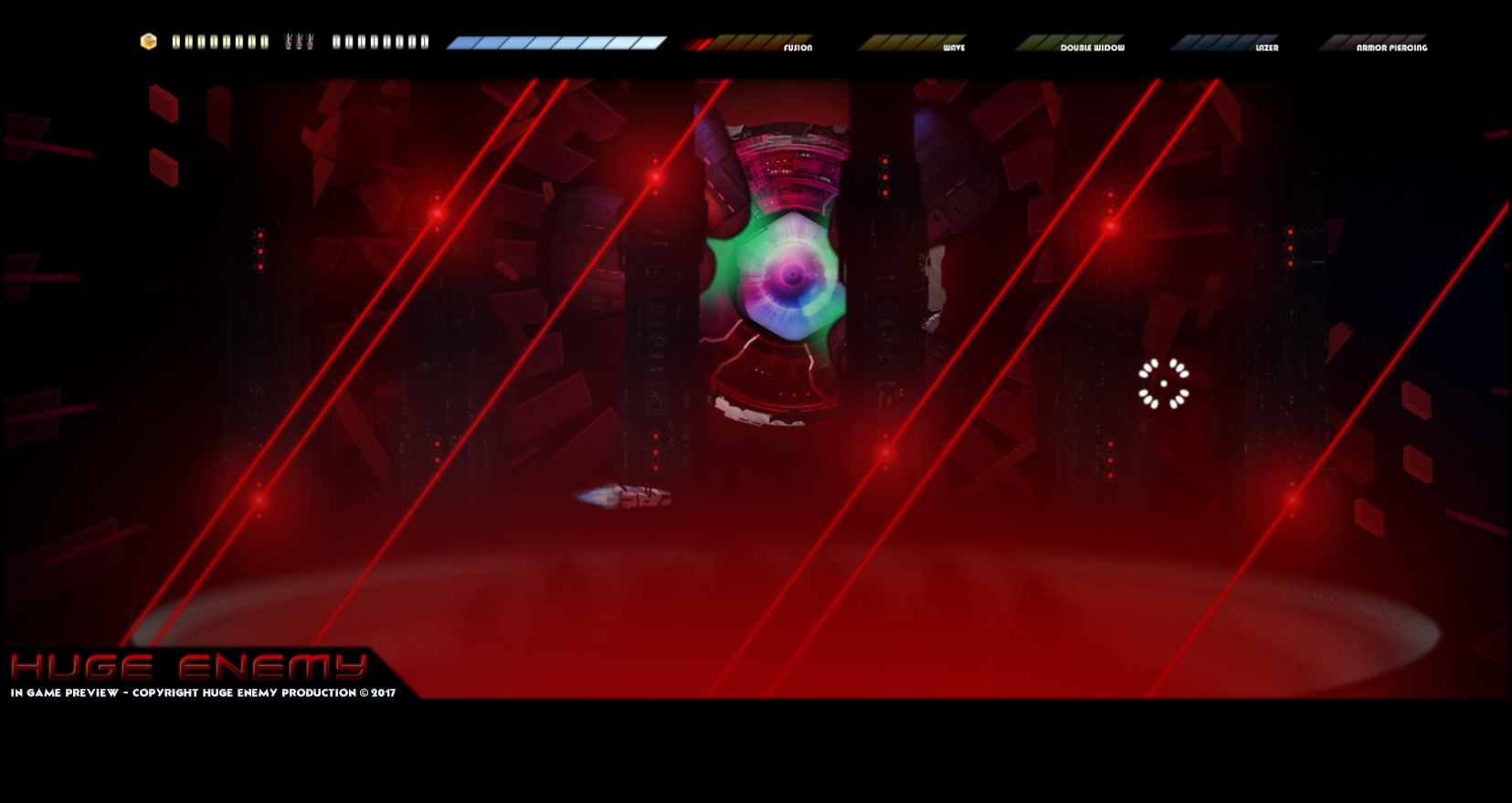 Because we want to do a game who has a certain amount of dificulty we add RESHIELD on weapon 3.
This way even you fight HUGE ENEMIES hitting you like a truck, you can manage. See bellow an hard survival with HELLFIRE BOSS. You can try it in the demo !


Reshield is the best way to survive and don't die. You can reshield in MEDIUM and BIG enemies with weapon 3 "Double Widow". TAKE DAMAGES, RESHIELD ... and WIN!





"I have won something not usefull on my game after 4 hours of hard gameplay, i am so happy"
No, NO and NO! Successes need to add useful stuffs for the players through the gameplay.
In HUGE ENEMY successes add More TIME to your PAYBACK SYSTEMS and your MEGAWEAPONS!

At start you have 5 second for each. Through the game you will unlock successes who bring the timing of each up to 10 seconds! And you can combine them! You will get more weapons, you will get money for upgrades.

On Windows store, Steam, Xbox One and PS4 ... You will unlock all the AVATAR of the BOSSES and you can use them as AVATAR for your own account! Successes on HUGE ENEMY : TONS OF GOOD STUFF!





The best part in HUGE ENEMY is playing the way you want.
In near future, you will change freely at any CHECKPOINTS your MEGAWEAPON AND PAYBACK SYSTEM.
Some player like PURE ACTION some OTHER like TO BE STRONG. "We have ear you" You can do it.

Of course in some events you need to change your stuff in a certain way to avoid to be crush by bosses. Anyway, you can finish the game using only one game style or more. It will add a total diferent gameplay experience at each choice you made and add more fun!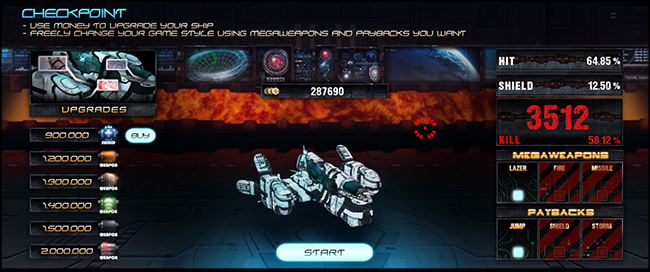 In a near futur, viewfinder will use is own color selection.
You can change the color you want at any moment using pause menu.
This way no lisibility problem. Actualy we change the color on each level.
But this small option will add more to everyone.

Enjoy the DEMO here: Urlz.fr
Don't forget to vote YES for us it will help us a lot!
Have Fun, THX!