Hi everyone!
For sure those of you developers and curious people in general reading us have wondered more than once how to design a circuit. The point is there are as many ways to do it as level designers all over the world. But I'm going to explain how we design a circuit in Formula Wincars.
The first step is to decide which kind of circuit it will be. Competition, urban, rally or countryside? Once I've sorted this out, the next step is to think about the proper ambientation in order to start to build a mental image of the elements that may appear. This stage is a very funny time indeed. Nothing has been decided yet and all kind of crazy ideas have a chance. For instance, in Castelul Bunâ Moarte we had a long list of ideas: A castle, a graveyard, a frozen lake, a snow avalanche, an ice cave... and a lot of others that I'm going to keep unveiled until the game launching day. It is is approaching and we want to keep some amazing secrets in order to surprise you when you play it for yourself.
The naked truth is we are all quite crazy here at Dragon Jam, and that's why most of these ideas have remained in the circuit... with some others even crazier! Some elements only try to provoke feelings in the players, while others are meant to provide gameplay mechanics. Sometimes a good idea must be discarded because it's expensive to be implemented and does not provide any gameplay. Some other times an idea is just unrealizable. And some ideas are undoubtedly bad ideas. But we have no mercy for these! The point is we always try to turn impossible ideas into something possible.
Once I have cleared up the circuit elements, the following step is to prepare a 2D representation. Sometimes I use 2D design software, and some other times I even draw a first version with a pencil and a piece of paper. Here you can see the first drawing for our next circuit, Noxtek Ring.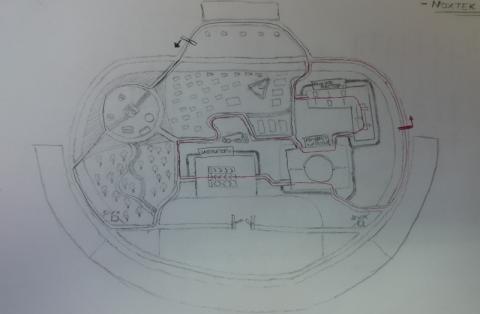 As you can see the terrain is divided in different zones, with different paths. If you are able to read the
handwriting, you may notice a laboratory, an engines factory and an abandoned warehouse... among some other things. If you are wondering what does this have to do in a competition circuit, I should explain that Noxtek Ring is, in fact, property of Noxtek Institute, one of the factions involved in Formula Wincars tournament with unknown purposes. But as you may have guessed, I can not tell about this,
either. You'll have to learn about it playing the game!
So, ok, we have a first drawing, we can say the circuit is for real for the first time in my head. Only after this I can start to, using terrains editor and some Unity elements as placeholders, bring the circuit to life in 3D for my art team colleagues to be able to dress it up and make it look amazing working over this first version.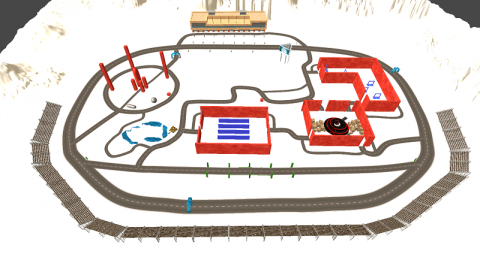 During this process there are a lot of tests to be done. I verify each path's length and try each turn of the
circuit a lot of times in order to check out the difficulty level is that required for that concrete cicuit. Though it is difficult working only with boxes and cylinders, it is possible to start guessing how the
circuit will feel when driving on it. All people here in DragonJam say I spend most of my time playing... but I swear that's false! Indeed, it is quite a boring task, though I find it exciting because it is the only
way to be sure that the circuit will be as fun as we want.
Finally, I have to prepare a document with all the details of the circuit: A descritpion of every path, terrrain maps, shortcuts and artistic references for the whole art team to have a shared vision of how the circuit must become. Finally, once they have done their magic and the circuit looks stunning, it is my time to place accelerators, coins and charge points which will allow players to recharge their driver's skills during the race. Always in the right place in order to favour different strategies!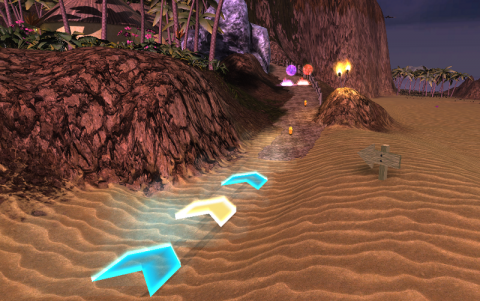 There was a time in which Isla Aventura was just a terrain with coloured boxes as Noxtek Ring is nowadays. But that was long ago! Right now it has become an exciting place, full of dinosaurs, fierce sharks, a pirates cave and a wrecked spanish galeon, with a lot of other secrets in which players will have not only to compete, but also to survive.I hope you have enjoyed reading this post. If it has been so, wait for upcoming release in a couple of months. Then, at last, you will be able to check it out for yourselves.