Part 1 of this explanatory blog series established the two-step process for progressing in the game: (1) create synergies to earn stars, (2) use stars to complete boss projects.
But it's not always that simple of course. Things get in the way of creating department synergies. The right workload folders might not come available when you need them, the employees in a department might have workloads that are far too different from each other, you might have to leave work early to pick up your kid from daycare, there's those cooking classes you've been meaning to sign up for, the second language you've abandoned on Duolingo, the after work drinks you're having with increasing frequency, the virus your computer probably has because it's been so slow lately, the feeling of futility as failures pile up, your arrival at work later and later each morning, the wretched feeling in your stomach that grows each meeting, the hours spent staring out the window in envy of the landscaping crew... Suddenly you wake up in your 40s and wonder what happened to the idealistic young middle manager who loved nothing more than making department synergies.
---
PROBLEM: IT WOULD BE TOO MUCH EFFORT TO GET A DEPARTMENT SYNERGIZED
SOLUTION: DIRTY SYNERGY
---
When a department has four workloads that are too scattered to form into a department synergy, it might be time to make a "dirty synergy", which is when the workloads don't match exactly, but all add up to the same value. In this example,



= 6,




= 6, and



= 6. So when a


folder is given to the available employee, they all have 6, for a dirty synergy.
The downside of a dirty synergy is that you only ever earn one star for it, despite skill levels or workload amounts, and the employees also get smaller JOB SATISFACTION bonuses. It's a synergy you don't write home about, but you take your single star and move forward.
---
PROBLEM: AN EMPLOYEE NEEDS TO HAVE LESS WORKLOAD
SOLUTION: COMPLETE THEIR WORKLOAD WITH A SEVEN
---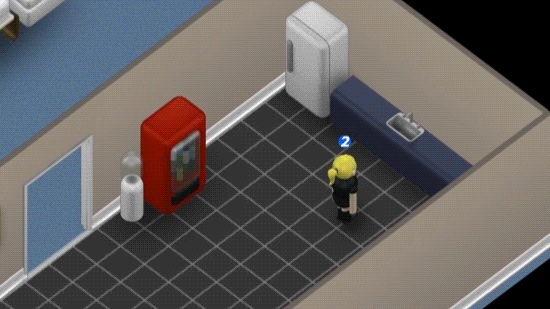 Often you'll find that an employee has too much workload. You need the employee to be at a lower workload than the amount they're currently working on. The solution is to wipe out their workload by making it total 7. In the above example Lisa Vargas is in the kitchen, but don't think that means you can't give her some more work! She has a

workload, and by giving her a

, she reaches 7 total and completes her work, wiping her slate clean. Plus a little JOB SATISFACTION bonus for a job well done. She's now ready to start over, get with the program and work toward a star-earning synergy. And I swear to god she better not screw it up this time.
In the final installment of this gameplay series, we'll look at the treacherous office pitfalls that threaten to halt your progress. Feelings and moods, government regulation, etc.