An interesting aspect of beta testing Office God was discovering that the occasional tester would decide to create their own gameplay rules. At first I was excited to read these bug reports, full of new ideas and ways of approaching the gameplay of Office God. "Is this some of that 'emergent gameplay' I've heard about from California and New York?!", I'd wonder. But instead of personal compliments and praise for the fun time had, the reports were full of anger and misery from the tester, accusing the game of being wrong. A player would decide that, say, an employee should be finished with her work already because "she's been at it long enough", and though I love the emotional investment this player has made, he has set himself up for a huge disappointment.
Eventually this style of bug report was ignored and filed under "Make the Tutorial Better and/or Find Smarter Friends." In an effort to cut down on people imagining their own rules to the game, how about I just tell you what they are?
---
STEP 1: CREATE DEPARTMENT SYNERGIES TO GET STARS
---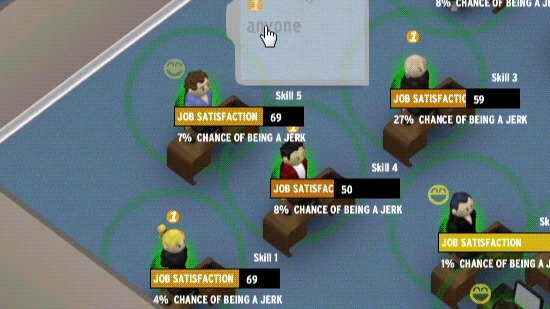 In Office God you are constantly looking to create Department Synergies by exactly matching the workload of all four department members. The five types or workload are:




and

. In the above GIF example, you'll see the easiest and highest job satisfaction synergy possible: one

workload for each of the four art department members. This easy synergy should be done for departments that need a bit of a break, a nice relaxing low effort synergy, everyone doing the bare minimum, but in perfect sync.
Creating a Department Synergy will earn you one star per piece of workload, multiplied by the SKILL rating of the lowest skilled member. We see Lisa Vargas in the bottom left corner receiving the one star the department earned because she is the lowest skilled, with just one skill point.
---
STEP 2: USE STARS TO FINISH PROJECTS FOR YOUR BOSSES
---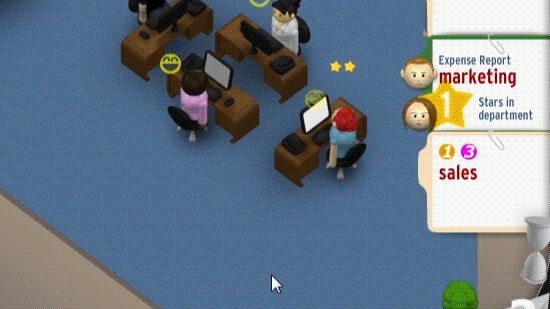 With stars earned, you can now complete these special boss projects, which pleases your two direct supervisors and advances your progress in the game. They're easy to recognize with the green folder and giant vice-president heads on them, letting you know which boss wants it done. The boss project also displays how many stars are required. Any stars above that value are converted to character ability upgrade rewards (way to go, overachiever!).
So that's what you're trying to do in the game. In the next blog post I'll show examples of the other techniques you'll need along the way and in Part 3 of this gameplay blog series, I'll warn you about some of the problems that arise.