Sieglelord is the latest SLG browser game published by 37Games in December 16. It's quite a good medieval game. Only the intelligent player can make the achievements. At the beginning, there are three tactics to apply. They are "defend", "attack" and "assault" which reinforce each other as the picture shows.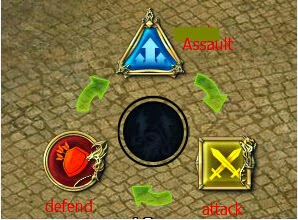 There are only 5-10 seconds for you to consider which tactic is better for battling so you need to react quickly. Once time was out, the system will randomly select one tactic for you, which is maybe of weak strength. In a world of flames, tactics determines the success. Let's
Play Siegelord right now
!
For more game information from 37Games, you can refer to blog of free to play browser game news: Gameonwebs.blogspot.com<