We have a pretty strange tradition: one poll in a year. Thus, we asked you about user interface in Exoplanet: First Contact in 2012, then in 2013 — about inventory. But it is already middle of 2014, and it means that lazy arse like me should summarize some things and create something new.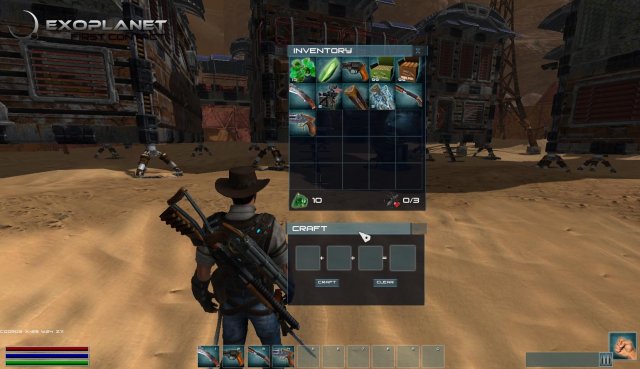 First of all, polls are going to be more often. But before we can move on to the next one, let us talk about distribution of votes and solutions for inventory system. You can see on the screenshot how inventory looks right now. I guess you're understand why we need to change it. That is why we asked you: «What inventory do you want to see in Exoplanet?»
Russian poll:

English poll:

We are grateful to the voters and welcome any comments. You can always suggest your idea or write down an explanation of your choice. You can do it here, in Steam, or on our website.
Concerning Exoplanet's inventory I believe that our valorous game designer decided to kill all the birds with accurate shotgun's shot, taking a little from each option. Thus, first of all, inventory is going to have weight restriction. It means that move speed of the character can be reduced on a certain value. If you're still going to burden your bags, hero can't take a single step after all. You could see such mechanics in Neverwinter Nights, The Witcher etc. This decision is justified by the fact that we don't want to see a hoarding players who drag to the shop empty cartridge clips, severed claws of dangerous animals and smeary pants of enemies to sold them for a penny. That is why you have to prepare to sacrifice some loot.
We are going to make some tabs in inventory for player's convenience. You can use it to filter all the items by categories such as: weapons, armor, gadgets, crafting etc (The Witcher 2). We don't want to spend player's time for searching needed item. We want you to enjoy gameplay, the world and its features, not to play «pixel hunting» with your possessions.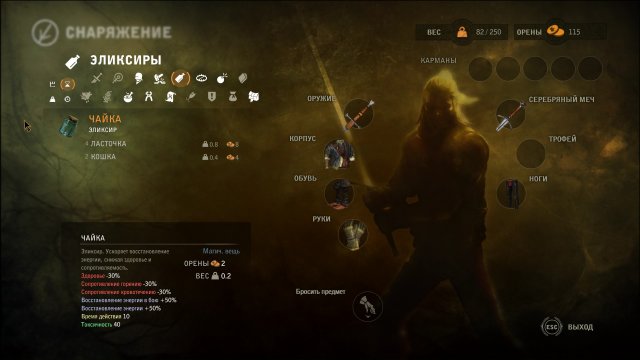 We decided to leave the principle of «Tetris» for guys from Blizzard Entertainment. Unlikely they are read our blog but we want to thanks them anyway for many wonderful hours in their beautiful games. However we borrowed the decision from Diablo series (and some other games) with hero's silhouette and cells for weapons and armor.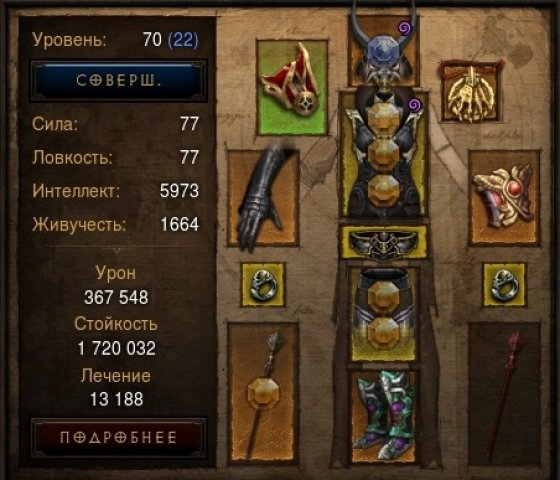 Every item in inventory will occupy one slot, no matter whether it is a small gun or a weapon with unimaginable destructive power. Perhaps someone would say it is wrong because big items should occupy more space. But you have to face the fact that almost every RPG hero carries so many things in inventory that fit to open his own shop. That is why we believe that our decision is okay. Moreover, as we wrote before, big items are going to «punish» you with its weight.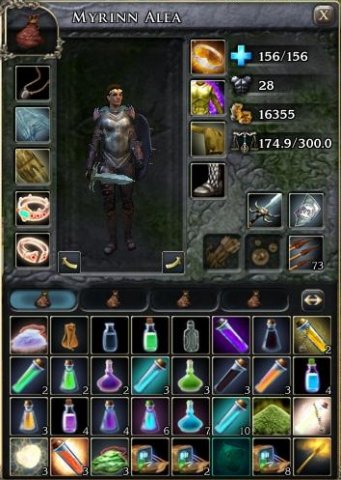 That's all we wanted to share with you about inventory in Exoplanet: First Contact. Let's move on. We are going to tell you about the next poll. It is known that many RPGs have mini-games like cards in Final Fantasy, Yahtzee and fisticuffs in The Witcher, lock opening in the Gothic and The Elder Scrolls series, as well as hacking of computer security in Mass Effect. That is why we want to know your opinion about these gameplay decisions. We are grateful for every vote and looking forward to your comments. Tell us what mini-games do you like: gambling, logic, based on speed or reaction and so on. Do you think that mini-games should be optional additional activity (Yahtzee in The Witcher) or an integral part of gameplay (hacking the computer systems in Mass Effect)? Explain your choice. And if you're less lazy arse than me feel free to share your ideas or favorite examples from favorite games. Our game designer promises you a huge plus to karma. And I will promise that your opinion will not go unnoticed, and if the mini-games appear in Exoplanet, we will do our best to make them interesting and original.