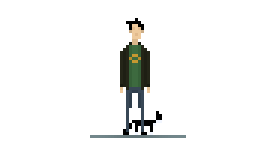 Where did it come from?
You want to know how it all started? Well, in the middle of November I saw a link to a Retro Point & Click Jam. The idea of the Jam was to make a pixel point & click adventure game in 15 days. At that time I was working on another game but things were going pretty slow. To distract myself a little I thought: Hey why not take part and see what happens!
So I took 2 weeks off work (day job) to work on the game jam idea... 2 weeks later Max Greene was born and I had won the Jam. Yippee!!! I received very positive comments during and after the game jam and the game characters grew very dear to me. I couldn't just let them go. That's when I decided to put my other project on ice and started working on Max Greene the full game!!!
So there you go... now you know. :)
Download Prototype for PC
If you like you can download the prototype here: Gamejolt.com
Leave a comment or suggestions!!!