Game modes are important aspects of competitive multiplayer games. This week we'll cover the Hunter game type. Our plan for Jump Tanks is to focus on one designing one really fun game type that allows for good dynamic matches, keeping you on the edge of your seat.
In Jump Tanks, each team is comprised of 5 players and one player on each team starts as a Hunter. The Hunters can be identified by the yellow and purple ring around their tanks. Your team's Hunter is a yellow and purple blip on your radar, however, you cannot see which opponent is the Hunter.
The Hunter is special in that they get extra points per kill and also accrue a bounty, so additional kills keep adding to the total points they can earn.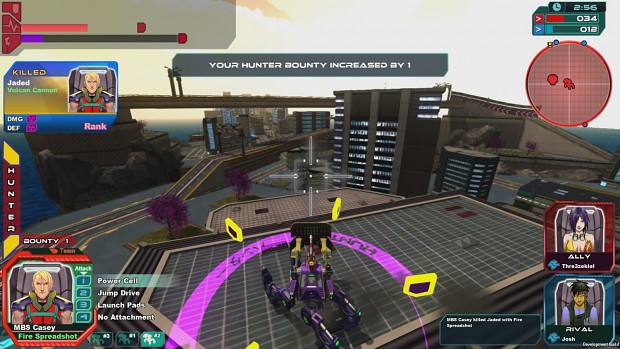 A Hunter builds his bounty for maximum bonus points
What makes this exciting is the extent to which teammates need each other to score big. If you are fighting next to your Hunter, you might try to weaken up your opponents and let the Hunter go in for the kill to maximize team scoring. Also, if your Hunter is about to die, you will want to make sure to give them cover fire so they can escape and recharge their Armor.
Hunters are give more points upon death than normal players, making Hunters a major target, and if a Hunter kills the opposing Hunter, it is worth the most points and should be the top goal for a team.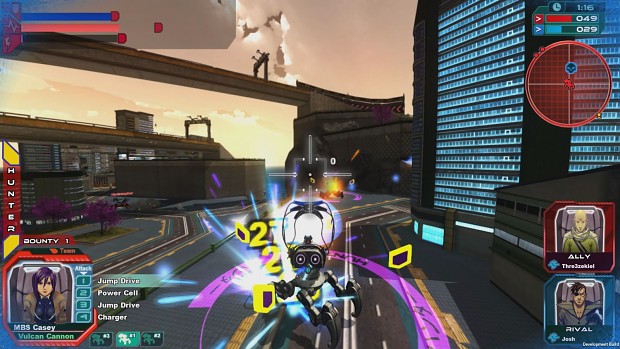 Serious points at stake when two hunters duke it out!
Hunters are the main point scorers for the team, however, they themselves are worth more points to kill. The bonus points you earn for killing a Hunter is displayed above their tank.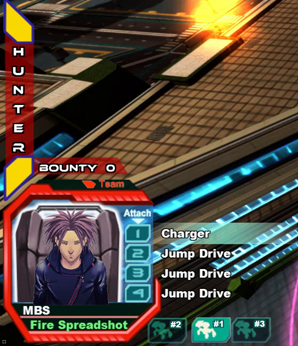 You can see how many additional Bounty points you will earn per kill on your HUD
Another benefit to killing a Hunter is that a Health Pod will spawn at a random location on the map when a Hunter with a bounty is killed. The Health Pod is really helpful for keeping your Hunter at full health, since it is the only way to regain lost HP.
Do you want a chance to play the game before anyone and help give your feedback? Sign up for our Pre-Alpha Preview at www.PlayJumpTanks.com now!